What do you get when you cross a goat and a sheep? The answer is standing on all fours at an Arizona petting zoo.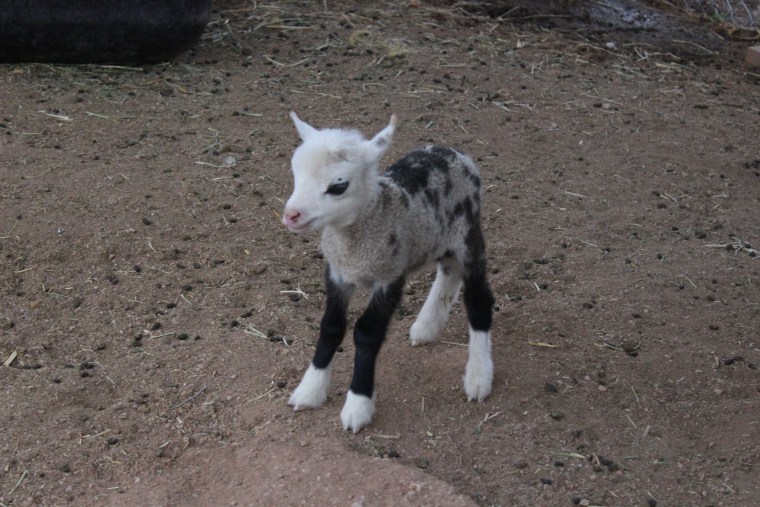 Butterfly, who is a cross between a pygmy goat and a sheep, otherwise known as a "geep," was born on Sunday at My Petting Zoo in Scottsdale, causing quite a stir not only in Arizona but across the country. 

Priscilla Motola, the owner of the petting zoo, was caught off guard by the new arrival, although not necessarily because of the unique breed.

"We were not aware that she was even pregnant," Motola said of the mother sheep in an interview with TODAY.com. "We noticed she got a little bigger, but we thought she was just eating more." 
Motola said she and her three children went to feed the animals on Sunday evening when her 8-year-old son found what he thought was a newborn goat. Motola was confused because all of her female goats that had been expecting had already given birth. 

"That's when we looked at the mama sheep and saw she had just delivered," Motola said. 
Butterfly, who was given her name because of her various block spots, has the feet and face of her goat father, Michael, but the fuzzy wool and longer tail of her sheep mother, Momma. 

"I haven't heard about anyone else having it in Arizona," Motola said about the rare breed, adding that Butterfly seems to be following after her father's hoof prints so far.

"She's a little more like a goat," Motola said. "She's just running and jumping left and right." 
As for Momma and Michael's cross-species romance, Motola said the animals did a good job keeping it under wraps. "We had no idea they had a relationship with each other," she said. 

After Motola announced Butterfly's birth on Facebook on Sunday, the little lady has been getting attention from not only Scottsdale, but throughout the country thanks to social media. 
Though the petting zoo is currently closed due to Arizona's hot summer weather, Butterfly and the rest of the zoo's animals will be open to visitors by appointment once the temperatures cool off. 

"She's just a baby. We just want to give her some time," Motola said. "I just never expected something like this to happen."