This chimp will steal your heart.
Baby Mussa is an internet star thanks to his appearance in a rescue-mission video shared by Lwiro Primates, a sanctuary for chimps and monkeys in the Democratic Republic of Congo, on its Facebook page Wednesday.
The minute-long clip shows Mussa and his new buddy, Virunga National Park anti-poaching pilot Anthony Caere, flying to Lwiro Primates.
In the video, Mussa explores the cozy cockpit before settling down in Caere's lap, where he plays with the throttle, is groomed by Caere, and gazes out at the lush greenery below.
Mussa represents Lwiro's third chimp rescue this year. He was rescued from a man who was also illegally keeping protected reptiles, Lwiro technical director Itsaso Velez del Burgo told The Washington Post.
Fortunately, Mussa is beginning to adjust to his new surroundings.
"Mussa is doing very well! He is spending his quarantine with four other babies also orphaned of poaching," Velez wrote in an email to TODAY. "At the beginning he was a bit scared of them, probably because he has spent lots of time alone without seeing another chimp. But now he is much more confident playing with them and laughing, even if he is still very attached to the keeper.
"He has some intestinal parasites but we are already treating it. He is a beautiful chimp! His eye expression is special."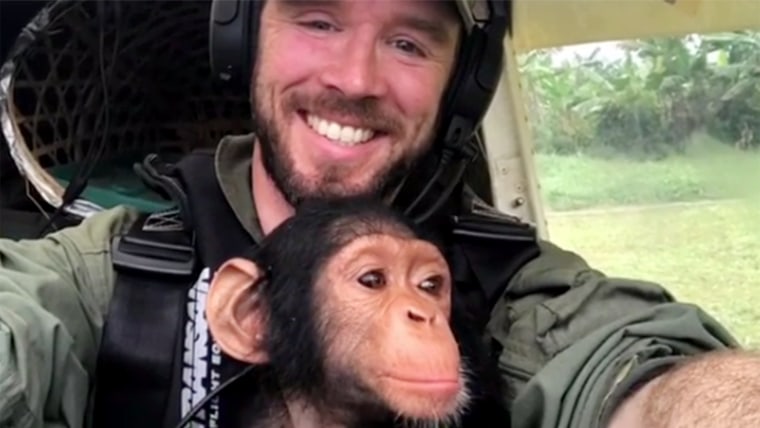 Caere shared Lwiro's video to his personal Instagram page, along with a message of cautious hope for Mussa.
"This looks cute but is actually a sad story. He should be with his mum," he wrote. "But happy we could give him a new good home! Thanks to the whole team! This is conservation!"
Caere is the head pilot for the park's four-plane Air Wing. His duties, according to Virunga's website, include inspecting poaching sites and carrying out medical evacuations.
In a video he shared shortly after the new year, he urged everyone to keep "fighting the good fight," and expressed his wish for 2018: more environmental consciousness.
"One of the little things I wish for this year is that we all do only that little extra effort for our beautiful, endangered planet, its nature and its animals," he said in the clip. "If our kids still want to see wild animals here in 20 years, well, then, we need to act now. Don't give up on our beautiful planet."