A picture has been orbiting the internet for about a year now, bringing joy and happiness to all who have the pleasure of seeing it.
It's this photo here, which is the official NASA portrait for now-retired astronaut Leland Melvin.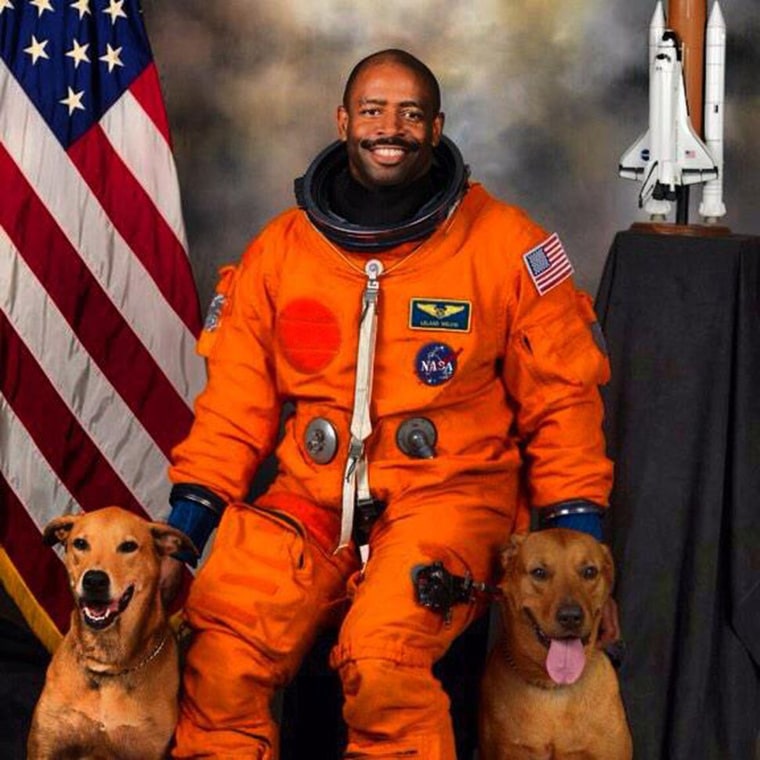 This wonderful photo first went viral last January, after being unearthed by a delighted journalist. It's now circling the globe again on Twitter — held up as a symbol of hope.
The picture is as unusual as it is fantastic. While many astronauts love their pets, NASA does not, in general, allow animals in official portraits. Spokesperson Lynette Madison checked with the agency's imagery team, and said they'd in fact been unable to locate any other photo like Melvin's.
Indeed, the mission for Melvin to get his two rescue dogs, Jake and Scout, into the 2009 photo shoot at the Johnson Space Center took a little sneaking around.
RELATED: A dying girl rescued a kitten — who then rescued her heartbroken family
"I had a van and I drove the dogs in," Melvin recently explained to the website Gizmodo. "NASA doesn't allow dogs to be on-site, so when I showed them my NASA badge, I kept the window up...and I had the stereo blasting because the dogs were barking. So I gunned it and the (security guard) didn't chase me or anything."
Melvin — who traveled on two space shuttle missions, and spent more than 565 hours in space, on top of having been drafted into the NFL — gave Jake and Scout bones to snack on, to keep them reasonably quiet, during the shoot.
RELATED: Meet the adorable special-needs dogs who steal the show in this year's Puppy Bowl
"I love that picture," he told TODAY. "I felt so connected with my dogs."
These two photogenic pups didn't have the easiest start.
Jake came to live with Melvin in 2002. He'd been owned by another family who wasn't treating him well. Melvin recalls that they kept the dog locked in a closet-sized space most of the time.
"Jake had been abused," he said.
In 2004, Melvin found Scout, who had the good fortune to wander into the astronaut's yard. Melvin tried to find Scout's home, but no one seemed to be missing the dog.
RELATED: Mailman builds ramp for aging dog so they can continue their sweet daily greeting
That's how the three became a pack. Together, they loved to hike, and play in the park. They took long road trips, inspired by the John Steinbeck book "Travels With Charley," with Scout in the back seat, and Jake riding shotgun.
"It changed my life, having those two dogs," Melvin said.
Both dogs have since died — Scout of cancer in 2012, and Jake, in 2013, of old age.
Melvin is living in a place that doesn't allow pets, and so he hasn't been able to adopt new furry buddies. At least not yet.
"That is going to change, that will change," he said.
RELATED: Dog stays by owner's side for 20 hours after man falls on ice and breaks his neck
That famous photo of Jake and Scout, with their astronaut dad, will be on the cover of Melvin's upcoming book — "Chasing Space," to be published in May. Preorder your copies here.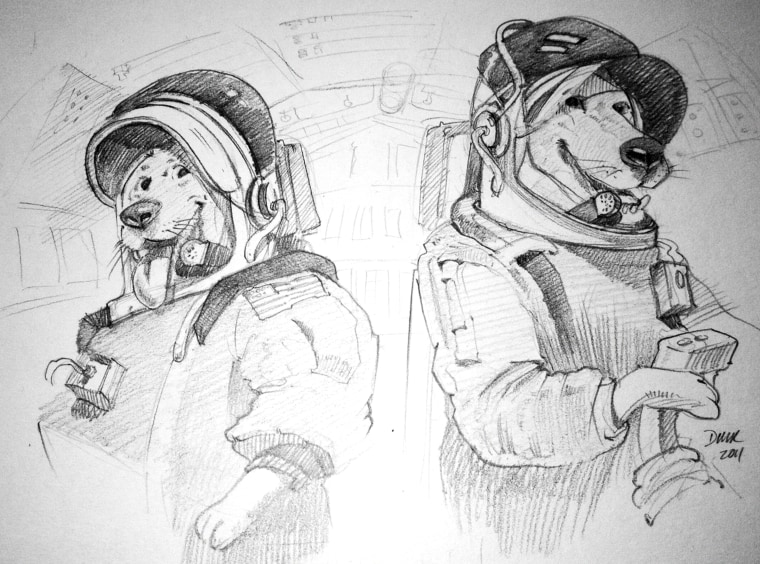 Melvin hopes the trio's ever-expanding universe of fans will be inspired to take an interest in STEAM education — science, technology, engineering, art and mathematics — as well as animal welfare.
"Our animals make us better people," he told TODAY. "And if we're better people, the world's a better place."