A California animal rescue group's powerful note to someone they say ditched their dog on the side of the road has gone viral.
Addressed to "the callous POS owner of this dog," the open letter from the Kings SPCA-Rescue of Lemoore was posted on Facebook, and explains how they went to look for the dog after getting phone calls from people who said he had been abandoned.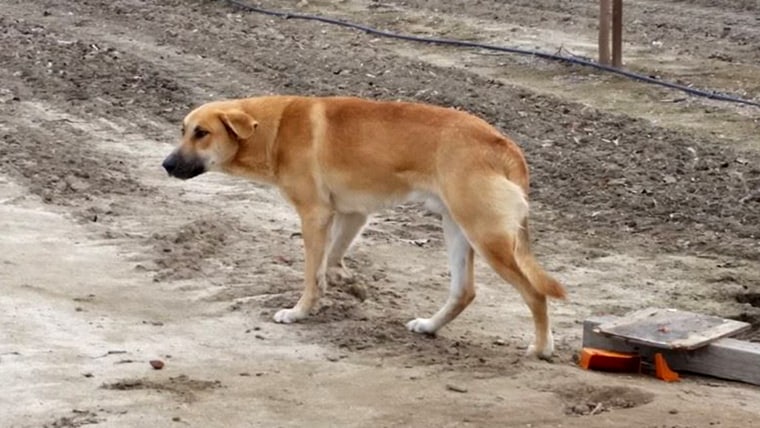 "We decided to drive over and see if we could help," they wrote. "Sure enough, there he was."
RELATED: Dog abandoned with suitcase at train station gets 100 adoption offers
"He waited for you," the letter continued. "He hadn't left the place you made him stay. He was being a good dog. He stayed close to the last place he saw his favorite person in the world. He thought you were coming back. He was watching every car that would come down the road hoping it was you coming back for him. Your dog has been freezing, hungry and scared for days because you are a heartless piece of crap."
Shelter manager Darlene Laboc told TODAY it took hours for employees to convince the dog to come with them.
RELATED: Adorable kitten gets outpouring of support after cancer diagnosis
"He cried all the way back to the shelter, looking out the back of the van," she said.
That's how they knew the dog had been abandoned, as opposed to being a runaway, she said.
"When you work with animals as much as we do, you can tell by their actions," Laboc said. "Runaway dogs don't migrate to one area, they keep going. So from our experience, when someone dumps a dog, that dog waits there."
RELATED: First class! Heiress gives abandoned shelter dog a jet-set rescue
They think the dog, whom they named Banjo, had been tied to a post he broke free from, and was outside five days before he was rescued. He'd been dropped at a rural intersection in Kings County, a place "out in the country where no houses are around," Laboc said.
The rescue said Banjo was healthy, just scared, but they still don't know where he came from. They posted the letter because his story "struck a nerve" and they wanted people to hear it.
"We're just so tired of people doing this," Laboc said. "It's just heartbreaking, when you're around it every day and you hear the stories of why people want to get rid of their dog, it's horrible. We just don't get it."
RELATED: How would a dog wear pants?
Luckily, Banjo's ending will be a happy one. Since the Facebook post, the rescue has gotten several calls from people asking about adoption.
"I spoke to a lady from San Francisco yesterday who's interested," Laboc said. "A lady from Nebraska already put in an interest card. She said she's willing to drive all the way from Nebraska to give this dog his loving home. We've had people call from New York, all over the place."