Things were looking good for Axel Evensen, 17, when the coronavirus outbreak led to a stay-at-home order in California. The high school senior had just been cast in the school play, was interning at a veterinary clinic and looking forward to rites of passage like senior prom and graduation.
"This has been his best and happiest year of school," his mom, Jill Evensen, told TODAY. "It was a lot to lose all at once."
Evensen hoped her family of four could find something constructive to do with their time at home, since she believes, "Sometimes helping somebody else is the best way to make yourself feel better, too."
Axel Evensen suggested fostering a dog. With his parents' support, he emailed paperwork to OC Animal Care in Tustin, California. The next day, the family picked up Johnny, a Chihuahua mixed-breed dog recovering from eye surgery.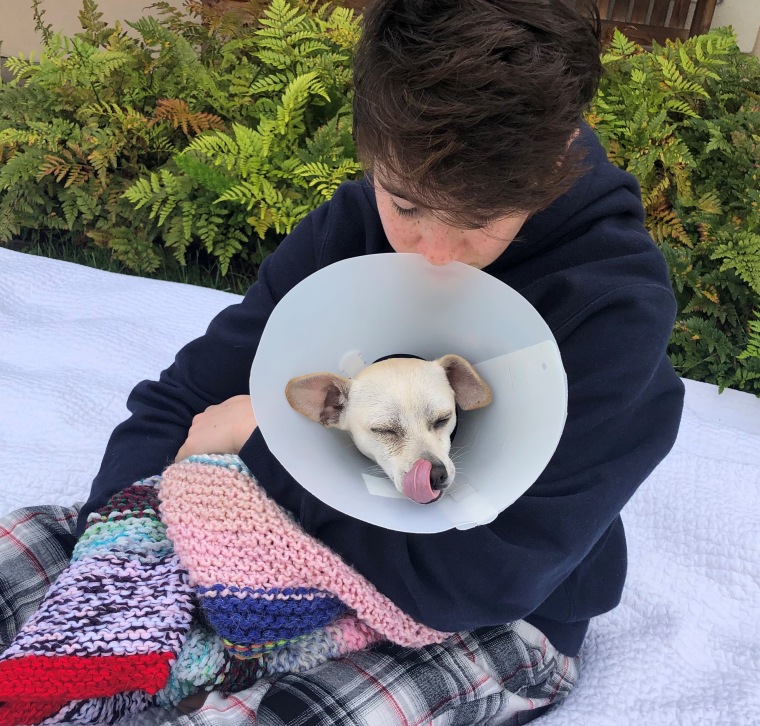 The little dog instantly bonded to the teen and sleeps in his bed at night. Sometimes they FaceTime together with friends.
"He's very attached to me," he told TODAY. "It's definitely something fun to keep my mind off things."
Volunteers across America have opened their homes to foster pets as animal shelters race to adapt to social distancing and other efforts to slow the spread of COVID-19, the disease caused by the new coronavirus. The numbers are both staggering and inspiring.
Representatives from the nonprofit Best Friends Animal Society told TODAY that the data management system Petpoint analyzed figures from 1,200 animal welfare organizations. For the week of March 14-20, the groups saw an overall 93% increase in animals going into foster homes compared to the previous week.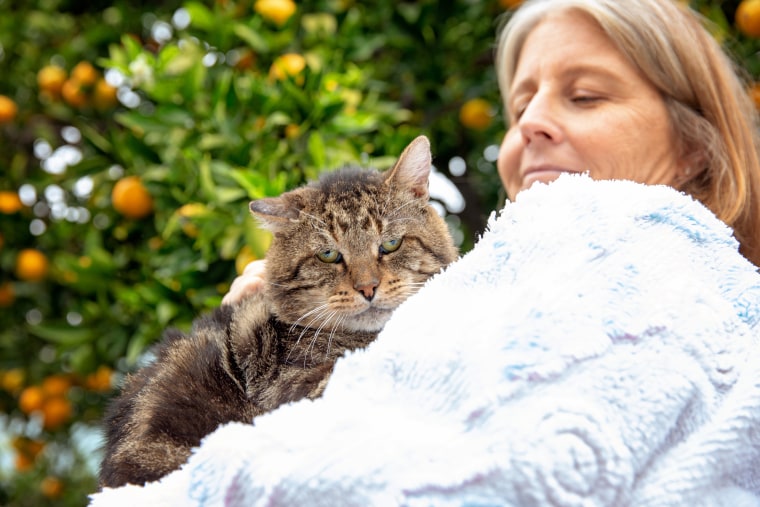 "In the last week or two, shelters have come up with innovative plans to continue lifesaving, like virtual meet-and-greets by webcam and online meeting platforms like Skype, appointment-only fosters and adoptions and curbside pickup of pets," Julie Castle, chief executive officer for Best Friends Animal Society, told TODAY in an email.
For instance, Friends of Detroit Animal Care and Control in Michigan instituted a "cuddle shuttle" to transport shelter pets to foster families and adopters. North Carolina's SPCA of Wake County started livestreaming adoptable animals, and the Animal Rescue League of Iowa hosted a name-your-price adoption event called "Social Distancing Sidekicks."
Bretta Nelson, a spokesperson for Arizona Humane Society in Phoenix, said the nonprofit's new drive-up foster service has been a huge success. Foster volunteers send a text when they arrive, a member of the staff brings out paperwork to their car and once it's complete, escorts the pet from the shelter to the vehicle. A similar system is in place for veterinary exams and treatment.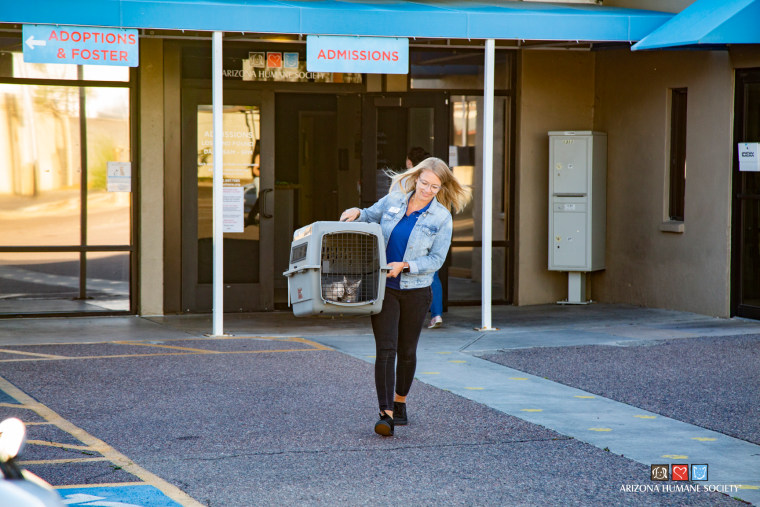 "For the community, it reinforces that they can do this and still be safe, which is so important right now," Nelson told TODAY.
Currently, 345 pets from Arizona Humane Society live in foster homes, primarily "bottle baby" kittens, cats, puppies and dogs. Additionally, on March 21, the nonprofit hosted an empty-the-shelters event — with precautions like 6 feet of social distancing and plenty of sanitizing — that found 99 pets permanent homes.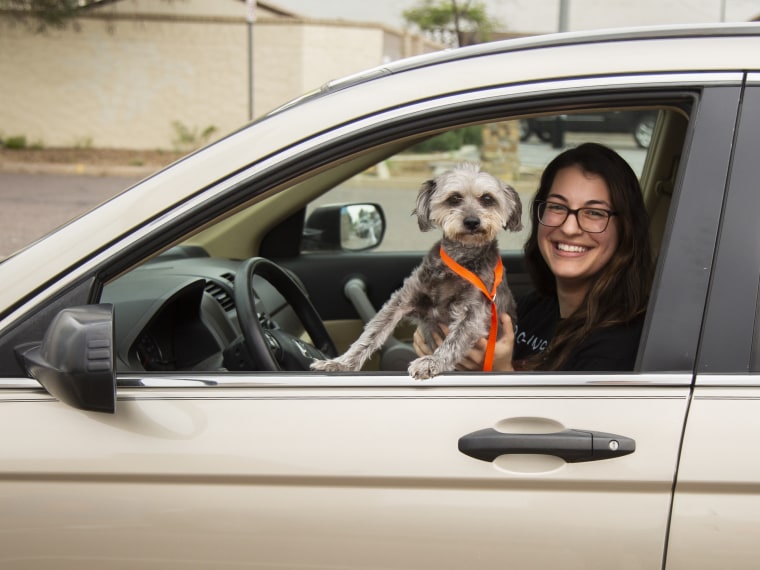 "I have to applaud our teams," Dr. Melissa Thompson, a veterinarian and vice president of medical operations for Arizona Humane Society, told TODAY. "And the community has been outrageous in their support."
Matt Bershadker, president and CEO of the nonprofit American Society for the Prevention of Cruelty to Animals, said that thanks to the organization's extensive network of volunteers, the ASPCA was able to temporarily move most of its animals into foster homes.
"In recent weeks there has been an incredible response from people looking to temporarily foster animals during this difficult time, and we have seen a nearly 70 percent increase in animals going into foster care through our New York City and Los Angeles foster programs, compared to the same time period in 2019," he told TODAY in an email.
He said fostering puts shelter animals in safe and loving homes, helps shelters conserve their space and resources, and provides people with comfort and companionship. It also helps pets acclimate to an eventual life in a home.
While there's been an outpouring of support from foster volunteers, there's still a need — particularly with kitten season on the horizon, as well as a troubled economy.
Each shelter and community faces unique challenges. Midwest Animal Rescue and Services in Minnesota even partnered with Busch to offer free beer as an incentive to foster pets during the pandemic.
Of course, fostering can lead to permanent adoption. Kristen Beitzel, certified veterinary practice manager and vice president of medical services at East Bay SPCA in Oakland, California, said the nonprofit currently has almost 100 animals in foster care, and that some volunteers are already choosing to adopt. The team has fielded about 500 requests from potential foster volunteers and they are still coming in.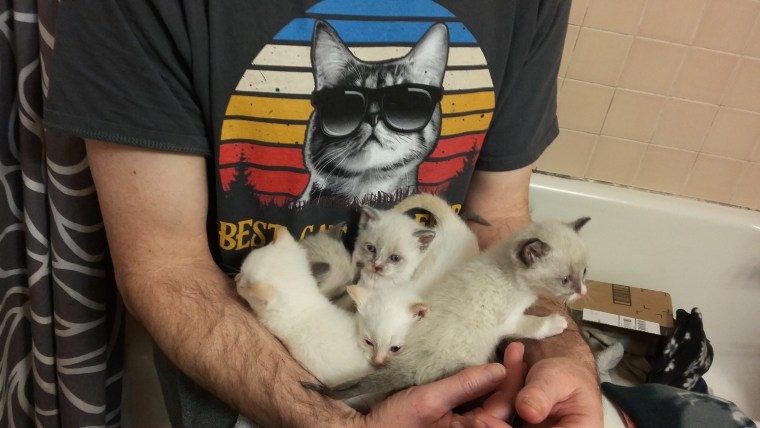 "Fosters make such an amazing difference," she told TODAY. "We are hopeful that even after shelter-in-place is lifted, people will still be excited to open their homes until animals are ready for adoption."
Anyone interested in fostering or adopting a pet can use this interactive tool to find a shelter in their area: https://bestfriends.org/2025-goal