Dogs are adored the world over for being friends, allies and trusty dispensers of unconditional love. But sometimes they do even more, saving humans' lives and helping them in other profound ways.
On Thursday, eight furry finalists for the American Humane Association's annual Hero Dog Awards visited TODAY. They included a military dog, an arson dog, a search and rescue dog, a service dog, a guide dog, a law-enforcement dog, a therapy dog and an "emerging hero" dog — all of whom brought their human family members along to share their stories.
"I love these dogs," Robin Ganzert, president and CEO of American Humane Association, told TODAY.com. "I'm hoping that when people hear these stories, they'll look at that dog on their sofa in a different light. Everyone has a hero dog in their own home."
You can vote for your favorite pup online until Sept. 15 — the Hallmark Channel will air the Hero Dog Awards on Oct. 30.
JJ Krawczyk: From shelter dog to savior for girl with rare illness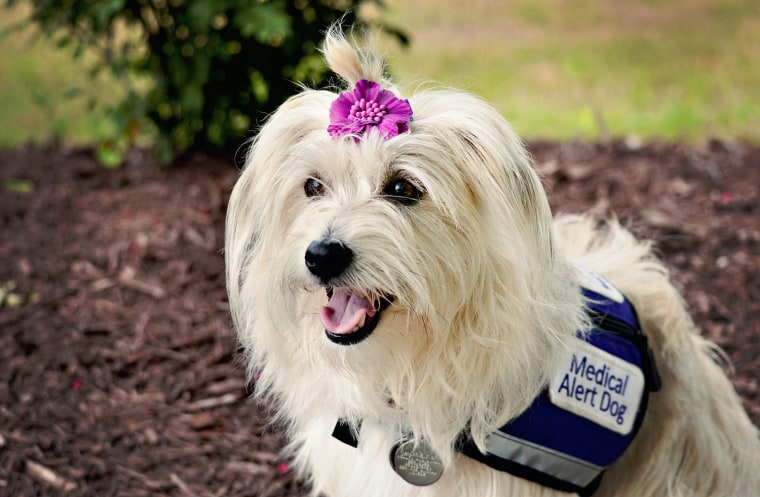 Workers with the group Eyes Ears Nose and Paws saw potential in a shelter puppy named JJ — and sure enough, JJ's nose had special talents. JJ got paired with a 5-year-old North Carolina girl named Kaelyn Krawczyk, also known as KK, who has a rare disorder called mastocytosis. Ordinary activities can trigger sudden and potentially life-threatening reactions in KK — but if JJ is nearby, the dog can sniff out trouble and alert KK's parents that their daughter is about to have a reaction.
JJ is so good at detecting the presence of mast cells in KK that doctors are as eager to rely on the dog as the girl's parents. When KK needed surgery in December, JJ stood by in the operating room and helped monitor her. JJ also makes it possible to attend school and participate in other activities with kids her age.
Related story: 'Little angel': Rescue dog helps doctors monitor girl during surgery
Susie: From abuse victim to anti-cruelty champion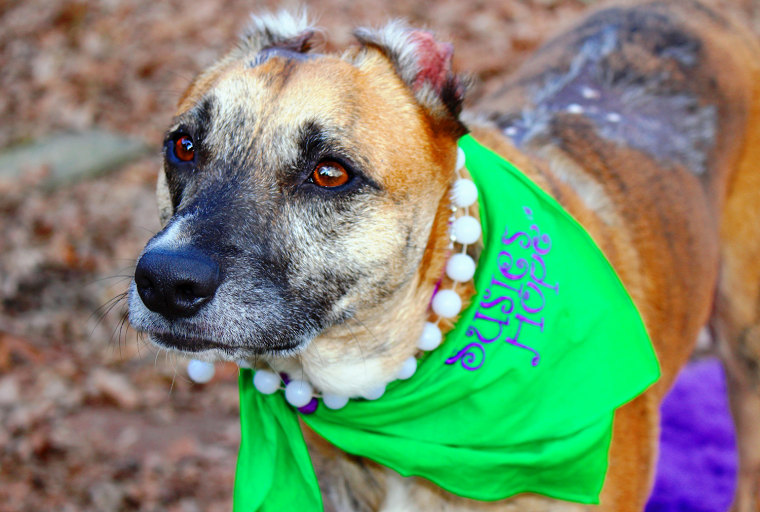 In 2009, a pit-bull-mix puppy named Susie licked the face of her owner's child. The owner reacted swiftly and violently, beating Susie and setting her on fire. The puppy's body got covered in third-degree burns, and her ears were burned off.
Caregivers helped Susie through her painful recovery, and eventually Donna Smith Lawrence of High Point, North Carolina adopted her. Lawrence might have seemed an unlikely candidate to adopt Susie, since she had been mauled by an abused dog in 2008. But Lawrence said she felt drawn to Susie's "sweet spirit and boundless forgiveness." 
Together she and Susie, who ultimately became a therapy dog, fought for stronger anti-cruelty laws in North Carolina. In 2010, they stood by as Gov. Bev Perdue signed Susie's Law into effect, with Susie's pawprint appearing beside the governor's signature.

Chaney: From bomb-sniffing in war zones to helping veterans at home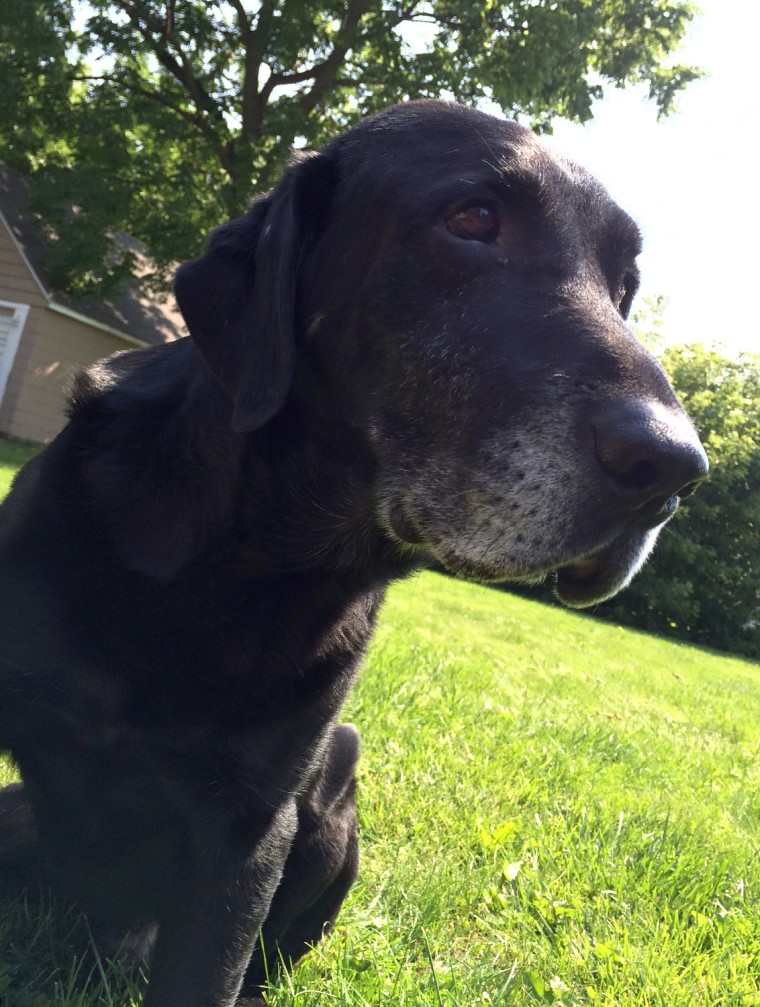 Chaney has seen a lot. Before he retired from the U.S. Marines in 2013, the Labrador retriever completed multiple tours in Iraq and Afghanistan, where he sniffed out improvised explosive devices with his powerful nose.
Now 8 years old, Chaney lives happily with one of his former handlers, Cpl. Matt Hatala, in Lansing, Michigan. Together, Hatala and Chaney volunteer throughout the Midwest for the nonprofit organization Retrieving Freedom, which trains service dogs for children with autism and disabled veterans. 
"More service members are committing suicide from post-traumatic stress (PTSD) than are being killed in action," Hatala wrote on the Hero Dog Awards website. "Service dogs can help prevent this from happening."

Xena the Warrior Puppy: From abuse victim to helper for boy with autism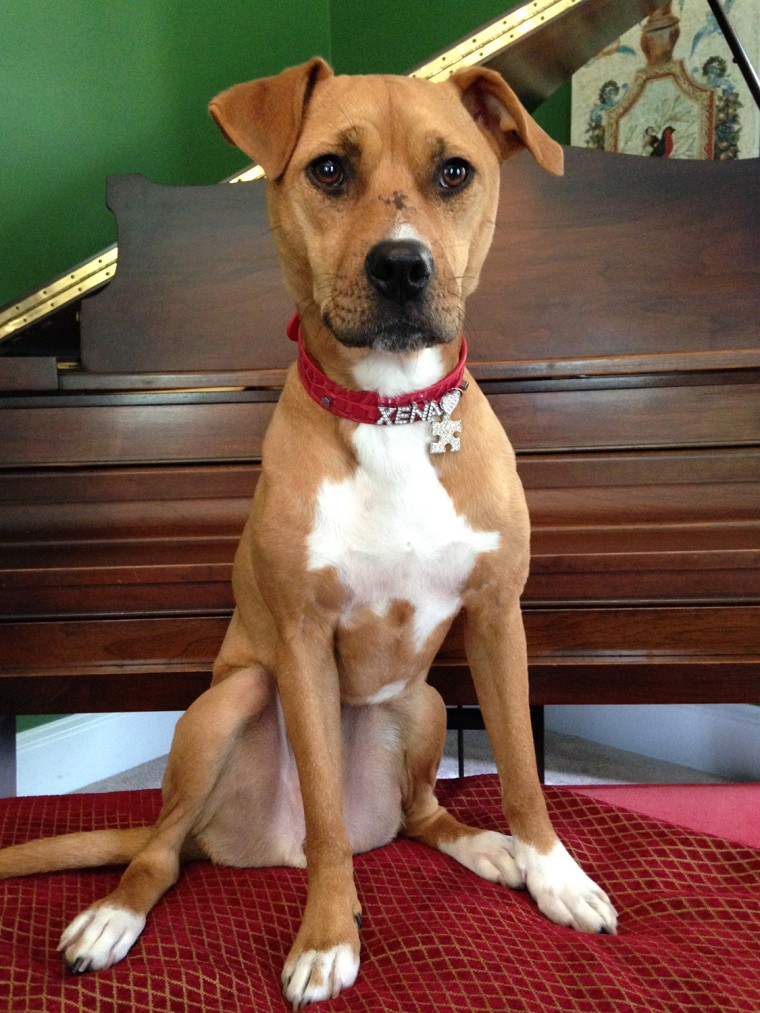 Xena the Warrior Puppy's saga began under harrowing circumstances. Xena was close to death in September 2012 when she was brought to the DeKalb County Animal Services' shelter in Georgia. A veterinarian determined she was about 4 months old and had been confined — and starved — in a cage before being dumped in someone's yard.
A shelter employee brought the puppy home and rehabilitated her, and in March 2013 the Hickey family of Johns Creek, Georgia, adopted Xena. The dog immediately connected with Jonny Hickey, an 8-year-old boy who had been closed off and isolated for years because of autism. Even though he could speak, he spent most of his time in silence — but Xena changed all that, transforming Jonny into a happy chatterbox at home. "I've never seen Jonny so happy," Jonny's mom Linda Hickey told TODAY.com.
Related story: Xena the Warrior Puppy, rescued from abuse, helps 8-year-old boy with autism
Kai: From shelter dog to firefighter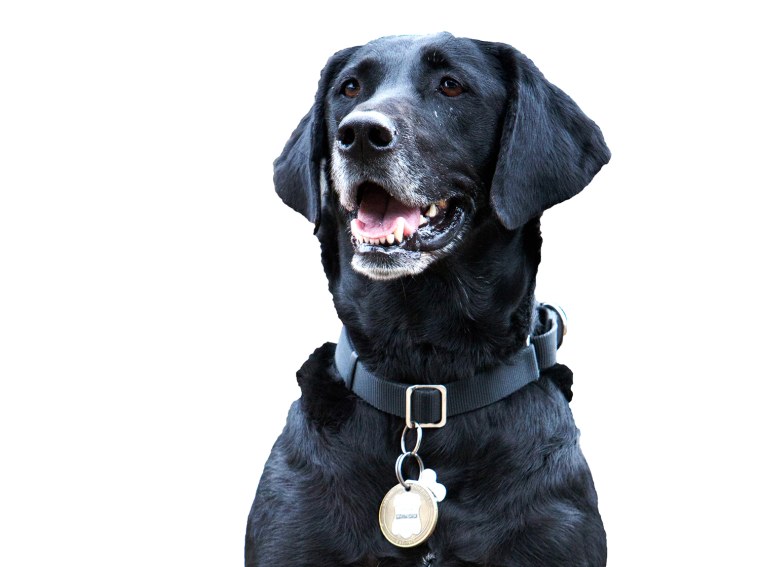 Who knows what might have become of Kai if her special skills hadn't been noticed by an observant shelter visitor? The tenacious black Labrador retriever was spotted searching out a lone tennis ball in a large toy box — and her drive indicated that she might make a good working dog.
She got whisked out of the shelter and into an arson dog training program, where she excelled. Today, Kai is an accelerant detection canine with the San Antonio Fire Department in Texas, where she has worked more than 200 fire investigations. "An environment of heat, smoke, bright lights and sirens — which would send most dogs running away — only makes this K9 smile with anticipation," Kai's handler Justin Davis wrote on the Hero Dog Awards website.
Xxon: A guide dog with guts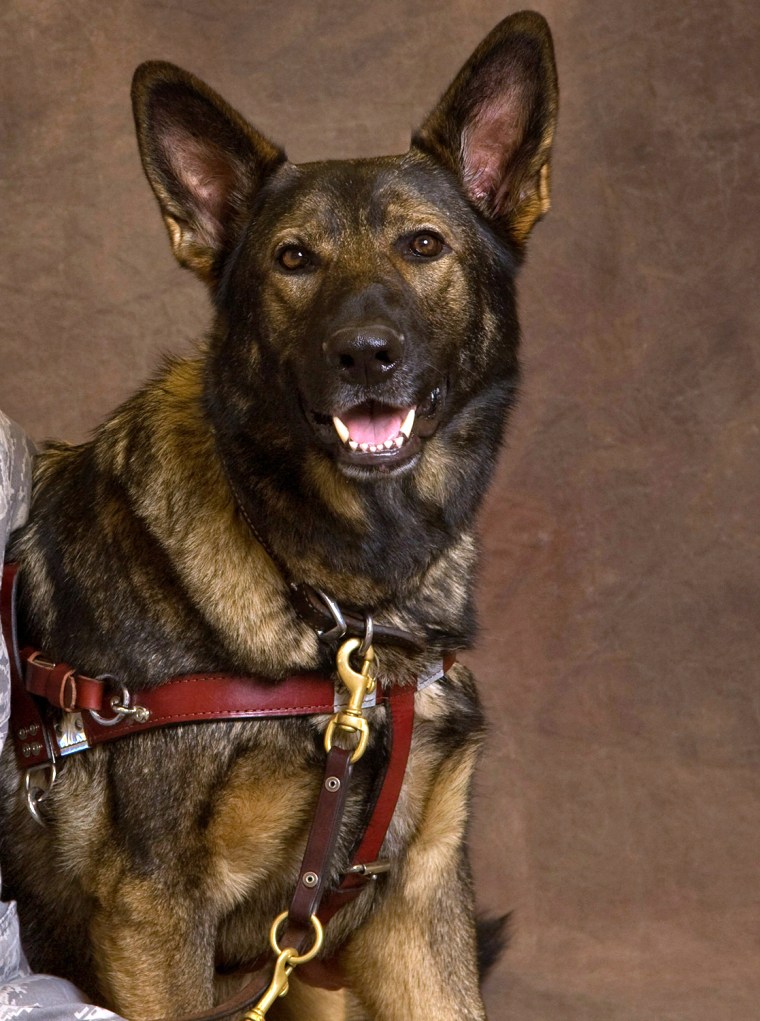 Retired Air Force Sgt. Michael Malarsie said Xxon is more than his guide dog. He's his new wingman in life. "Because of Xxon, I'm part of society again," Malarsie wrote on the Hero Dog Awards website. "I can't imagine life without him."
In January 2010, an IED blinded and severely wounded Malarsie and killed four of his team members, including his best friend, in Kandahar, Afghanistan. One year later, Xxon became Malarsie's new partner and allowed him to serve active duty as a blind Airman.
Today, Xxon continues to serve as Malarsie's guide dog in Salt Lake City — and the dog's presence helps Malarsie's whole family. "When Xxon is working with Michael, I don't feel that I have to watch out for him every minute," Malarsie's wife Jesse wrote. "I can focus on being a mom to our three children."
Bretagne: 9/11 search dog from Ground Zero still loves to serve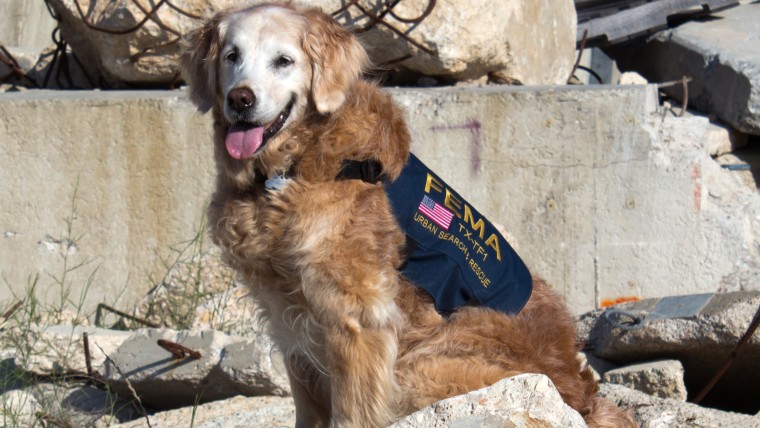 Bretagne (pronounced "Brittany") is one of the last known surviving search dogs who worked at Ground Zero in New York after the Sept. 11, 2001 terrorist attacks. In the decade that followed, Bretagne also did search work at some of the worst disaster sites in the United States, including Hurricane Katrina, Hurricane Rita and Hurricane Ivan.
Today, at age 15, Bretagne is retired from formal search and rescue work — but she's still eager to don her vest and help others. During the school year in her home town of Cypress, Texas, she happily prances through a local elementary school, where she helps first-graders and special-needs students learn how to read out loud.
"She still has this attitude of putting her paw up and saying, 'Put me in, coach!'" Denise Corliss, 49, Bretagne's longtime handler and owner, told TODAY.com. "She absolutely loves it."
Related story: 9/11 Ground Zero search dog still lends a helping paw
Kota: A law-enforcement dog who worked through the pain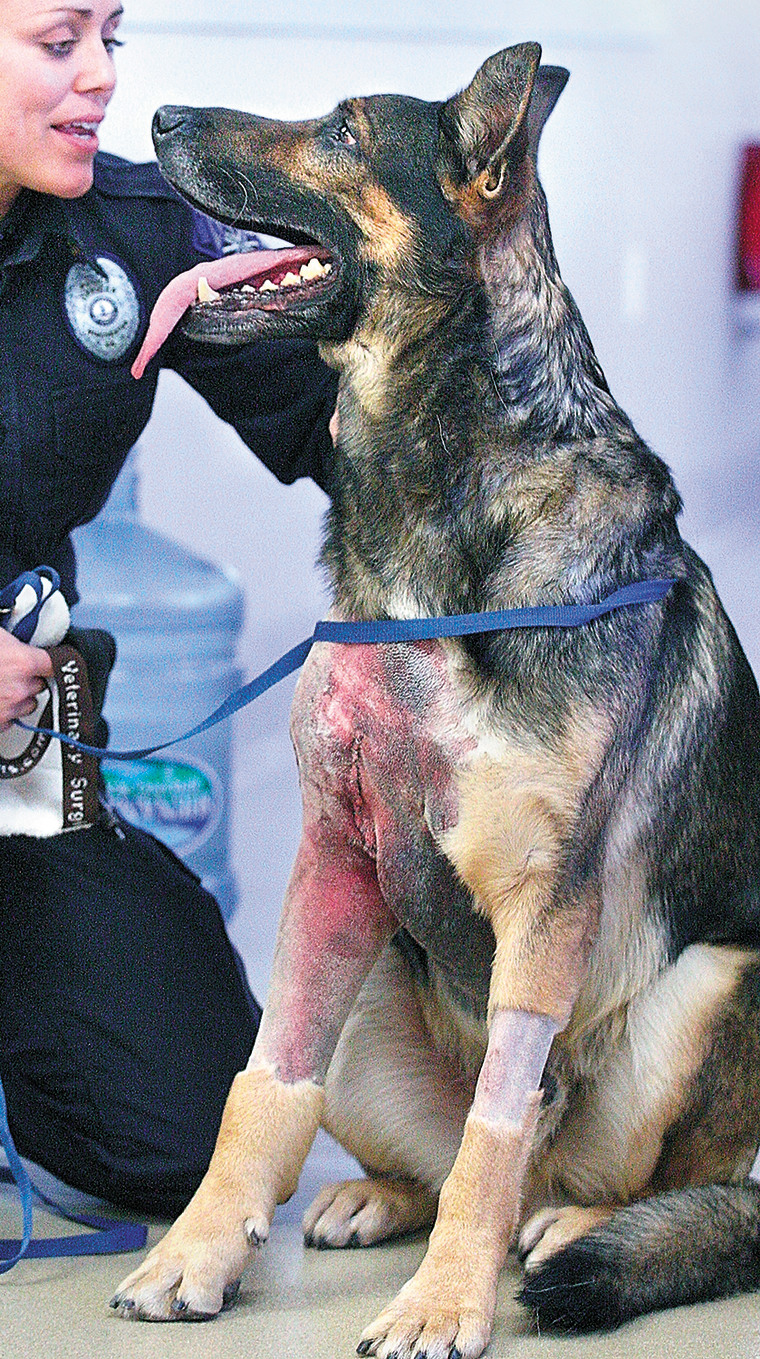 On Jan. 3, 2014, a law-enforcement K9 named Kota was helping police officers respond to a burglary in progress in Winchester, Virginia. Kota was detaining the suspect he found hiding in the upstairs crawl space of a house — until the ceiling collapsed.
Kota fell about 8 feet to the hardwood floor below and began yelping loudly in great pain. Officers couldn't check on the dog right away because they were so busy with the suspects on the scene, and when they turned around, they were stunned to see that Kota had climbed the stairs and was right behind them ready to help.
It turned out the dog had split his elbow in half and had sustained other fractures that required a four-hour surgery. His handler, Brittney Kotynski-Neer, wrote on the Hero Dog Awards website that officers were "moved by his devotion and loyalty to his handler and the other officers as well as his desire to stay in the fight."
To vote for your favorite Hero Dog, click here. The 2014 American Hero Dog will be announced on Sept. 27 and broadcast on the Hallmark Channel on Oct. 30.
Need a Coffey break? Connect with TODAY.com writer Laura T. Coffey on Facebook, follow her on Twitter and Google+ or read more of her stories at LauraTCoffey.com.