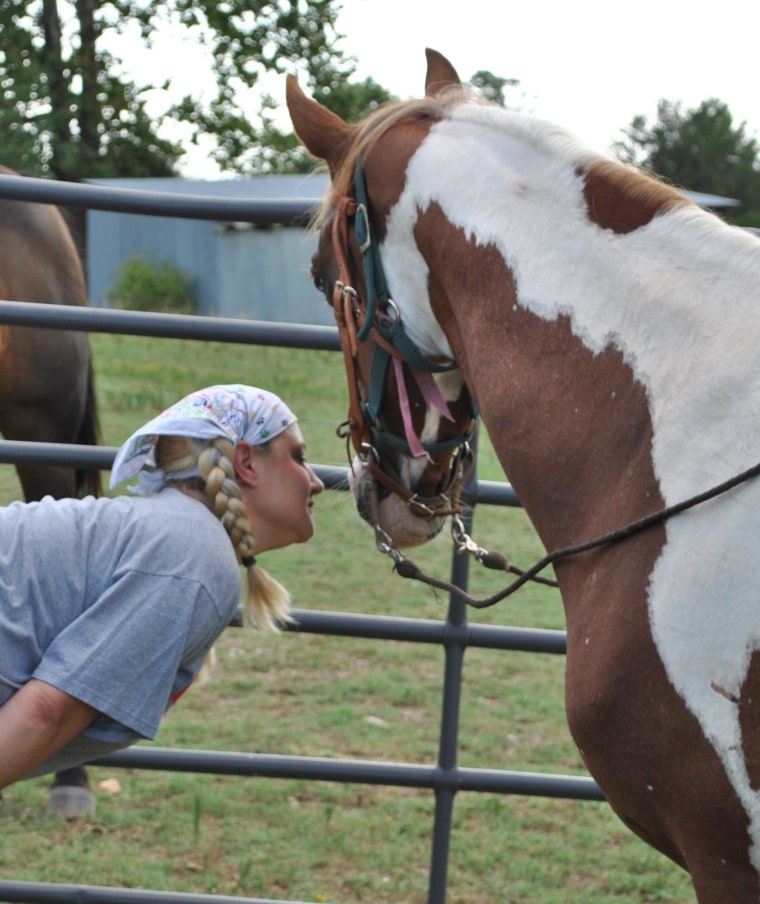 Nearly 10 years ago, Michelle Pool, 40, of Eureka Springs, Ark., stood staring at a clipped and gaping fence. Her beloved horse, Opie, had been stolen from her father's pasture in San Antonio, Texas.
"We knew he was gone," Pool told TODAY.com. Opie only stayed with her father for a short time, waiting for Pool to come pick him up after she recovered from back surgery.
Once Pool discovered Opie was missing, she reported it to the authorities and started her own investigation. She first went across the road from her father's house to ask if her neighbor, a deputy in the local sheriff's department, had seen anything unusual. He said he'd seen a horse trailer that night but had thought it was Pool picking up her horse.
Pool made fliers and went up and down nearby Interstate 10, stopping at every single house to ask whether anyone had seen her horse. No one had seen Opie, a Saddlebred Pinto with very specific white-and-tan markings.
"I kept looking, kept looking," Pool recalled. "I had posted him on Stolen Horse International the same week he went missing. I stayed on that computer non-stop looking at lost horses, stolen horses, recovered horses, anything I could find."
Time went by, and no leads emerged. "There was no sign of him and I was heartbroken," Pool said. "I had to explain to my kids that there are people in the world who take things that don't belong to them. They were scared one of the other horses was going to get taken. I said, 'We'll find him, we won't stop looking.'"
She'd gotten Opie when he was just 10 months old. She said he was a "little tiny thing, sweet as can be." Pool cherishes her horses, and Opie's loss hit her particularly hard. "My old horse lived and died on my property at 30 years old. I keep them for life. They're mine. They're my four-legged children."
As the years went by she divorced, moved from Texas to Arkansas, and had additional spinal surgeries. The thought that she'd ever find Opie became more and more remote.
Then, a few weeks ago, she got a call from Debi Metcalfe, the woman behind the organization Stolen Horse International, the site where Pool had originally reported Opie missing a decade earlier.
"We found your horse," Metcalfe said.
"No, you didn't," Pool said.
"No, we really did," Metcalfe said. "I'm 150 percent sure."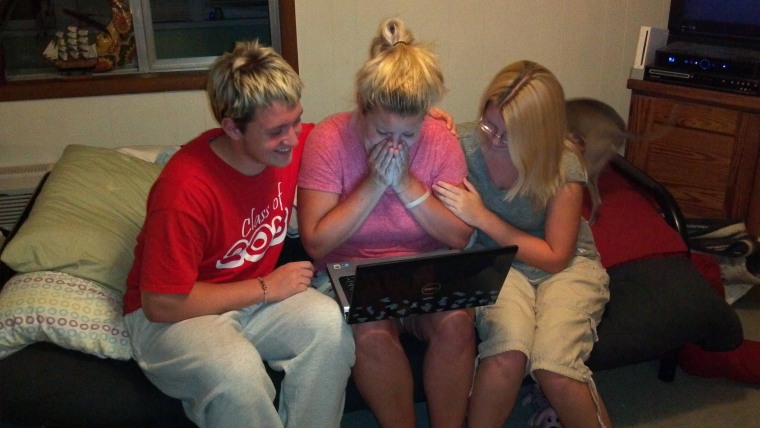 Opie had been listed for sale on Craigslist in Dayton, Texas, north of Houston, by a woman named Della Brade. Deanna Bordelon, who was looking for a horse for her 13-year-old daughter, had gone to see Opie. He had been renamed War Bonnet.
Bordelon had recently purchased a horse from a dealer who had talked her into buying an untrained and skittish horse, so Bordelon was more curious than usual and asked Brade a lot of questions about Opie's past.
According to Bordelon, Brade told her that "her pastor had given her Opie eight years before, and Opie had been given to him by a pastor in San Antonio who couldn't do anything with him because he said he'd been abused and was head shy. Della made progress with him and her pastor saw how good she did so he decided, 'Why doesn't he stay with you?'" That first pastor had allegedly found Opie "wandering on I-10."
Bordelon was skeptical. She went home and Googled Opie's story, expecting to find a news story about a wandering horse. Instead, NetPosse.com came up, which is the website of Stolen Horse International. "I clicked on it and there was a list of stolen horses, and all of I sudden I see a thumbnail of Opie and look at the photo I'd taken of him on my cell phone." It was an exact match.
"Guess I'm not getting that horse, am I?" her daughter, Savannah, asked. She then encouraged her mom to call the number listed on the site.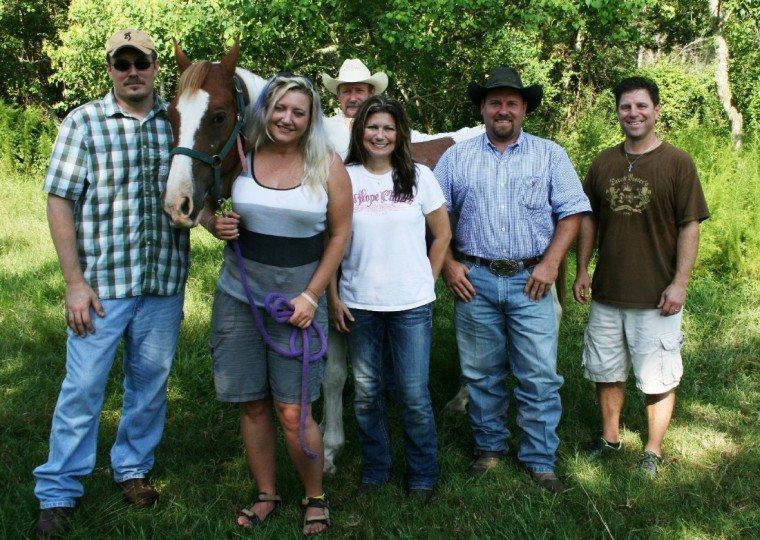 Bordelon called Stolen Horse International and told Debi Metcalfe her story.
Metcalfe worked quickly. First, she contacted Larry Ricketts, the officer who had worked on Opie's case, to confirm the theft report in 2003. She then found Pool using one of the organization's private investigators, and then contacted the county sheriff's department, Liberty County, which has jurisdiction over Dayton. By 2 a.m. the next day, a team of contract cowboys from the sheriff's department had seized Opie from Brade. Brade reportedly did not know Opie had been stolen.
"It was a good day when all the pieces of the puzzle fell in place quickly," Metcalfe said. "It rarely happens like that."
She would know. She started Stolen Horse International when her beloved horse, Idaho, was taken from her home. Though Idaho was recovered, the pain of his absence led her to establish the organization in 1998.
Pool drove all night and through the next day to get Opie back. As she drove she was nervous and wondered if he would remember her. She didn't have to worry. Their reunion, which was caught on video, shows Pool embracing Opie, his head resting in her arms.
"There is hope," Pool said. "You can get them back."
More from TODAY Pets:
Woman battles for 3 hours to save her stuck horse from rising tide
Retired show horse becomes unwitting real-life unicorn -- and survives
Puppy and horse smooch, snout-to-teeth
Genuine horsepower: Man buys mare at car auction
Video: No one home in Arizona house but a bobcat