When Rey enters the doors of New York City's American Ballet Theatre, he knows he's home.
The Shih Tzu poodle is greeted by Rosanne Forni, who has worked at the front desk for the past 38 years and has kept doggy toys in her top drawer ever since.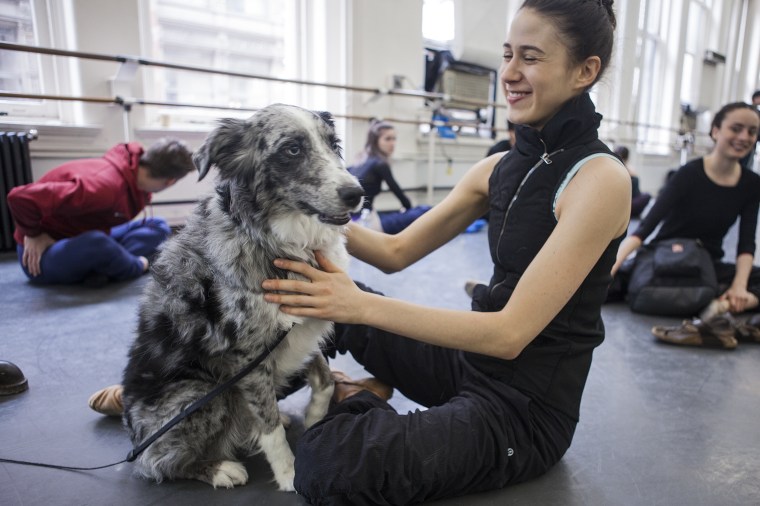 "Dancers have been bringing their dogs in for as long as I can remember and I absolutely love it," Forni told TODAY.com. "When they come and sit on my lap, they just seem to make all of my problems go away."
Rey's owner, Melanie Hamrick, brings him twice a week and said he gets "all jumpy and excited" when approaching the theater.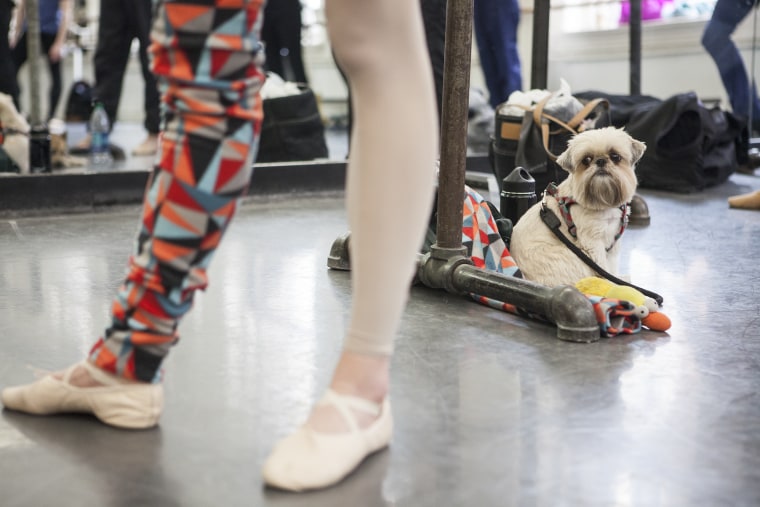 RELATED: Just try not to smile while you watch these dancing puppies
Tina Escoda, the theater's artistic administrator, started dancing with the company in 1985, when Mikhail Baryshnikov was the director and would bring his mutt, Tim. Escoda has been taking her golden retriever, Chuy, for the past eight years and he is now considered the "house dog."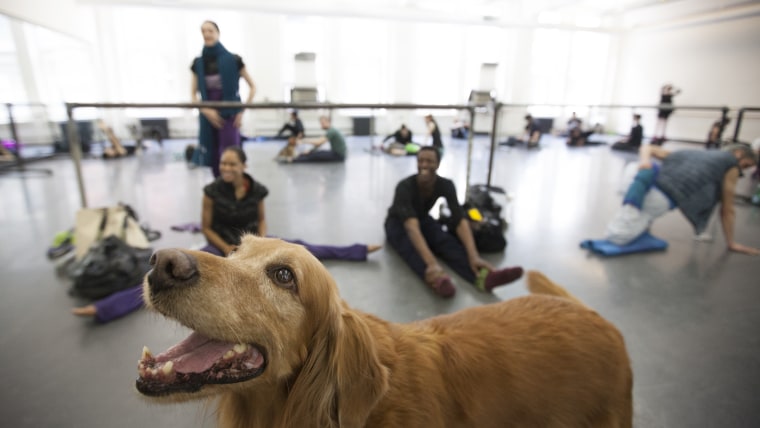 "It didn't start from an idea someone had; it's just always been the culture here," Escoda, 54, told TODAY.com.
Of the theater's 88 dancers, 15 have dogs they bring in, as do six staff members.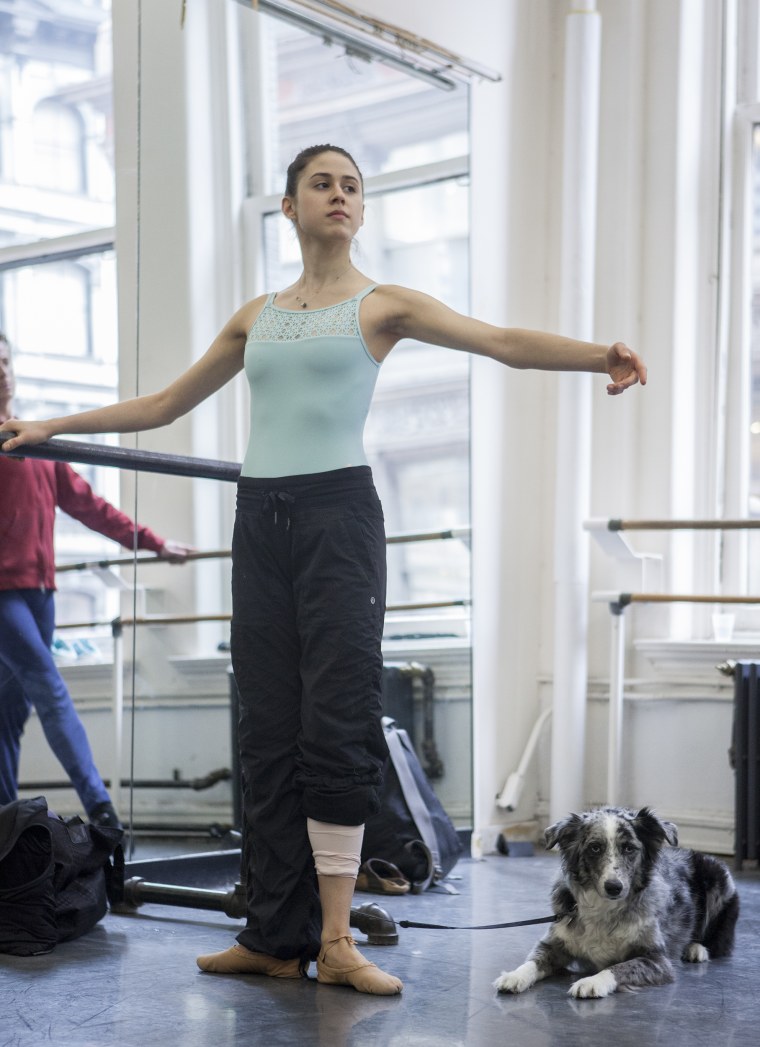 "Jimi is the leader of the pack because he's been coming here since the day I got him in 2003," Olinda Cedeno, the theater's massage therapist, told TODAY.com. "He loves it here so much that he starts hyperventilating in the cab as we get closer."
Although Jimi the dachshund isn't a big fan of Chuy because of his size and Pickles gets possessive over his food, most of the dogs have grown to become great friends.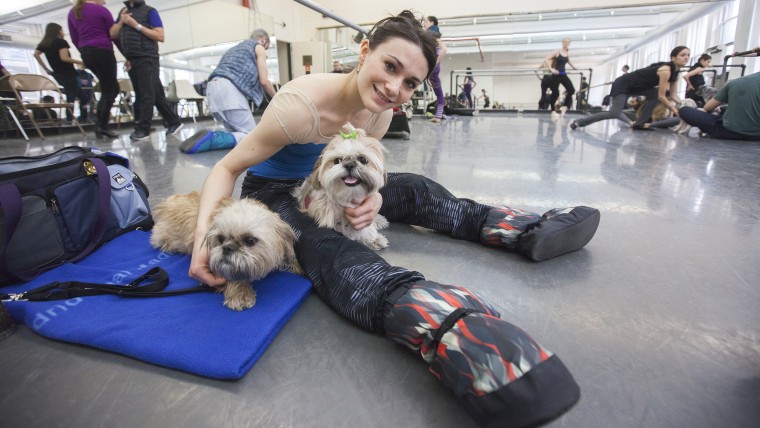 Rey and Riley even hang out outside of the studio and often have play dates in the park.
"I can't begin to tell you how much I've benefited from having Riley here," Devon Teuscher told TODAY.com. "It's such a stressful job and can be a stressful environment that it's nice to have him here to make me and everyone else here happy."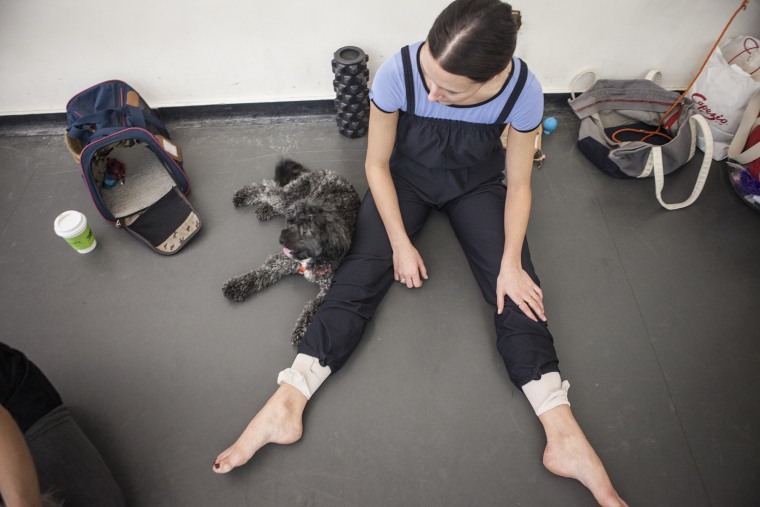 Riley the cavapoo is known for being an awesome cuddler during their five minute breaks, while Hudson the Old English sheepdog is infamous for having tons of puppy energy.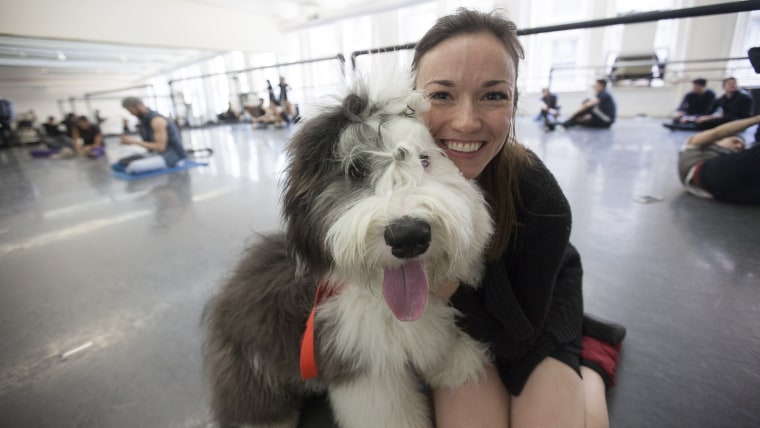 "He scares a lot of the smaller dogs here, so I can't bring him in as often as I'd like to," Sarah Smith, Hudson's owner, told TODAY.com. "When he is here, he gets really excited when the dancers are stretching on the floor for some reason."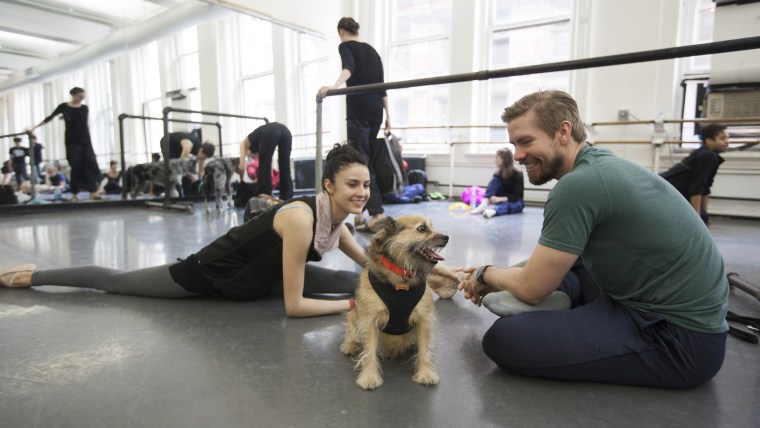 RELATED: Service dog helps teen prep for dance — in an adorable matching dress!
The dogs all enjoy accompanying their owners to the theater for different reasons. While Pickles likes to fall asleep under the piano, Ranger can't get enough of running around in the big open studio space because he doesn't get much of that in his owner Brittany Degrofft's small NYC apartment.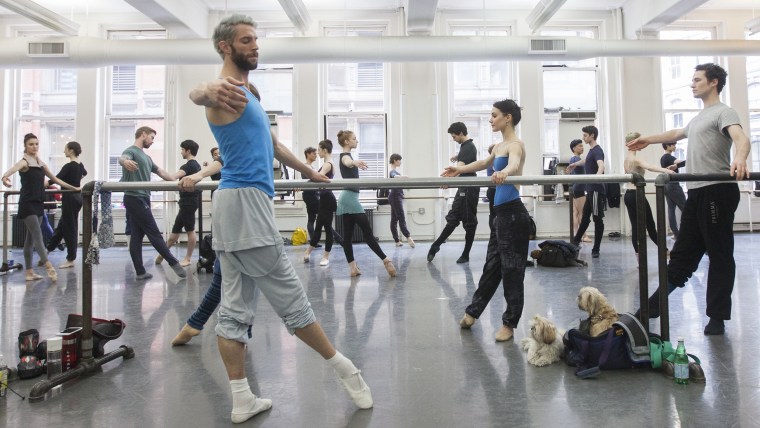 Even the dancers who don't have dogs love having them around.
"I'm a dog person, but my husband isn't and where I live now doesn't allow dogs, so I love that they're here," Alexandra Basmagy told TODAY.com. "I very rarely find them distracting because they're usually well behaved and most have been coming here for years."
Lua, who first visited the studio at 8 weeks old, is now 12 and when she hears the piano, she knows to go right in her bag.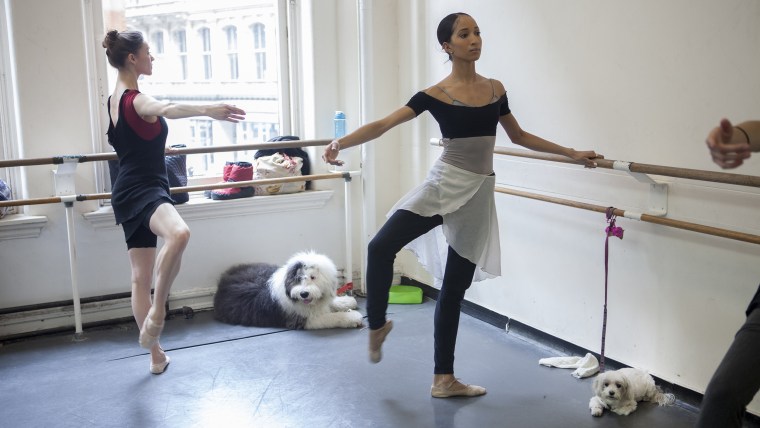 "We endure so much stress and have such rigorous rehearsals that it's nice to look to the side and see a little tail wagging," Marcelo Gomes, Lua's owner, told TODAY.com. "It's hard to not be happy when they're around."