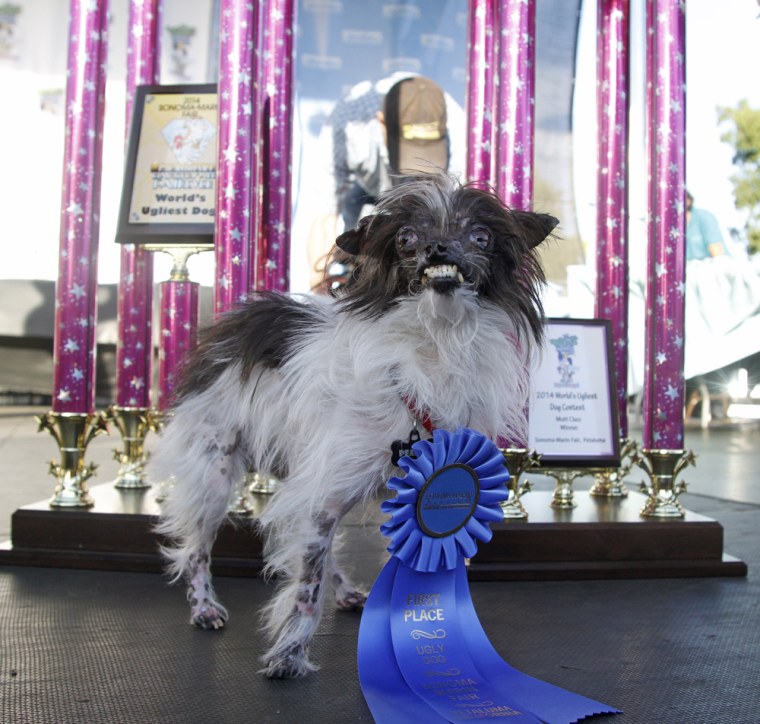 A scarred dog with deformed lips and eyelids and missing patches of fur may not sound like a winner, but 2-year-old mutt Peanut — who bears all of those features and then some — was crowned the World's Ugliest Dog on Friday at the Sonoma-Marin Fair's contest in Petaluma, California.
The little pooch, believed to be a Chihuahua-shih-tzu mix, had a very tough start to his life. He was seriously burned while still a puppy, and spent more than nine months at an animal hospital before his new owner, Holly Chandler of Greenville, North Carolina, adopted him.
"We're trying to use him as a poster child for what can happen to animals who are abused," Chandler told the Associated Press. She also said she plans to use the $1,500 prize to help pay for other pets' veterinary bills. 
Peanut was favored by the TODAY audience to win the contest, with nearly 36,000 votes out of the 76,643 who submitted a response by press time. His closest competitor, as far as TODAY readers were concerned, was a Chinese Crested-Chihuahua mix named Sweepee who received 16,000 votes. 
The Chinese Crested breed, which tends to be a bit scrawny with random patches of fur, often wins the Ugliest Dog contest. Nine Chinese Crested dogs have won the contest in the past 12 years. 
Hideously cute? Why we love the World's Ugliest Dog Contest
Though the pictures of the contestants often look goofy, the organizers insisted in a press release that the purpose of the contest isn't to make fun of the pooches. Instead, it's to have "fun with some wonderful characters and (show) the world that these dogs are really beautiful."