Sometimes the love of a dog can help us keep going — even when moving forward feels impossibly hard.
One dog who inspired thousands to persevere is being honored in a special way on Monday, Sept. 11. A life-size bronze statue of the beloved disaster search dog, named Bretagne, has been unveiled in a Houston suburb that's still feeling the effects of Hurricane Harvey.
Bretagne (pronounced "Brittany") was the last surviving search dog who worked at Ground Zero in New York City after the terrorist attacks of Sept. 11, 2001. The perpetually smiling golden retriever also deployed in response to Hurricane Katrina, Hurricane Rita, Hurricane Ivan and many other disasters. Bretagne died on June 6, 2016, just shy of her 17th birthday.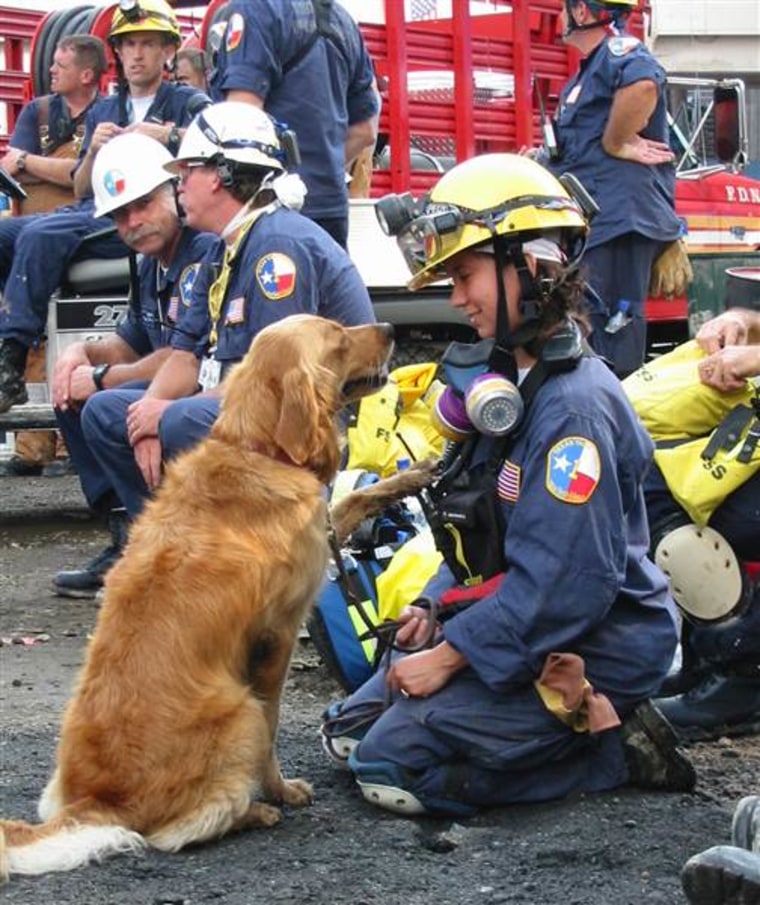 This year, many of Bretagne's human friends, fans and fellow first responders in her hometown of Cypress, Texas, wanted to honor her legacy on Sept. 11. They had no way of knowing Hurricane Harvey would flog and flood their region two weeks before the ceremony in Bretagne's honor.
In fact, Bretagne's longtime handler and owner, Denise Corliss, just completed a two-week search-and-rescue deployment in areas hit especially hard by Harvey. Corliss took time off from her job as an electrical engineer so she could travel to Rockport, Ingleside and other devastated Texas communities with her current search dog, Taser. Like many FEMA-certified search workers, Corliss is a volunteer who does not get paid for the hundreds of hours she spends training her search dog partners.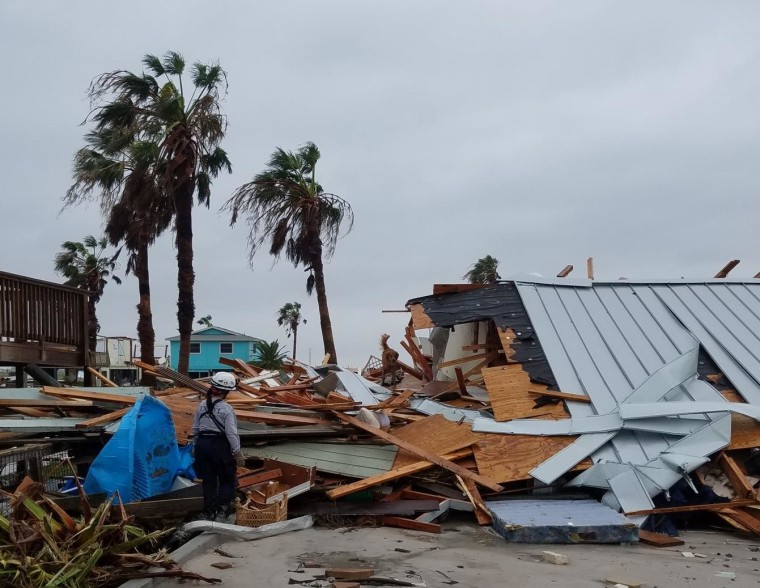 "People really do pull together in the worst of times," Corliss told TODAY. "There are so many first responders, and so many strangers, helping to save each other. ... I'm so touched — dumbfounded, even — that people wanted to do something this special for Bretagne and felt so strongly about it. Bretagne has become a symbol for those who serve. This is about honoring all first responders."
Bretagne's statue is in Cypress, at the entrance of the Fairfield subdivision where she spent her life. It's strategically positioned in front of flagpoles right near the site of a Cy-Fair Volunteer Fire Department station where Bretagne served.
"It is literally at the entrance of our neighborhood!" Corliss said. "Every time I enter and leave the neighborhood, I will pass her. It's certainly very emotional."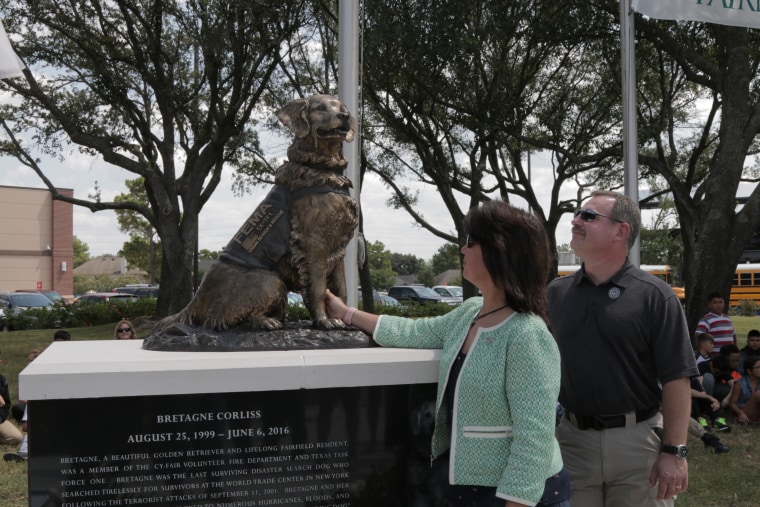 Salt Lake City-based artist Lena Toritch studied photographs of Bretagne as she sculpted the statue.
"The statue shows Bretagne in her prime, on her best day, when she was young and fresh and happy," Toritch said. "I wanted to show her smile, her sweet disposition.
"I think it's very symbolic for the statue not only to be unveiled on 9/11, but to be unveiled in the Houston area. It shows respect and gratitude for first responders and it honors the resilience of people who don't want to stop living their lives."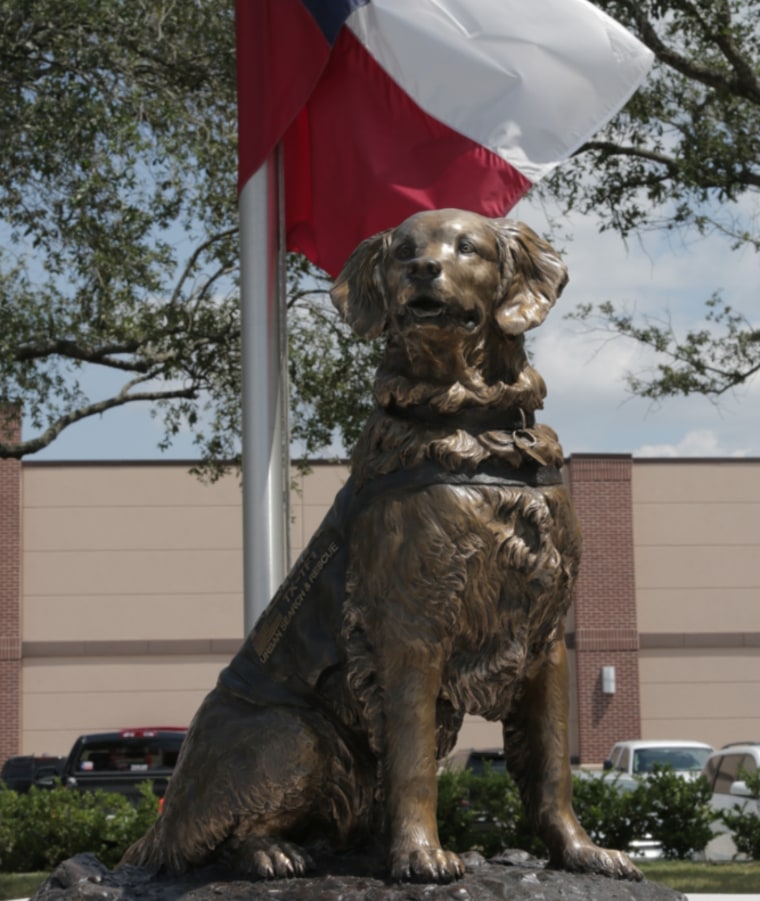 Bretagne was Corliss' first disaster search dog, and their first deployment together took them to the twisted pile of steel beams, concrete and ash where the World Trade Center once stood. Ground Zero was a harrowing assignment for veteran rescue workers, and it could be a frustrating one for the 300 or so search dogs who scoured the pile because there were no human survivors to be found — only human remains.
"I really believed we could find somebody — anybody! — if we could just get to the right void space," Corliss told TODAY in 2014. "But our reality was much different. We found all various kinds of remains, some recognizable, others not so much."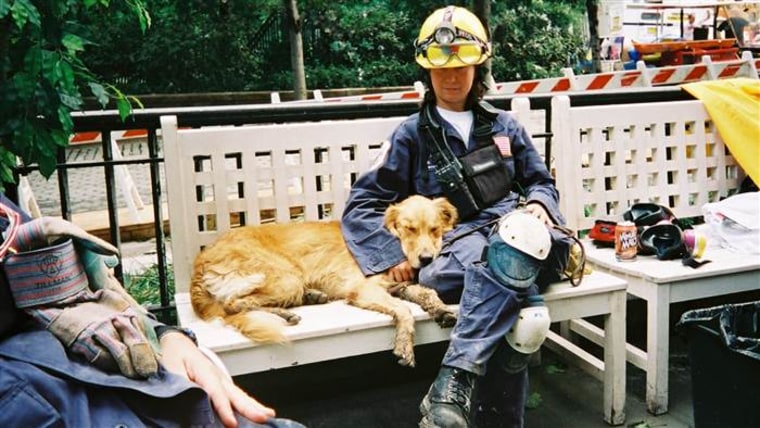 In the years that followed 9/11, Bretagne and Corliss deployed together to numerous disaster sites all over the country. Bretagne retired from formal search work at age 9, but she never lost her work ethic or her love of adventure. She made national news at age 15 when she returned to Ground Zero with Corliss for the first time since the 2001 terrorist attacks. NBC News' Tom Brokaw interviewed Corliss at the 9/11 Memorial and also spent time with Bretagne, who was a finalist for American Humane's annual Hero Dog Awards.
The golden retriever generated even more headlines when she turned 16. In honor of Bretagne's birthday in August 2015, BarkPost coordinated an epic "Sweet 16" bash in New York City that included an illuminated billboard in Times Square and the dedication of a cobblestone in her honor on the plaza of the 9/11 Memorial.
In late 2015, Bretagne became a star of a nonfiction book about senior dogs and met with former President George H.W. Bush at the George Bush Presidential Library in College Station, Texas.
What's more, Bretagne never stopped working. Until shortly before her death at age 16 1/2, Bretagne served as a reading assistance dog at Roberts Road Elementary School near her home. In that job, she provided a soothing presence and a listening ear for first-graders and children with special needs as they learned how to read out loud.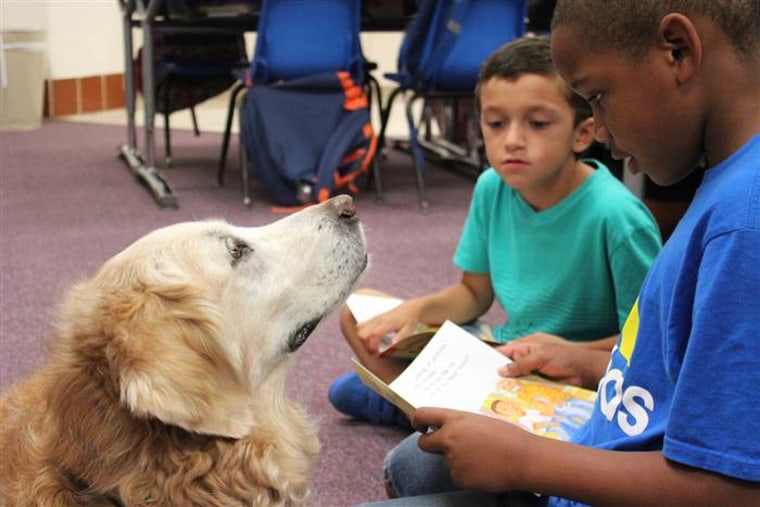 At Monday's statue unveiling, children from the Roberts Road Elementary choir sang in appreciation for Bretagne's years of service at the school. Members of the Houston Fire Department Pipes and Drums band also played bagpipes and drums in Bretagne's memory.
The drainage district for the Fairfield subdivision where Bretagne lived sponsored the statue project as an improvement for the neighborhood, and many local contractors and businesses donated time and resources to make it happen. A plaque at the base of the statue includes the following inscription:
"Bretagne's years of service remind all of us how to live our best possible lives. Although she is no longer with us, her spirit lives on through those who serve."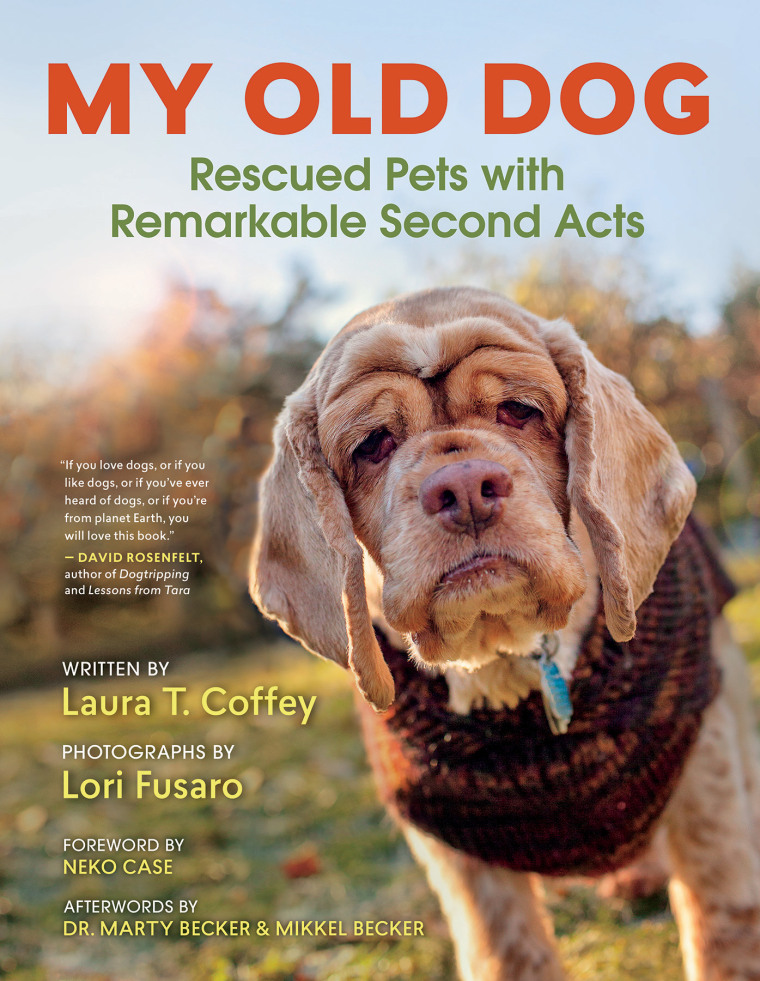 IF YOU GO: Bretagne's statue unveiling is open to the public. The event is scheduled for noon on Monday, Sept. 11, at the corner of Cypresswood Drive and Mason Road in Cypress, Texas.
Bretagne's life story is featured in the best-selling book "My Old Dog: Rescued Pets with Remarkable Second Acts" by TODAY writer Laura T. Coffey. Bretagne's chapter includes comments from NBC News' Tom Brokaw and exclusive photographs of Bretagne at the 9/11 Memorial taken by Lori Fusaro.
Editor's note: This story has been updated since its original publication at 11:30 a.m. ET on Monday, Sept. 11, 2017.