Editor's Note: This article contains images and details that some readers may find disturbing.
Fifty dogs who lived through hell with a suspected dogfighter are now experiencing care and kindness, perhaps for the first time. The man accused of abusing them is facing 50 counts of felony dogfighting charges.
One dog's lower jaw was missing. Another had a gaping hole in the chest. Some dogs' legs were bitten through with their tendons exposed. Authorities were shocked by the horrific condition of dozens of dogs they found on a property in Natchez, Mississippi, belonging to someone suspected of participating in dogfighting.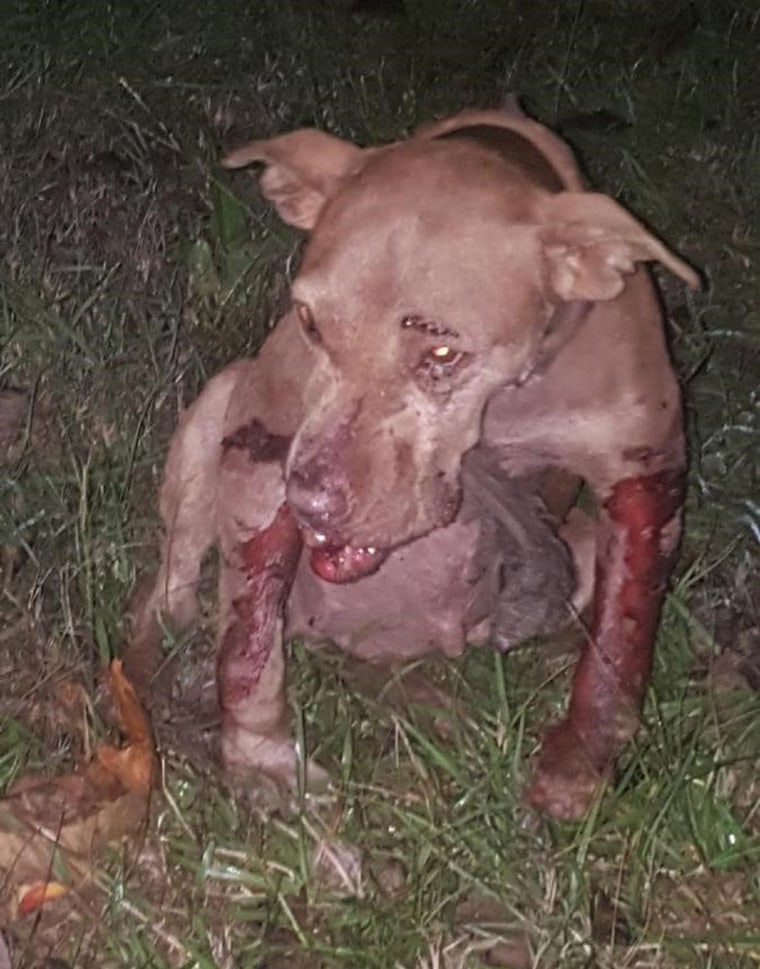 "It was heartbreaking," Chief Investigator Stanley Searcy, with the Adams County Sheriff's Office, told TODAY. "Most of them were desperate. They were glad to see us."
But that was only those who'd survived — investigators also found dog skulls and skeletons in a part of the property they call a "bone yard."
And despite all this cruelty, the dogs still greeted investigators with wagging tails. One dog, whose leg was mangled, laid his head on a deputy's foot.
"Look how friendly they are," Adams County Sheriff's Office Maj. Jerry Brown told The Democrat, a local paper. "They're loving."
The dogs were found Monday, when officers responded to a report of dogfighting.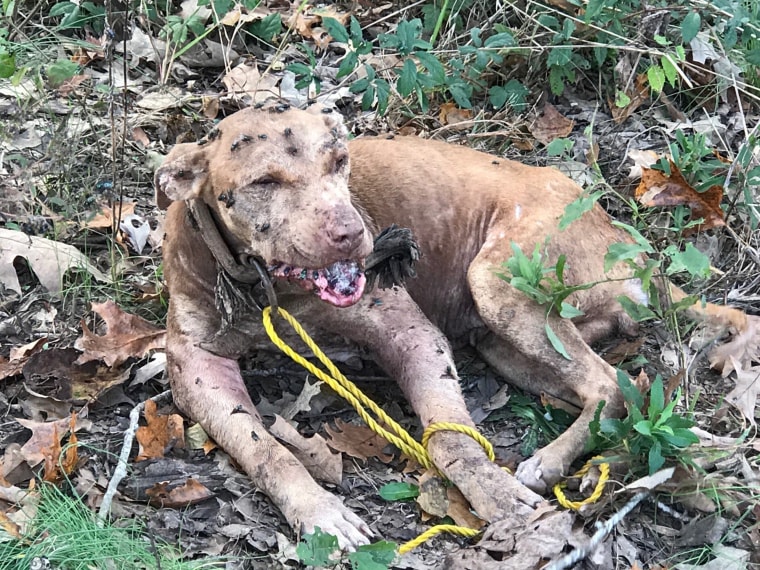 Some of the badly injured dogs were humanely euthanized. This includes the dog with the missing jaw.
The remaining 50 dogs have now been taken in by the American Society for the Prevention of Cruelty to Animals, and are going to a temporary shelter in an undisclosed location.
"Look how friendly they are. They're loving."
"Many of these dogs were found in appalling conditions and require much-needed medical attention," said Kathryn Destreza, investigations director for the ASPCA field investigations and response team, in an email to TODAY. "They will receive the medical care they so badly need."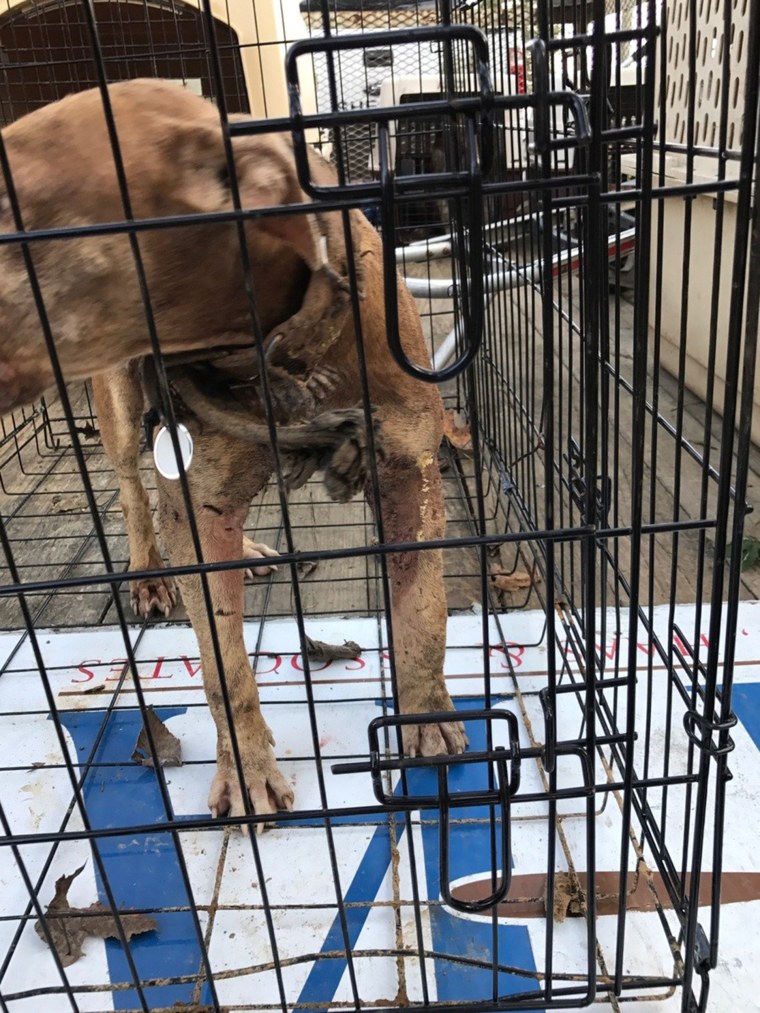 Tommie Queen, who owns the property where the dogs were found, turned himself in to police on Wednesday. He has since been charged with 50 counts of felony dogfighting. Fines and prison are possible penalties.
People from all over the world have donated more than $26,000 to a GoFundMe, which the Adams County Sheriff's Office set up, to help pay for the dogs' care.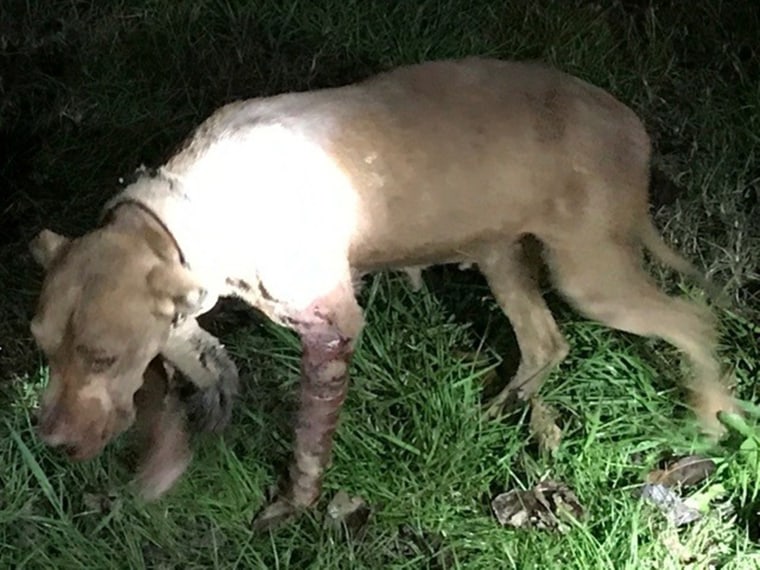 The campaign stopped accepting new donations on Thursday. "The funds raised up to this point will be used to cover expenses incurred by our initial contact with these animals including veterinarian expenses and expenses to Natchez-Adams Humane Society. Once these are taken care of, we will sit down with the ASPCA and determine how best to apply any monies left over," the office said in a press release.
Searcy said the outpouring of community support has a bright spot in a very hard investigation.
"We're grateful," he said. "The dogs deserve to be treated well."
We asked the ASPCA how folks can help; spokesperson Rebecca Goldrick suggested two key ways, on top of donations:
First, if you think someone you know is abusing animals, "please speak up," she said. Reach out to your local law enforcement agency, or a local animal control agency or government shelter. Here's the ASPCA's tip sheet on how to report animal cruelty.
Second, volunteer with the ASPCA field investigations and response team — this is who will help care for animals rescued from cruelty and abuse situations, like these 50 dogs. "Our volunteers use skill sets from all different walks of life, and we are always looking to welcome new committed and qualified responders to our team," Goldrick said.