Allyson Siegel, 45, of Charlotte, N.C., dug deep into her pockets recently to save a very unusual puppy. She shelled out a whopping $4,000 for a 6-week-old Chihuahua-terrier mix that was born with a fifth leg protruding from its stomach, according to the New York Daily News.
The pup, who was originally named Precious, was set to become the latest attraction at a Coney Island animal oddities show in Brooklyn, N.Y., but Siegel paid the lump sum to the dog's owner, Calvin Owensby, managing to outbid sideshow owner John Strong by $1,000. Owensby, an electrician, said he sold the pup because he lost his job in December and needed the money.
When Siegel heard about the dog's possible future, she jumped into action. "I saw her and she's so adorable and I felt like I needed to be an advocate for her because she can't speak," she told the Daily News. "It just broke my heart ... I needed to see if there was something I could do."
"I called Calvin and I said, 'I understand this is about money,' " Siegel told the New York Daily News.
Despite the extra appendage, Siegel says her pup — whom she's renamed Lilly — is like any other dog. "She is beautiful, she's not a freak, she's a normal little puppy dog and she should be just like all the others," said Siegel. "I just knew I wanted to get the puppy and make sure she had a good life."
Seigel plans to spend an additional $2,000 to have the puppy's extra leg removed. The surgery is scheduled to occur in two weeks. The fifth leg, which trips Lilly as she tries to walk, hangs limply between the puppy's two back legs and has six toes.
Otherwise healthy, Lilly was born in a litter of six at Owensby's Chihuahua Diamond in Gastonia, N.C.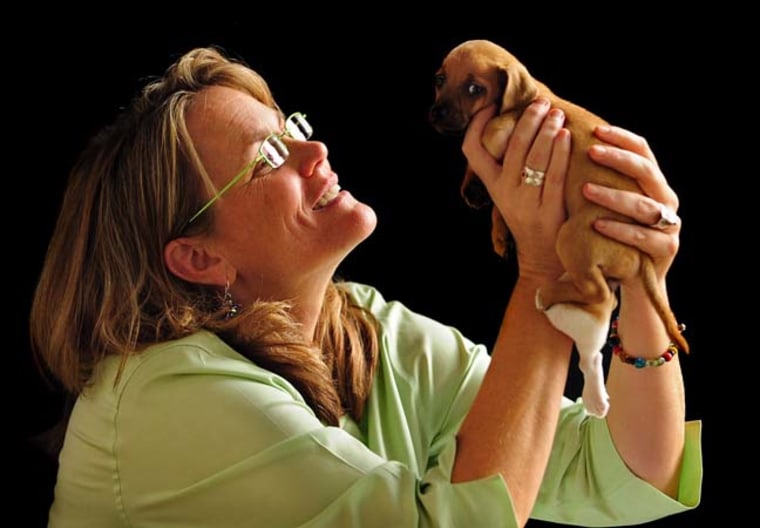 The Charlotte Observer reported that sideshow owner Strong, who heard about the puppy through a friend, had paid Owensby $1,000 as a deposit on a $3,000 agreement.
But local reports of the planned sale caused an uproar among animal activists.
"I just called him and I said, 'How much?' '' Siegel told the newspaper, adding that her motto is, "Don't do to animals what you wouldn't do to your kids.''
Following Lilly's surgery, Siegel — who already has six cats — plans to give the puppy to her sister in Charlotte.
Strong, who got his deposit back, said he would have given Lilly a good life. Though he's disappointed, he said, "Sometimes, you just gotta say, 'OK, I still have nine live, two-headed animals,' and move on.''
The Associated Press, the New York Daily News and the Charlotte Observer contributed to this report.