As excitement builds toward Monday's nationwide solar eclipse, it won't just be humans enjoying a rare phenomenon.
While experts have made it clear that people must wear special eclipse glasses in order toprevent vision loss while looking directly at the sun, it raises the question of whether pets need similar protection.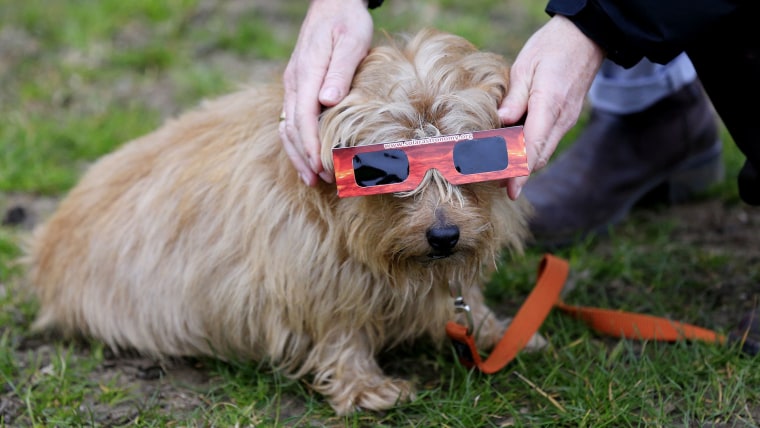 Melanie Monteiro, a pet safety expert who teaches pet first-aid classes and the author of "The Safe-Dog Handbook: A Complete Guide to Protecting Your Pooch, Indoors and Out," says animals shouldn't need the same eye protection.
"There's really no reason to be concerned about that,'' she told TODAY. "Dogs and cats don't normally look up into the sun, so you don't need to get any special eye protection for your pets."
Monteiro stressed there's only anecdotal information about pets' reactions to such a rare event given that the last solar eclipse visible from the contiguous U.S. occurred in 1979, and the last one to stretch from coast to coast exclusively in the country happened 99 years ago.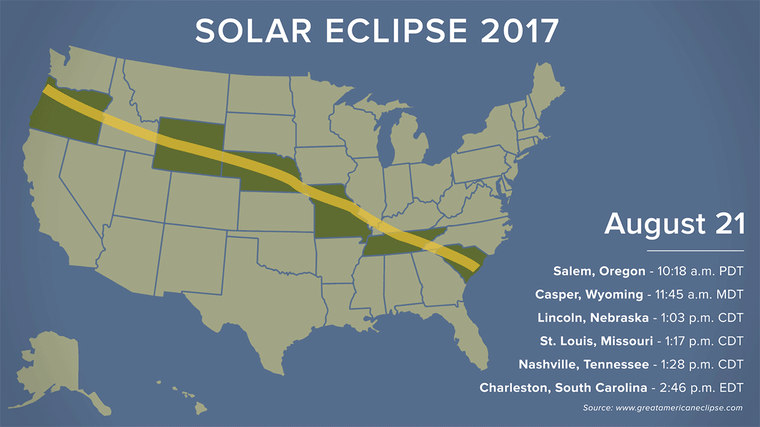 However, while it's not normal behavior for cats and dogs to look up at the sun, taking extra precautions certainly can't hurt.
"I would recommend to pet owners that you keep your pets indoors if possible and keep them confined the same way as you would on the Fourth of July or other similar occasions,'' Monteiro said. "If you have the sort of pet that's normally sensitive to shifts in the weather, they might be disturbed by just the whole vibe because the temperature will drop and the sky will get dark."
The biggest risk to pets could simply be bringing them to a place that will be crowded with people watching the eclipse.
"I think when you talk about risks, that's really what we're more concerned about,'' Michael San Filippo, a spokesperson for the American Veterinary Medical Association, told TODAY. "Are you going to be somewhere where there are large crowds with a lot of people making loud noises, and how is your pet going to react to that?
"We would recommend keeping them at home for those kinds of events."
There have been stories about cows heading back into barns or chickens going to roost during the minute or two when the sun is completely blocked by the moon, but there's no hard data about anything dangerous for pets during a solar eclipse, San Filippo said.
"Looking at evidence of the past, there's no history of dogs showing up the day after an eclipse with pet blindness or anything like that,'' he said.
If you are taking your pet out while watching the eclipse, San Filippo and Monteiro both said putting them on a leash is important.
"Pets cue on our behavior so much, so if you're out with your dog watching the eclipse and freaking out, your dog is probably not reacting to the eclipse, it's reacting to how you're behaving,'' San Filippo said.
Follow TODAY.com writer Scott Stump on Twitter.