Now that 2015's top baby names are in, it's time to get the lowdown on our furry friends.
Once upon a time there was a line drawn between dog names and people names. Seldom would you hear of a dog called Jack or Sophie, but now those two names are among the most popular for pooches, according to research by Rover.com.
The company, which specializes in matching dog care providers and dog owners, recently released its list of the most popular dog names in 2015.
RELATED: The unexpected advantage of giving your child a unique name
The names were gathered from Rover's database of more than 100,000 U.S. users, all of whom have their dog names registered.
"We've been doing this study for a couple of years, and one of the big things we see increasing is the people names," Brandie Gonzales, director of corporate communications and PR at Rover.com, told TODAY.com, adding that this could be the result of more and more people viewing their dogs as part of the family, and thereby bestowing them human-like names.
Here are the top 10 names for male and female pooches, respectively.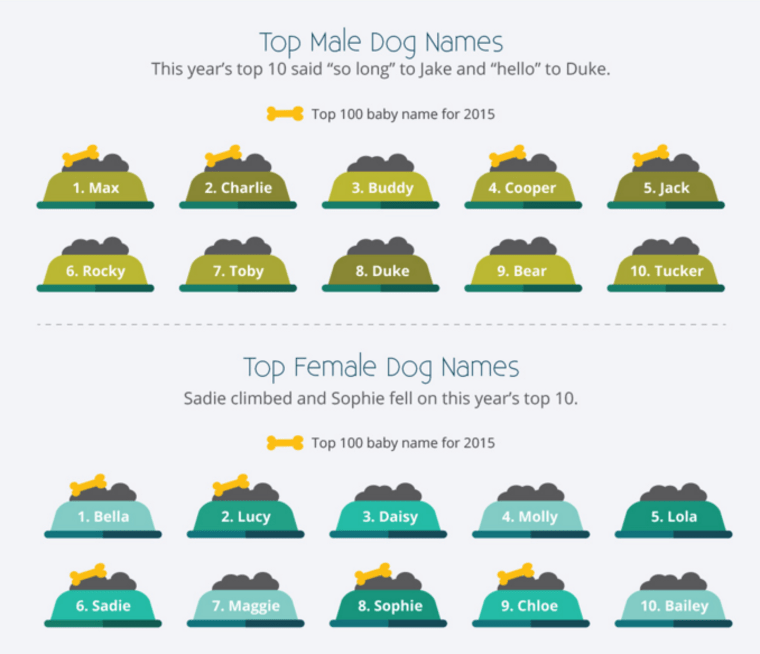 And it turns out that many of the top names — like Bella, Sophie, Max and Charlie — are also ranked in the top 100 baby names for 2015. Quite an overlap!
RELATED: Dwayne 'The Rock' Johnson donates $1,500 to save abandoned puppy's life
But people names aren't the only hot trend among doggie parents. They're also loving pop-culture references.
Names from "Harry Potter," "Star Wars" and "Hunger Games" are all up, said Gonzales.
Different parts of the country are seeing different trends, too. For instance, in Miami, names like "Sun and Sand" are popular, Gonzales said, whereas in Texas, a common name for dogs is Shiner, because, as Gonzales noted, that's a beloved beer in the state.
RELATED: First dogs Bo and Sunny help deck the White House halls for Christmas
And there's no shortage of inspiration when it comes to naming pets after food, drinks, animals — even sports and brand names. These names also tend to depend on region.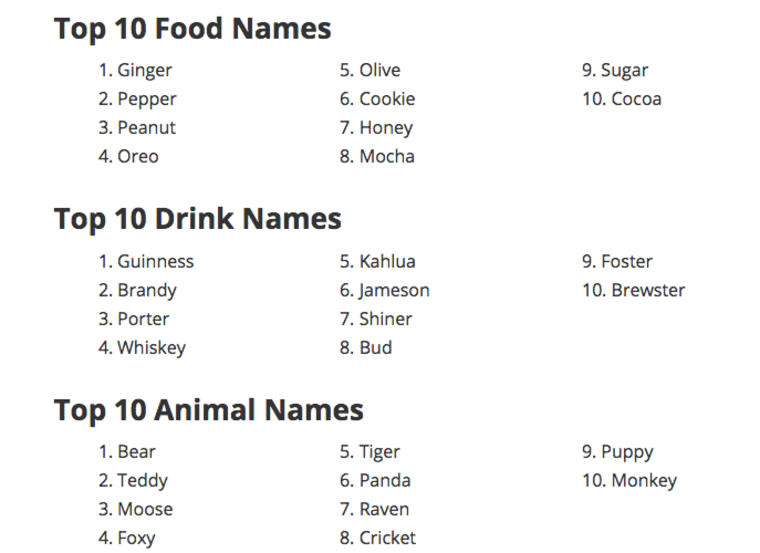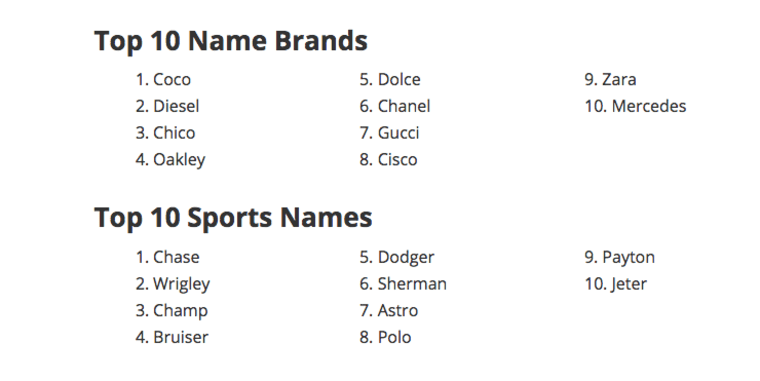 "L.A. has a lot of brand name [names]," Gonzales said. "Denver has the most names related to nature — like Storm and Blizzard, and Chicago has a huge spike in [the name] Wrigley."