A youth sports referee is calling fouls on abusive sideline parents by shaming them on social media.
From irate fathers brawling at a softball tournament to angry moms cursing at officials, parent behavior at youth sports games has gotten so out of control that many refs are hanging up their whistles.
Youth soccer coach Brian Barlow is hoping that exposing the hostile parents on Facebook will help stop all the ugly conduct.
"When people see themselves, they change their own dynamics,'' Barlow told TODAY's Gadi Schwartz. "You've got to hold people accountable. That's all it is. It's holding adults accountable."
Barlow, 44, an official in Oklahoma, is the creator of the Facebook page Offside. He offers a $100 payment for any video clip showing parents behaving badly at youth athletic events. His goal is to shame the unruly "cheeseburgers," as he calls them, and dissuading future fights.
Eighty percent of high school officials are quitting before their third year, according to the National Federation of State High School Associations, which launched a national recruitment effort last year to attract more officials.
A recent survey by the National Association of Sports Officials found that 60 percent of those polled said sportsmanship is getting worse and 40 percent said the biggest issue is the behavior of parents.
NASO also reported that 70 percent of sports officials in all sports quit within three years.
"It happens every single day, in every single state, in every single youth sport there is,'' Barlow said. "And that's a shame because we're taking away the innocence of the meaning and the purpose of youth sports."
In South Carolina, the problem is so bad that 70 percent of new officials in youth soccer do not return after their first year, according to the SC Referee Association. The South Carolina Youth Soccer Association went so far as to implement a policy called "Silent September" last year in which parents and other spectators at games were only allowed to clap, with no verbal cheering or criticism allowed.
Barlow said the threat of being on camera has acted as a deterrent for parents, and he noted a few success stories.
"I've had one girl who's turned into a referee,'' he said. "I have another woman who was in a video who promised to never ever (do it again), and she updates me probably every three or four months, (saying) 'I haven't yelled at a referee in 10 games, you'll be so proud.'''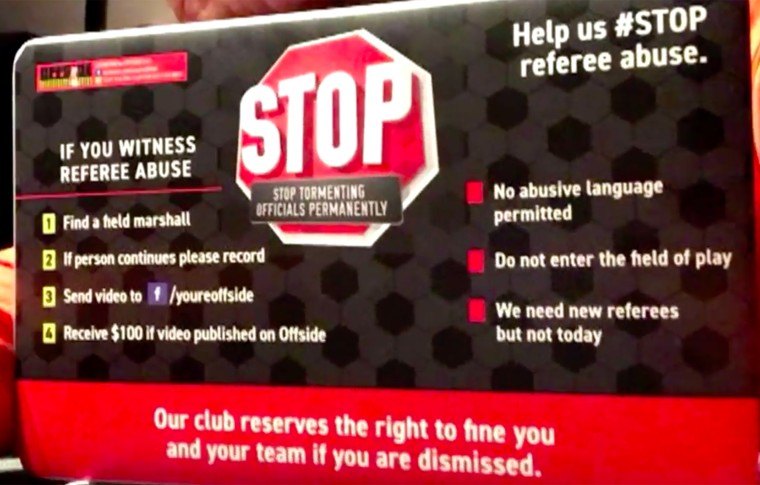 "If one parent starts yelling at a ref, all the other parents move away and say: 'Hey, you don't want to be videotaped for Barlow's Facebook page,'" Tulsa parent Kristin Voyles told The New York Times. "We know that everyone on the sideline has a smartphone in their hand."
Barlow, whose 12-year-old daughter is a referee for young children's games, also has had some ashamed parents ask him to take down the videos.
He has additionally started a program called S.T.O.P., (Stop Tormenting Officials Permanently), which provides signs that can be hung at youth athletic fields.
"It's really just pinpointing to parents, 'Listen, we get that you want to win, but we're officials,''' Barlow said. "We'll call the game. You cheer. Let the coaches coach. Let the players play. We'll ref.'''
Follow TODAY.com writer Scott Stump on Twitter.