/ Source: TODAY Parenting Team
This story was originally published on October 13, 2017. Now that winter storm Riley is wreaking havoc on the East Coast, it seemed like a good idea to revisit the origin of these storm names.
When The Weather Channel announced its winter storm names for 2017-2018, parents with young children were amused to find that some members of their household made the list. Oliver, Aiden, Quinn and Violet, names you might find on your child's class roster, are about to be associated with weather events.
Sure enough, winter storm Benji dumped a wintry mess on the Deep South in early December, causing school cancellations and leaving 150,000 people without power.
Twitter users were quick to comment on the release.
And while The Weather Channel's names aren't officially sanctioned by the United Nations World Meteorological Organization, which provides the list of names for hurricanes and tropical storms, airlines, schools and politicians use the names to get the word out about inclement weather. So how did the Weather Channel choose the names?
"We started naming winter storms in 2011 when many people began using Twitter," says Bryan Norcross, senior hurricane specialist for The Weather Channel. "We needed hashtags. So for the storm of Halloween 2011, we hashtagged it 'Snowtober' and it really took off."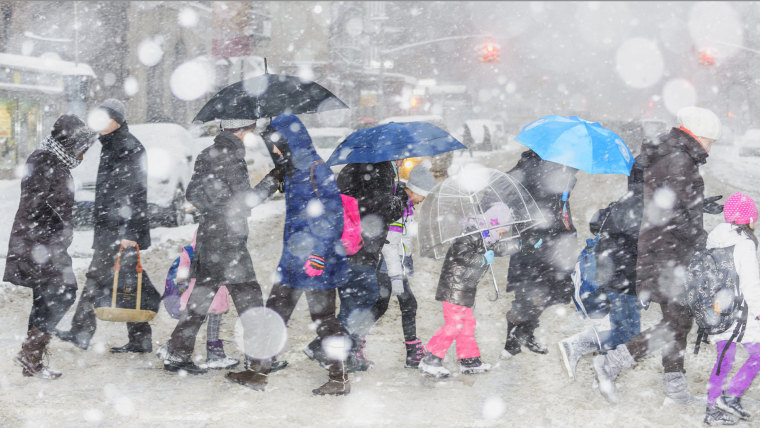 Norcross explains that since they couldn't come up with a clever name for each storm, they turned to naming storms — using Greek and Roman names. "After we ran out of names that were easy to hashtag — they need to be short, and easy to say and spell by an English speaker — someone suggested using the most popular names from 2016." One of this year's winter storm names is Benji — and not Benjamin, Norcross explains — because it's shorter and makes for a better hashtag.
Never miss a story about kids' names with the TODAY Parenting newsletter! Sign up here.
He says that having the moniker attached to a storm helps to increase public awareness of potentially threatening weather events. "When people see a storm has a name, they realize it's worth paying attention to and they perk up," he says. "When a storm is not named, it just doesn't get as much publicity."
Another benefit of calling a winter storm "Chloe" or "Zoey" is that, from a historical standpoint, it becomes easier to recall past weather events. "People remember Nemo and Juno," says Norcross. "Newspapers pick up the storm names and it's easier to remember, as opposed to 'the storm of February 2012.' It helps people to communicate about the storms of the past."
And while some media outlets may be resistant to using The Weather Channel's winter storm names, as they are not "official," Norcross says they hope that the National Weather Service will take over the naming process.
Until then, he says its fine if the public gets a kick out of the names, as long as they remember to be prepared.
"The biggest issue is people who get hurt because they go out and drive too soon," he says. "Take care of yourself and be prepared to stay home. Everybody's better off."