/ Source: TODAY Contributor
After grieving her mom's miscarriages, one 8-year-old girl got to take an unusually active role in the birth of her baby sister.
Brooke Curtis's parents, Kelsey Davis and Stefan Curtis, learned Davis was pregnant with their second child in 2013, but soon after Davis suffered a miscarriage, leaving Brooke heartbroken. After two additional miscarriages, the couple told Brooke they were pregnant again, presenting her with a baby doll to practice being a big sister with.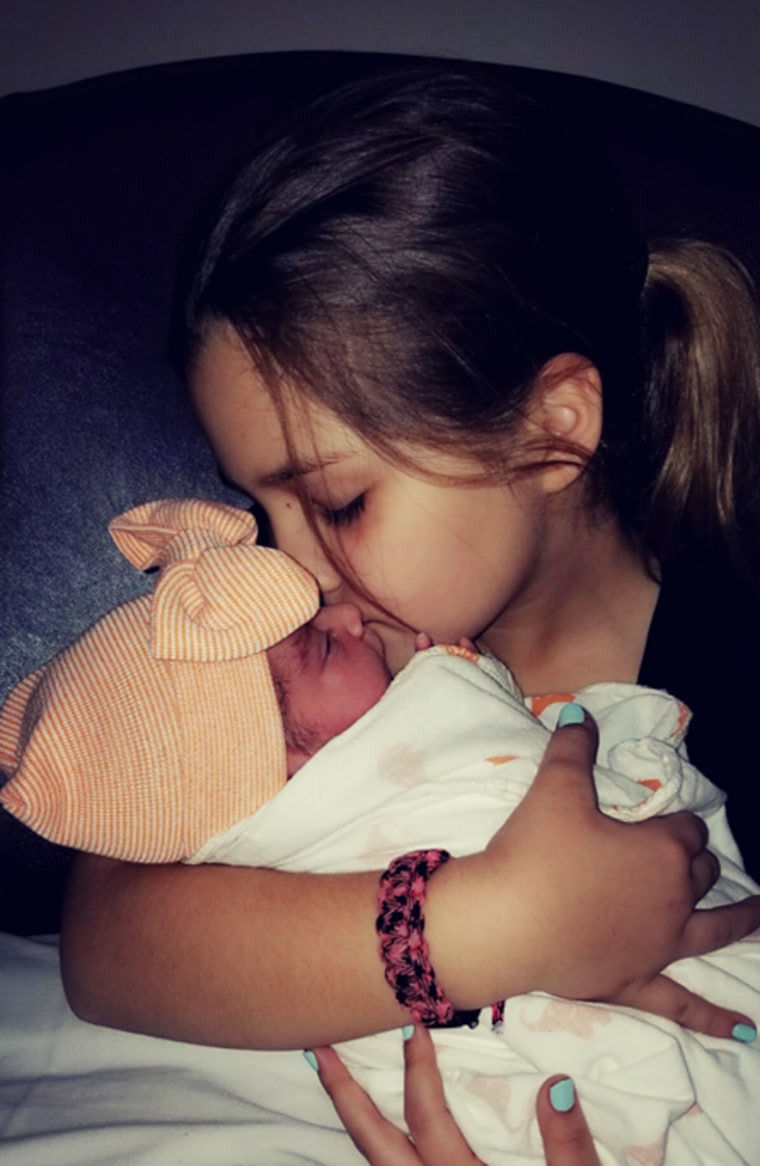 "She was so excited, but she would ask sometimes, 'What if the baby doesn't make it?' and we would reassure her that it was in God's hands and we needed to keep our faith in him," recalled Davis.
Brooke's younger sister, Ellie, was born in January 2016, when Brooke was 6 years old.
When Davis became pregnant again, Brooke felt the same concern for the health of her new sibling.
"My miscarriages and fertility journey were hard on me," said Davis. "With Summer's pregnancy, Brooke would ask very valid questions — I'm pretty sure we all felt the way she did."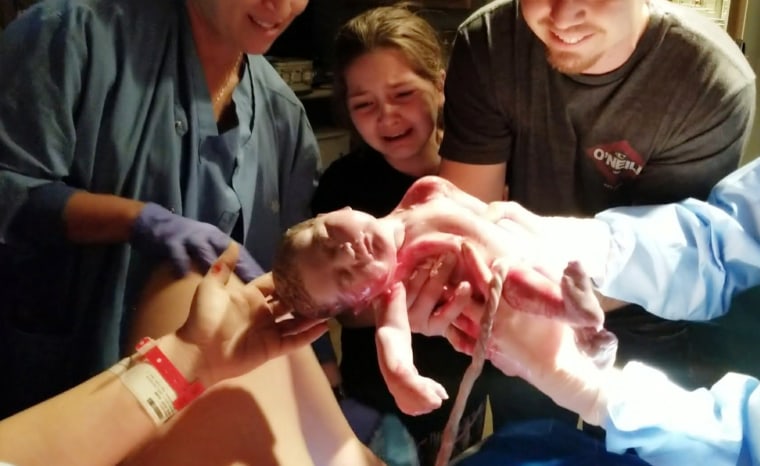 As Davis' due date approached, Brooke expressed that rather than simply be a spectator in the room when the baby was born — as she was during Ellie's delivery — she wanted to be more involved in the birth.
For more inspirational stories, follow TODAY Parents on Facebook
"Our midwife let us know that not only could Brooke be in the delivery room, but also that she could cut the umbilical cord and even help catch the baby when she was born," said Davis. "So that's what she did."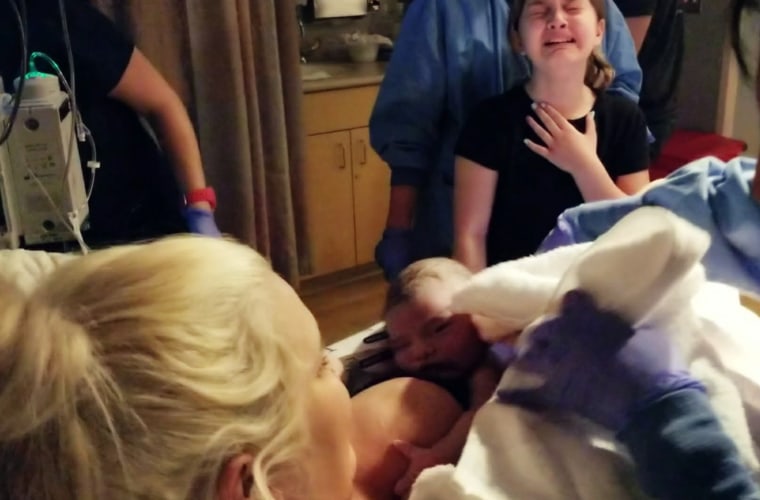 A series of emotional photos taken during her mom's labor and delivery show Brooke crying tears of joy as she meets her new baby sister, Summer, who was born in January 2018.
"Brooke had full control over how much she did or did not want to be involved and she chose to be very involved," said Davis. "She and I walked the halls of the birth center together as I contracted, she massaged my feet, and we danced together in my room to Summer's heartbeat over the monitor. It was perfect — she was my rock for sure during the entire thing."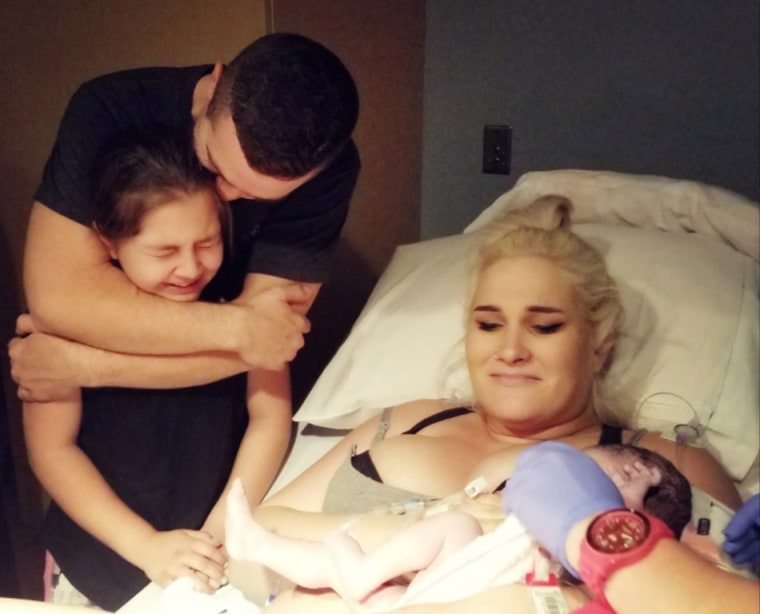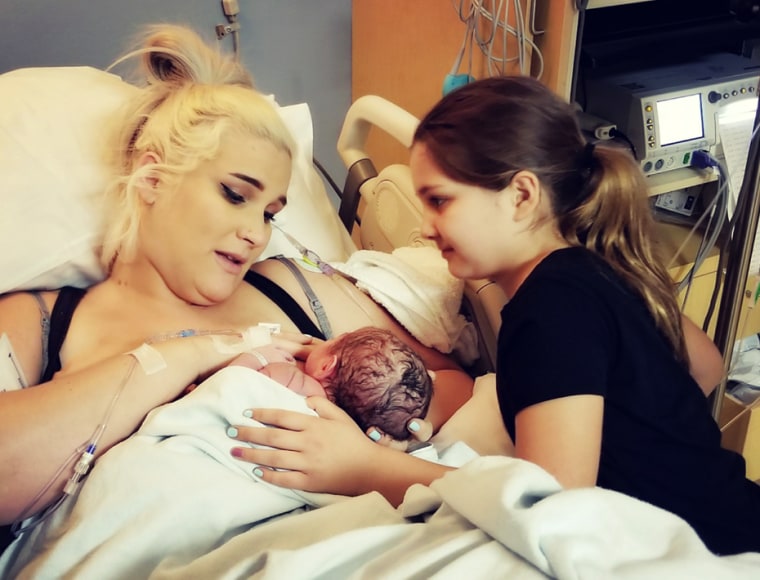 Davis, who lives in Arizona, says the photos capture more than just Summer's delivery.
"Brooke's heart is big and you can tell (in the photos) she has such a kind soul," said Davis. "Being a big sister is so natural to her — she is so loving and caring to others."
So what does Brooke think about her active role in the delivery room?
"I thought it would make a really good bond with us as sisters, and I want to be a midwife now," Brooke told TODAY Parents. "It was really cool to cut the cord, and I was really happy to be in there with my parents."