/ Source: TODAY Contributor
It's easy to understand that you might not catch every word of the pre-flight announcements on a red-eye flight home after a Las Vegas vacation and a long wait at the airport.
Eric Sadiwnyk had closed his eyes and was half-listening to the pilot's words before flying back to Pennsylvania with his wife, Lisa, in January. But when he heard the pilot mention them by name, he realized this was no ordinary announcement.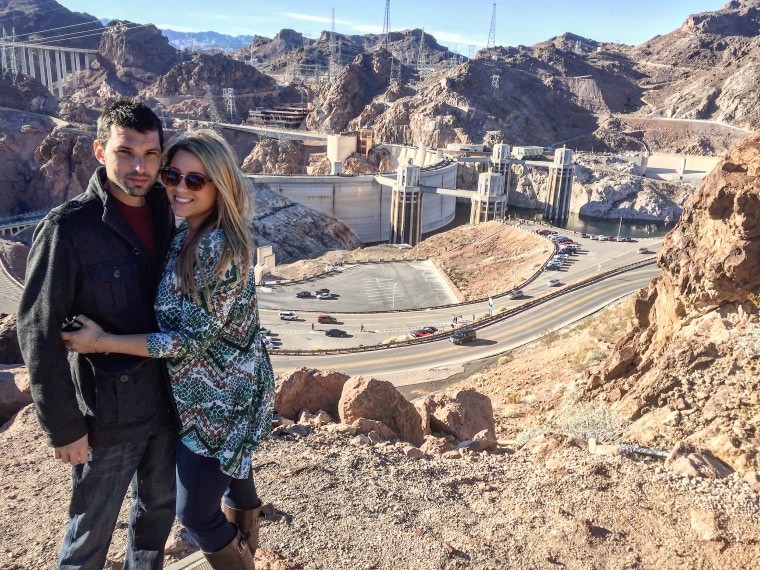 Lisa learned she was pregnant during their Vegas trip and kept the happy news to herself for nearly three days, surprising Eric with the help of the pilot, who read a note she wrote.
"Well Eric, although you didn't strike it rich here in Las Vegas, you did hit the jackpot," he announced before takeoff on their Jan. 13 flight. "Congratulations. You're about to be a dad."
The passengers burst into applause, and when Eric, 32, realized the news, he shared a kiss with Lisa, 27, and both began to tear up, a moment she caught on video.
"By the time he said my name, and 'Congratulations, you're pregnant,' I looked to her and she was crying and I was crying," Eric recalled. "I was shocked at first and I was excited."
Although it was hard to keep such a big secret, Lisa wanted the moment to be extra special and unique.
"I don't get a lot of opportunity to surprise my husband, and it's such a happy surprise," she said. "I just thought it would be fun to really catch him off guard and surprise him with great news."
Mission accomplished. Eric says that after spending about seven hours at the airport before their American Airlines flight, he was resting in his seat during the announcements, and was unsure of his seat number, which the pilot called out as he started to read Lisa's letter.
"It was pretty shocking only because I wasn't paying that much attention to what was going on," he said. "The last thing you expect is for him to be talking to you."
Since the couple, who live in Fairless Hills, Pennsylvania, had been trying to start a family, Lisa prepared for a possible plane reveal on the way home, packing the typed note for the pilot.
Before they boarded, she told her Eric she was going to get snacks but instead found two crew members and asked for their help. "They were a little wary at first but when I told them why, they were super-excited," says Lisa, who is due in September.
They arranged for Lisa to give the note to them once she boarded, by pretending it was trash.
When it was showtime, the pilot let everyone know something special was about to happen.
"'This is going to be a big YouTube moment,'" he said, according to Lisa.
Noting that his warmup was not part of her plan, Lisa says the pilot and crew exceeded her hopes for a great reveal.
"He could have just read it monotone and like every other airline announcement," she said. "He really went out of his way to make it special for us and the whole crew that took my letter. They definitely went over and above and I hope they had fun with it, too."
TODAY.com contributor Lisa A. Flam is a news and lifestyles reporter in New York. Follow her on Twitter: @lisaflam