/ Source: TODAY Contributor
For parents who spend their days at home with their babies, the continuous string of diaper changes and nap times can feel isolating at times. But one dad from Hopatcong, New Jersey, has figured out a way to combine two of his loves — music and his son — to add a bit of fun to his daily routine.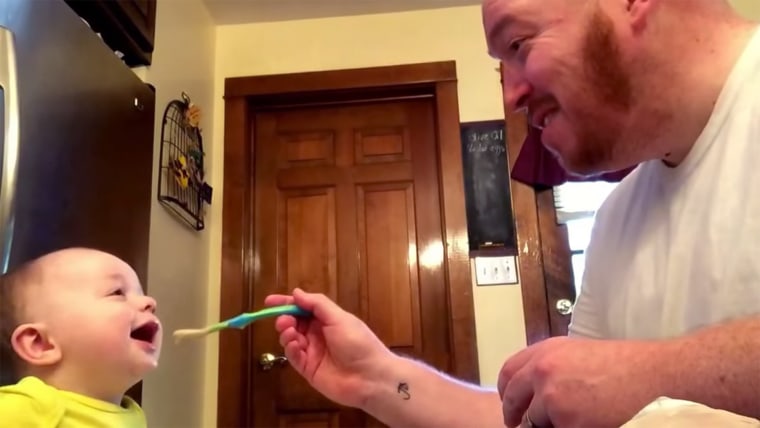 Charles Flartey is a musician who plays shows with his band, the Yes Yes Yalls, and bartends when he's not staying home with his 1-year-old son, Tommy. In the 15 years he's been making music, Flartey says nothing has gotten more attention than the videos he's recently created, which show him singing remixes of popular songs to his son during feeding time.
"Turkey and cheese — I need it 'cause you know that I'm a fiend. Gonna eat it 'till my high chair's clean," Flartey sings in his playful take on the 112 hit "Peaches and Cream."
"I don't see nothin' wrong with some yogurt for lunchtime," he croons as he takes on R. Kelly's "Bump N' Grind."
When Flartey sings a tribute to Jell-O to the tune of Lionel Richie's "Hello," Tommy sings along, giggling at his free styling father.
In another video, Flartey tells Tommy that, "this yogurt is bananas, B-A-N-A-N-A-S," in tune to the Gwen Stefani hit "Hollaback Girl."
Flartey says he sings to his son all the time, making up nonsensical songs about whatever activity they're doing, or rhyming lyrics with Tommy's name.
"He has a great time with it — that's half the fun. Sometimes, it even sounds like he's singing along or doing little adlibs," Flartey told TODAY Parents. "I think that's why the Jell-O one went viral and got so much attention."
Flartey says he and his wife Melissa have been surprised to see the videos go viral, adding he's even been asked to sing the silly parodies when playing shows with his band.
"I'm just happy people enjoy the videos," he said. "I love our son and just wanted to share our silliness with the world."