When the pressure to buy ever more stuff overwhelmed Scott and Gabby Dannemiller, they embarked on what many parents would consider a "Mission: Impossible."
The couple vowed not to spend money on anything except life's basic essentials for themselves and their two kids for an entire year.
That meant no new toys, jeans, shoes, dresses, iPhones, games or furniture — anything that kept them trapped on what they called the "hamster wheel of life."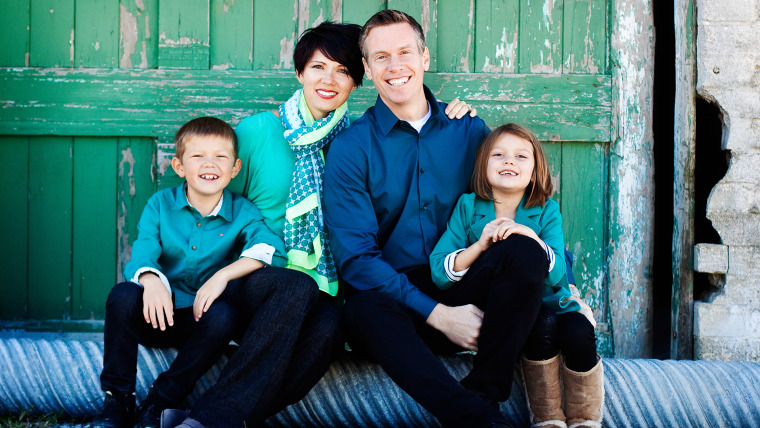 "We felt like our stuff was getting in the way of things that were really important," Gabby, 45, told TODAY Parents.
"There was just this constant internal drive to acquire more. We need a bigger house, a different car, different clothes — just getting consumed by that message," Scott, 42, said. "How can we disengage from that?"
He chronicles the challenge in the new book, "The Year without a Purchase: One Family's Quest to Stop Shopping and Start Connecting."
The Dannemillers — who live in Franklin, Tennessee, with their son Jake, 9, and daughter Audrey, 7 — came up with several ground rules, including:
Don't buy stuff, unless it's something you can use up within the year, such as food and hygiene products.
You can fix stuff that breaks, unless a suitable replacement is already available in the household.
Spending money on gifts is OK, but only in the form of a charitable donation or an experience that can be shared with someone else.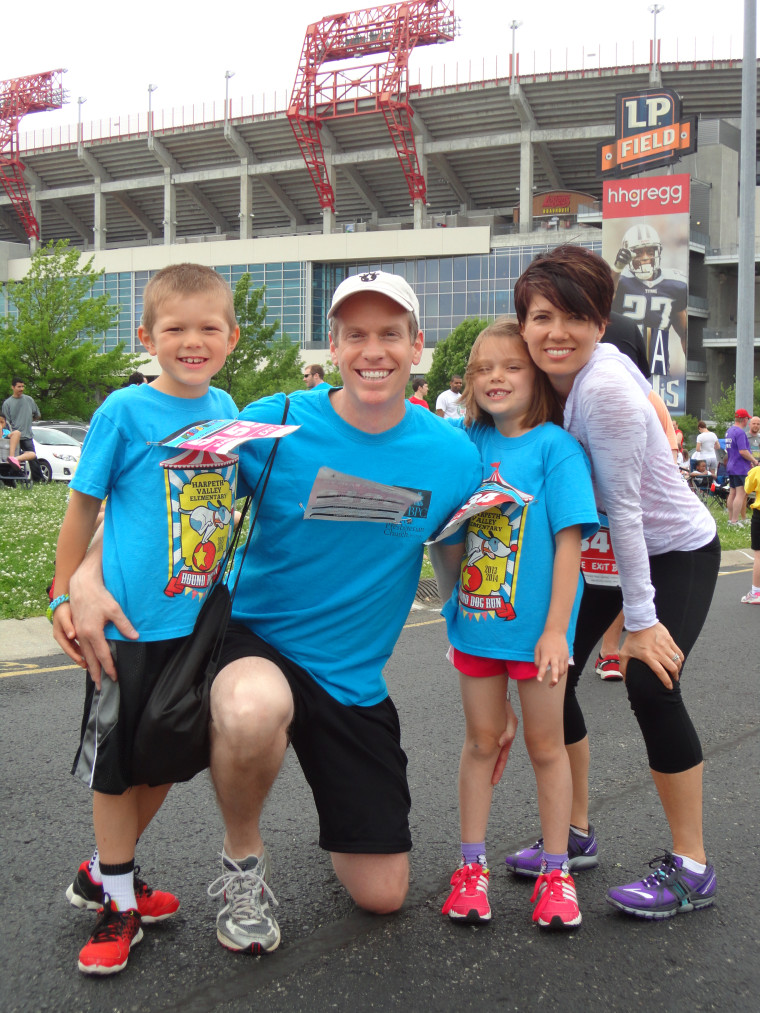 The challenge, which Scott called "90 percent spiritual quest, 10 percent saving money," began on Jan. 1, 2013. The Dannemillers wondered whether to tell their children, then 7 and 5, about the project but decided to stay mum and see if they would notice.
To discourage excess, the couple had long ago gotten into the habit of saying "no" whenever the kids asked for something at the store. At Target, Scott might playfully say: "This is just a toy museum. You can't actually take things out of here." But he later discovered the best response is: "We just don't need that."
With all that groundwork laid, the kids didn't really notice "the year without a purchase" was underway, but the parents struggled a bit.
Scott was feeling a little deprived at the beginning, so instead of buying everything he saw, he ate it instead, he joked. He gained 7 pounds in the first two months.
Then, his suitcase broke — a serious matter for Scott, who travels frequently for his job as a corporate trainer. Rather than buying a new one, he looked for a suitable replacement, per the project rules, and found one: His daughter's lavender child-size carry-on, which he ended up dragging through airports all year.
"It didn't match who I was and I had a lot of trouble with that," Scott recalled. "But what it taught me is: If I feel like this bag says something about who I am, am I also making judgments about people based on what they own? And how wrong is that? That was a tough lesson to learn."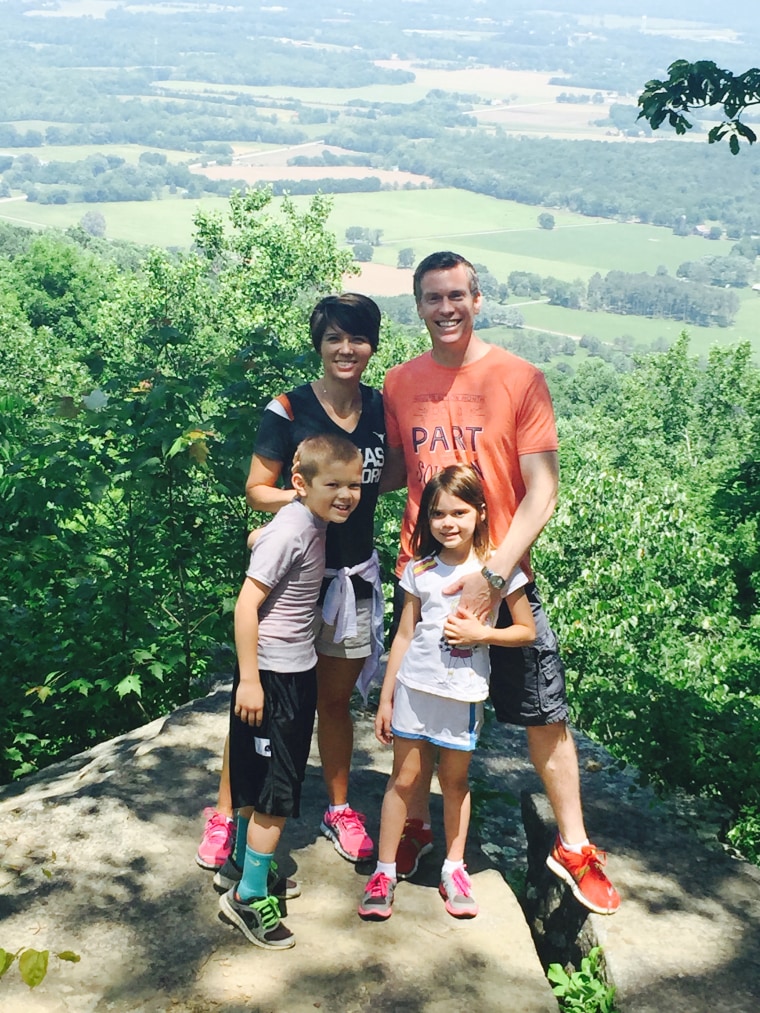 For Gabby, a big dilemma came when the couple was invited to a wedding in Mexico. She couldn't buy a dress, so she borrowed a gown from a friend. It made her grateful to know someone who would do that for her.
Gabby also struggled with what other parents might think of her and Scott as their kids attended birthday parties with gifts that were acceptable under the project rules. Jake and Audrey might bring Diet Coke and Mentos to let their friends experience the eruption that happens when you put the two together.
"That was no easy feat for us, especially for me as the mom," Gabby recalled. "I felt like, 'Oh, what are people going to think? That we're cheap because we bought soda and Mentos? That we don't have enough money?'"
She just told herself to take a step back and remember the gift was for the child, not for the parents. Plus, the kids always had a blast, Scott said.
The couple celebrated their own children's birthdays with outings. Jake likes hockey, so Scott took him to a game on the big day. When Audrey's turn came, Gabby invited her to a girls' night out with her best friend and her mom.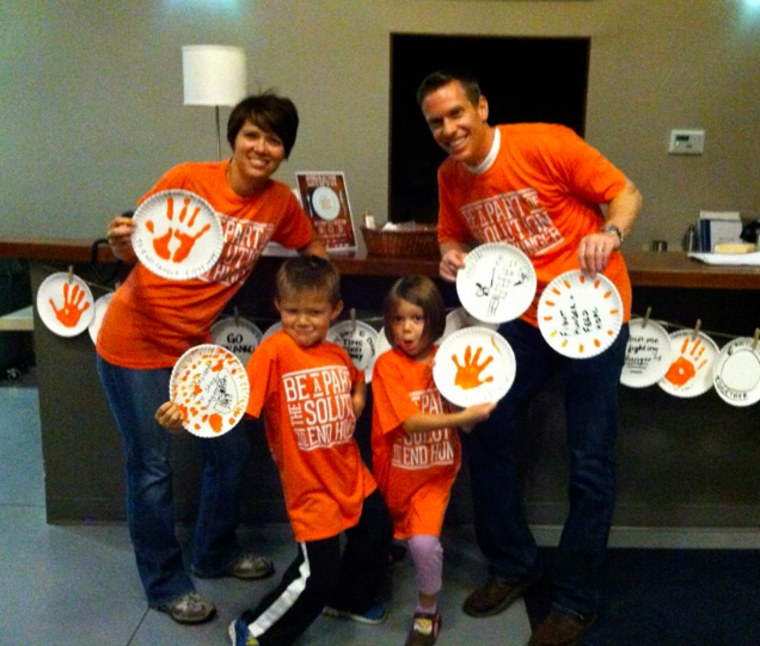 The year without a purchase brought the family closer together because it helped them focus on experiences, Scott said.
They've kept that focus after the year was up, easing up on the strict "no purchase" rules, but still sticking to gifts like road trips rather than items in a box.
The Dannemillers don't necessarily recommend other families recreate the experiment, but tailor it to their own needs. They realize it would have been much harder had their kids been teenagers.
"More than anything, we just want people to think about what is important in their lives and not let our mainstream culture decide that for us," Gabby said.
"We learned it's not the stuff that's bad. It's the meaning that we give to that stuff. We wrap our identity up in that stuff. We judge others with that stuff. We create worry with our lack of stuff," Scott added.
"The meaning of your stuff is: How can I use this to do some good in the world?"