In 1997, the McCaughey septuplets were a national phenomenon as the world's first surviving set of septuplets. Now, they are seven teenagers only two months shy of their 18th birthday, with distinct identities and separate dreams.
After appearing on TODAY when they were only four days old, the seven children of Bobbi and Kenny McCaughey returned on Wednesday to show just how far they have come since making history. Kenny Jr., Alexis, Natalie, Kelsey, Nathan, Brandon and Joel, all now 17 years old, have made their parents wonder where all the time went as they begin their senior year of high school.
"They have flown by,'' an emotional Bobbi told Savannah Guthrie about the years since their historic birth. "Just because there's been so many things that have happened. The memories, the joy, the heartaches that happened. It's what has guided us to where we are today, and it's very special."
The interview with the families is part of a week-long TODAY series called, "Where Are They Now?" that explores news stories that captivated a nation through the eyes of the people who experienced them.
Read more: Families bonded over emotional mistaken identity case find strength in faith
Kenny Sr. will never forget that day when the septuplets were born nine weeks prematurely on Nov. 19 in Des Moines, Iowa, joining their older sister, Mikayla, who is now 19 and married.
"For me it was seeing each one of the kids come out of the womb,'' Kenny said. "It was really quite a sight to see that."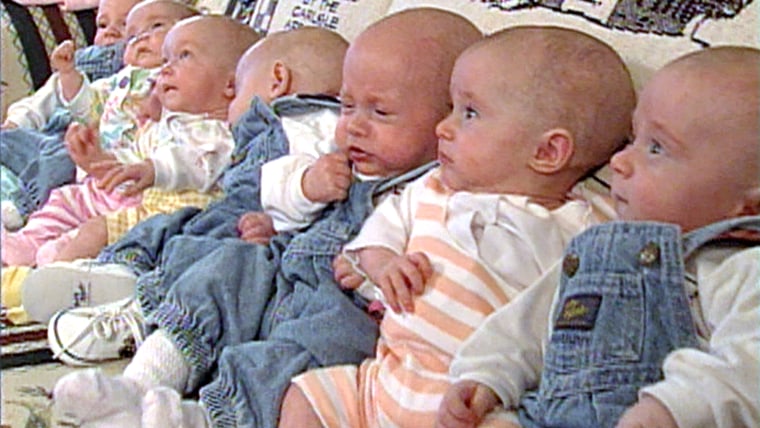 The McCaugheys received an enormous outpouring of support following their birth, receiving donations of a large house, a van, nanny services and more. They even received a call from then-President Bill Clinton and the offer of full college scholarships to any state university in Iowa, which the septuplets are now poised to accept.
"I think early on we had so much help from family and friends,'' Bobbi said. "If there was anything we needed, there was always someone there who was willing to help us. We have a super strong support system. We have a super strong faith that has been the rock that we have had to stand on."
Read more: Former hostage Ashley Smith recounts terrifying night that changed her life
Every year from their birth until they were 14 years old, the septuplets appeared on a Dateline special. However, Bobbi and Kenny declined to go the reality television route and have lessened the family's media appearances as the children have gotten older.
"I really want us to be as normal of a family as we can be,'' Kenny said. "That's the best way to raise a family is just the normal, everyday things."
The children have also carved out their own identities, whether it's Kenny Jr. being known as the class clown, Joel being the bookworm, or Brandon being known as stubborn and fearless.
"You're never alone,'' Kenny Jr. said. "There's always someone to talk to and hang out with. That's what I think is the best."
"I don't think there's a worst part,'' Kelsey said. "I've enjoyed all of it."
Follow TODAY.com writer Scott Stump on Twitter.