A former Division I athlete, personal trainer Emily Breeze Ross Watson is a CrossFit competitor on the verge of a record-breaking workout — and as of Monday, the birth of her first child was 10 days overdue.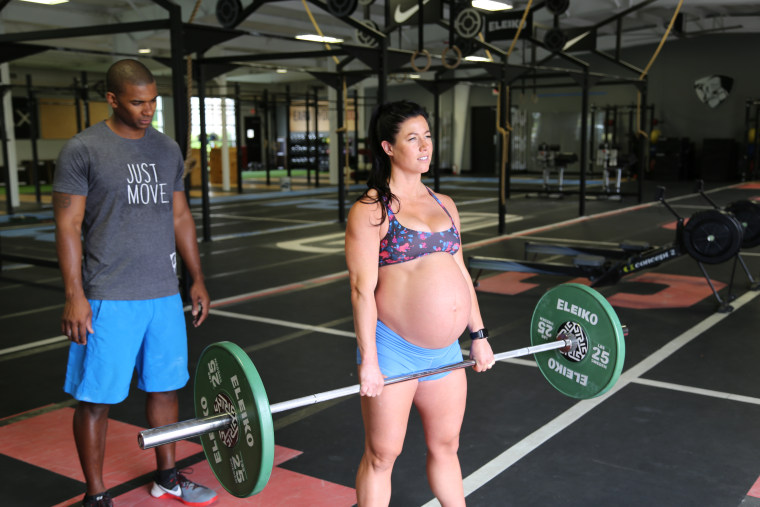 But perhaps the boot-camp instructor's most impressive feat of strength is shutting down dismissive words from online critics who claim she shouldn't work out on her own terms.
RELATED: Lifting for two? Pregnant woman stuns with weight lifting at 40 weeks
"Honestly, people have taken it to such extremes," the 31-year-old North Carolina resident, whose due date of April 29 has come and gone, told TODAY Monday. "The craziest thing I've experienced is a lot of males' (criticisms). And the last time I checked, there were not a lot of males carrying babies. … And a lot of young people who are 22 and under; I think that's the kind of people that spend time trolling on there anyways, and don't have much else to do."
Creating controversy, she asserts, was never the goal of showcasing her pregnancy and fitness progress on her public social media accounts, including Instagram, Facebook and Twitter.
RELATED: Pregnant woman with rock-hard abs speaks out about viral photos
"I wanted to present fitness and wellness to my community, to my friends and my clients," she added. "It's caused a buzz and traveled across the world. And I'm happy for that, because I want fitness to be on a platform for folks. And I want fitness to be accessible. And I want women to feel empowered."
Ross Watson said she first became interested in CrossFit in 2012, a few years after she graduated from Winthrop University in Rock Hill, South Carolina, where she lettered in both track and basketball.
"(CrossFit) pushes you to find new limits and break down barriers that maybe you had built up in your mind, things that you didn't think you could accomplish," she added. "But you're able to put in that hard work and you're able to see results. I really love the intensity of it."
She and her husband, 30-year-old investment consultant and fellow CrossFit enthusiast Montell Watson, had planned on welcoming their first child earlier this spring. Had her pregnancy happened then, she said the timing would have given her enough recovery time to compete again in the annual CrossFit Games this July.
RELATED: Is it OK to exercise when you're 9 months pregnant?
"Obviously, my baby's late right now," lamented Ross Watson, whose CrossFit team finished second in last year's Atlantic Regional, "so, I'm not going to be able to do that (this year)."
But the baby-to-be — a boy! — didn't stop her from working out on her terms, either.
"There were no fears," she said. "I've been with my same OB-GYN for over 11 years, and he's known me in every stage of my athletic career. So, he always assured me that pregnancy is not a disease, not an illness. It's also not one prescription for everybody. You have to listen to your body and let your body do what it's comfortable doing. And, most likely, it will allow you to do so, because that's what it's always known."
Although she's reportedly capable of deadlifting 315 pounds, Ross Watson said she's not routinely pushing every physical limit more than a week after her due date.
"Yeah, there's days when I scale things down or I modify movement, that type of thing," she said. "But compared to the rest of the world, it seems like I'm crazy or the most extreme. Whatever."
In addition to the excitement of preparing to become a mom for the first time, her changing body shape has given her new professional insights.
RELATED: Sprinting while pregnant? Jenna Wolfe made do with walking, light weightlifting and Cocoa Pebbles
"Adding those 30 to 35 pounds I've added to my body has really helped me see the perspective of other clients I work with, who (may be) overweight," she said. "It's mind over matter. You can find that balance of pushing yourself and challenging yourself, but also being safe."
She's also had a strong support system at home.
"My husband was a college athlete as well," Ross Watson said. "So, athletics are in our blood, you know? … I don't think I would have married him if he wasn't able to communicate and support me. He knows that the ultimate goal for both of us is to bring a healthy baby into this world."
While a potential world record isn't quite her top priority, it remains high on her list. This Saturday, she'll join former NFL superstar Randy Moss in Charlotte, North Carolina, in an attempt to surpass the mark for the largest fitness boot-camp event in the world. The free event welcomes participants of all fitness levels.
RELATED: Women in viral pregnancy photo talk bellies, criticism
"We'd like to put Charlotte on the map," she said, "then, hopefully, I'll have my baby on Sunday."
Confirming plans to induce labor Sunday if it hasn't happened by then, Ross Watson said her doctor told her that, even at 10 days overdue, everything with her pregnancy was looking normal and healthy.
"People thought I would go (into labor) early because I'm so active, but there are so many wife's tales going into pregnancy," she added with a laugh. "I'm still having the healthiest baby, who just never wants to leave me. It's probably better for my Type A personality to have a scheduled due date, anyway."
Follow TODAY.com writer Chris Serico on Twitter.