Volunteering at her daughter's kindergarten class is a rare treat for one busy TODAY show producer -- until it turned into a working-mom guilt ambush. When guilt gets the best of us, maybe it's time to turn to the real experts: our kids.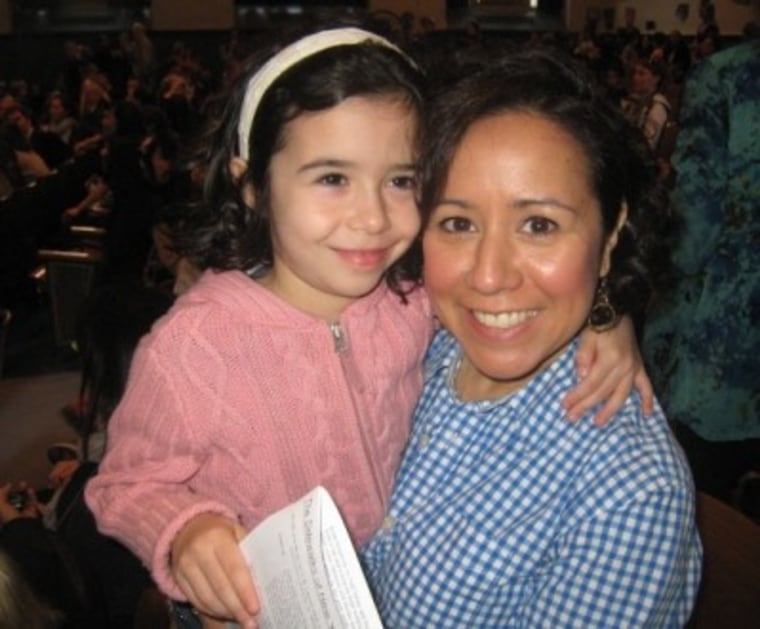 As a career mom with two small children, I regularly find myself trying to balance school activities and my work schedule. Because I'm usually at Studio 1A early in the morning, I hadn't been able to volunteer to be a "Mystery Reader" at my daughter's kindergarten class. Little did I know that once I got the chance, it would turn into a defining moment of working mom guilt.
As Mystery Reader, you enter the classroom while hiding your face with poster board. The class then guesses whose parent they think it is. Not two seconds after I walked into the classroom, the kids yelled in unison, "That's Lucy's mommy!"  Wow!  Maybe my coat or shoes gave me away. When I asked how they guessed so quickly, they all shouted, "'Cuz you're never here!" Process of elimination.
My face went blank. The teacher's face turned red. After a gasp of disappointment, I quickly transitioned to an exuberant reading of "Lyle the Crocodile." But I left feeling defeated. I left feeling like a horrible mom. Thoughts raced through my mind even as I scanned my BlackBerry for emails on the bus ride to work. Am I not there enough? How many times are the other moms Mystery Readers? My emotion turned to anger. Then the anger turned to guilt.
I can no longer use my fingers and toes to count the number of times I've experienced guilt. I am well on my way into triple digits. As a full-time working mom, I'm only able to spend a little time each weekday with my children. The guilt can be overwhelming at times.
My kids are 6 and 8 years old. That means I've had several years to deal with this. Guilt and me, we're like old buddies. I usually know how to shake it off, but there are moments when it gets the best of me. Mystery Reader day was one of those days.
Returning home from work that evening, I sat down with Lucy to ask her about Mystery Reader day. It turns out she loved the books that I read to the class (which included "Mommy's High Heel Shoes" about a working mom.) She had a beautiful smile on her face and was so happy that I had come. When I asked about the "you're never here!" comment she seemed totally uninterested, and just wanted to sit on the couch and read more. To her, it wasn't an issue. That was all I needed to know before we were off to something else. Talking to her quickly erased the mountain of working mom guilt.
As it turned out, I had stumbled into doing the right thing. In pre-interviewing one of my on-air guests, "The Mom Complex" think tank founder Katherine Wintsch, she shared that we often find ourselves living up to the wrong definition of what makes a good mom. It pays to ask your child what makes a good mom, because they'll tell you what really matters. Sounds like someone speaking from experience.
What's your story of working mom guilt?
Related vote: Do you feel guilty checking work email when you're with your kids?
TODAY Moms/iVillage survey: Working moms, tell us how you feel
Guilty as charged: One mom's confessions
Alicia Ybarbo is a working mom, TODAY show producer and TODAY Moms contributor. She is co-author of "Today's Moms: Essentials for Survivng Baby's First Year."