Willow Smith shocked her famous mom, Jada Pinkett Smith, when she revealed the stress of fame made her cut herself as a child.
The revelation came during the most recent episode of "Red Table Talk," the Facebook Watch chat show the mother-daughter duo co-host with Jada's mom, Adrienne Banfield-Jones. The 17-year-old entertainer said being thrust into the limelight with her first hit single "Whip My Hair" at age 9 caused her to feel unstable.
"It was after that whole 'Whip My Hair' thing and I had just stopped doing singing lessons and I was kind of just in this gray area of, 'Who am I? Do I have a purpose? Is there anything I can do besides this?' " Willow shared during the episode, which focused on loss.
"After the tour and the promotion and all of that, they wanted me to finish my album," the teen continued. "And I was like, I'm not gonna do that. And after all of that kind of settled down and it was like a kind of lull, I was just listening to a lot of dark music ... I was plunged into this black hole, and I was cutting myself."
Stunned, Jada responded, "What?! When were you cutting yourself? I didn't see that part. Cutting yourself where?"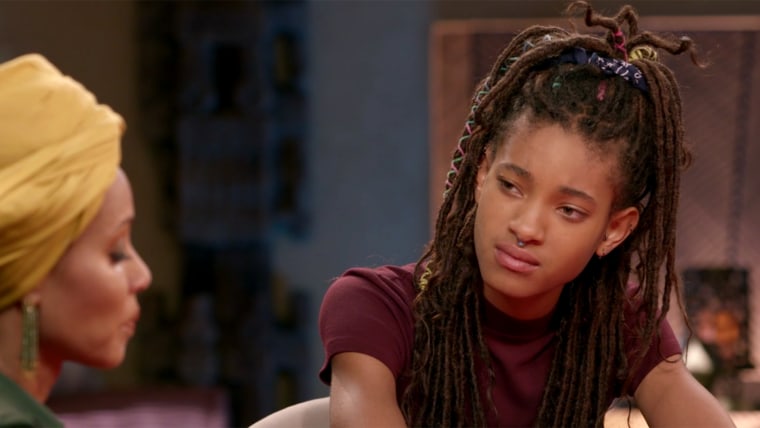 "On my wrist," Willow replied, adding that there was still a slightly visible scar. "I totally lost my sanity for a moment there. I never talk about it because it was such a short weird point in my life."
Willow went on to say that cutting herself helped her connect with the pain she was feeling on the inside, but wasn't comfortable discussing with her mom or her dad, Hollywood superstar Will Smith. She added that she stopped hurting herself when she realized it was "psychotic."
According to The Child Mind Institute, as many as a quarter of all teens intentionally harm themselves. Self-injury, as experts call it, is often triggered by a specific event, such as a romantic breakup or a rejection from a friend. Young people who cut themselves are usually trying to alleviate the emotional distress they're feeling.
Self-injury is often a secretive habit, but parents can look for the following red flags:
Talking about self-injury
Suspicious looking scars
Wounds that don't heal or get worse
Cuts on the same place
Increased isolation
Collecting sharp tools such as shards of glass, safety pins, nail scissors, etc.
Wearing long-sleeved shirts in warm weather
Avoiding social activities
Wearing a lot of band aids
Refusing to go into the locker room or change clothes in school
A variety of treatments are available for children and teens who self-harm, including behavior therapy, family therapy and medication.
If you suspect your child is self-injuring, arrange for an evaluation with a mental health professional right away.