Christian rock musician Nathan Johnson was celebrating one of the greatest moments in his life, welcoming his baby girl Eilee Kate Johnson on Tuesday morning with a proud, gushing post on Instagram.
"Eilee introduced herself quickly and smooth. I am a rich man!!!" he posted from his Instagram account, wishing his daughter a happy birthday.
Johnson is a guitarist in the Christian rock band Meaning Machine, a Nashville-based group that just released an album last week.
But in a tragic and sudden turn of events, his wife, Megan, would not live to see her daughter's second day of life. According to band mate and friend Josh Wilson's interview with People magazine, later that morning Megan Johnson, 31, went from being jubilant and tending to her newborn, to having complications and dying within an hour.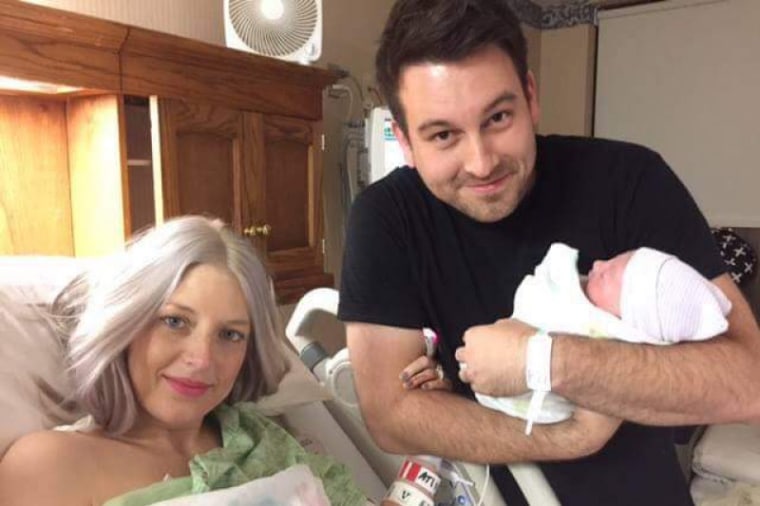 She spent only hours with her daughter, Wilson told the magazine. "Nothing was wrong before that," he reportedly said, adding that the baby's new grandparents were heading home from the hospital, to let the couple get some rest and bonding time.
According to the account, Megan had received a heart transplant seven years prior, but her pregnancy and delivery had been cleared as safe, and she was treated by experienced doctors throughout.
Johnson's post even bragged about her condition: "Megan was/is a professional and feels great. Her heart worked perfectly the whole time," he wrote.
Wilson, who told People they didn't know her exact cause of death yet, says the family was told it wasn't related to her heart.
In a GoFundMe post created by Wilson to raise money for the family, the bandmate said that before her death, "Megan held, fed, and burped little Eilee. Nathan says they couldn't sleep because they were too excited. They talked all night and morning."
Wilson launched the fundraiser in the wake of Megan's death to help Johnson take at least six months off from touring - to take care of his newborn and cover their expenses for the time being.
Within 24 hours of opening the fund, Wilson posted a gracious response, noting they'd raised more money than expected.
"This page has been live for less than 24 hours. You all have raised a quarter of a million dollars. I can't quit crying. Nathan and Eilee, we love you. Meg, we miss you. I'm raising the goal again. We're sending this girl to college," he said. As of Saturday afternoon, more than $380,000 had been raised, and the goal was set at $400,000.
He noted how much Johnson "loved his wife, Meg. He talks about her every day. Half of his posts online are about his 'boo,' his 'goddess,' his 'beauty.'"
Wilson characterized Megan's passing as going "Home to be with Jesus," on the GoFundMe page and told People that though mourning, they were all hopeful they would be reunited with Megan one day. Wilson told TODAY Megan was a proponent of organ donation and since passing, her organs are helping to save 50 lives.
On his own Facebook page, Josh Wilson offered an outpouring of posts in Megan's honor, and support for his friend Johnson.
He also posted a video of himself playing a song, "Lord Jesus, Come," on the piano, and dedicated it to Johnson. "Love you buddy," he wrote.