Demi Moore did it. So did Claudia Schiffer, Cindy Crawford, Britney Spears and Jessica Simpson.

So what makes Olympic gold medalist Kerri Walsh Jennings' nude pregnancy photo, recently featured in ESPN's The Body Issue, extra special? The beach volleyball star gives the before and after, also posing in a 9-weeks post-birth photo with daughter Scout Margery.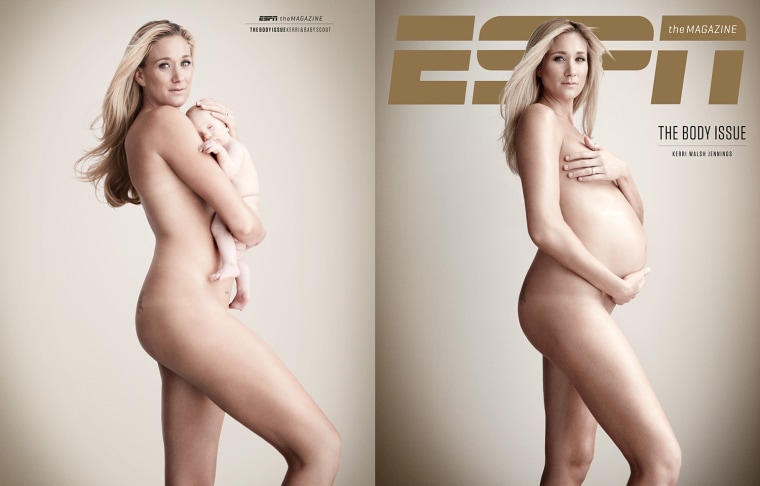 Walsh Jennings, 34, told People magazine that she gained 36 pounds on her 6 feet 2 inch frame during her third pregnancy. She said she has lost most of it, but is still looking to lose another 12 pounds before her return to competition in a tournament in Switzerland later this month.

She tells People:

"I have been working my butt off literally every single day…. I've come a long way from April when I had my baby. But I'm definitely not where I would normally be going into my first tournament of the season."
Given what Walsh Jennings wears as a uniform on the beach volleyball court – an itsy-bitsy bikini – you would think that baring it all would, well, be no biggie.
But the super-fit Walsh Jennings proves that wearing your birthday suit for all the world to see, especially so soon after pregnancy, takes a certain amount of courage, even when you are an Olympic gold goddess
Walsh Jennings wrote about the experience on her Facebook page:
"This was very fun and a bit scary. Even though my uniform is what it is, this situation was difficult for me. I'm so happy I did it though & proud to be part of the celebration."
The athlete's fans were overwhelmingly supportive.
Facebook commenter Anita Wehr wrote: "Kudos to you for being that brave and happy with yourself that you were able to step out of your comfort zone!"
And Jennifer Purdy Meads said of the photos: "Absolutely stunning! You have so much to be proud of…and what an inspiration to all moms out there. Thanks for sharing."