In celebration of its 30th birthday today, the restaurant chain Hooters is revamping its image this year—a more upscale decor and more healthy food offerings for a new audience: families.  

Since Hooters is historically known for its chicken wings, its man-cave decor, and its scantily clad, big-breasted, tight-orange-bottomed waitresses -- plus its awesome motto, "Delightfully tacky, yet unrefined" -- turning it into an appealing place to dine out for mom, dad and the kiddos may seem odd to some.
But it really isn't. Hooters has covertly been family-friendly for years.
Because, what ultimately makes a restaurant fine for the brood? When you have little ones, the check list is pretty straight-forward.
Are there high chairs or booster seats? (Check.) Are there crayons and a kid's menu? (Check.)
Are there chicken strips and French fries; a raucous din that can veil the loudest tantrum; a wait-staff that seems unperturbed by the mess left on and under the table; a diaper changing spot in the bathroom?
Quadruple check. So, is there even a question? (Not to mention, babies eat at 'hooters' first, right? Why wouldn't they feel right at home? )
Some may find being served by women dressed for decoration as offensive and especially inappropriate for kids. Hooters 'Girls,' as they are known, are packaged to be sexy from 'are-those-real' top to let-it-all-hang-out bottom. There's even a whole Hooters Girls' subculture, which involves competing in pageants and posing for calendars.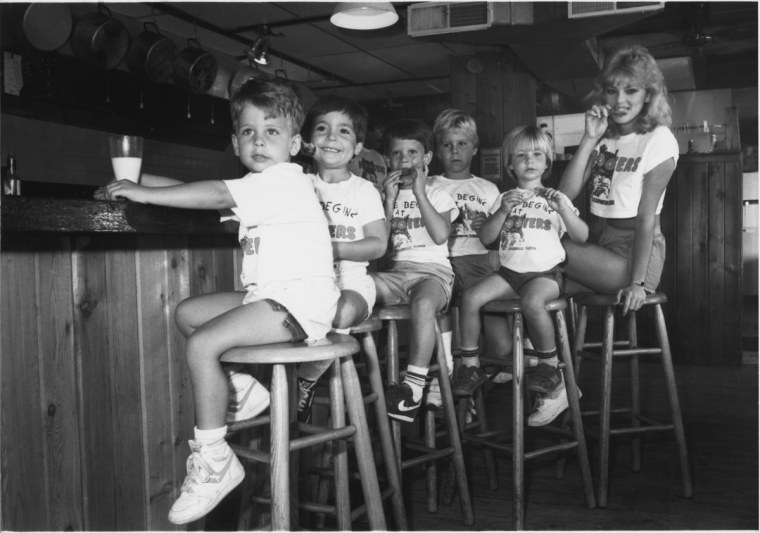 It's more of a shtick, actually -- not that different from going to a character dinner at Walt Disney World. Tinkerbell, Jasmine, Ariel, they all show a fair amount of skin. If the scantily costumed creatures aren't going to mind if my kid leaves mashed Cheerios all over the place, who am I to judge what they wear?

I became a Hooters convert 13 years ago, when my husband first suggested we take our 1-year-old daughter to the chain in our then-hometown of Fort Lauderdale, Fla. At the time, I was not only suspect, I was offended. Why would you want to expose our girl to THAT kind of girl, the kind that seems to be hired based on looks and then agrees to wear a uniform that's like a roadside billboard for boobs and butt ? Why would you want to expose ME to that?
He insisted it was a place where families go. Since this particular Hooters had an open-air deck with a view of the Atlantic Ocean, I conceded.
And upon entering, once I got past our waitress' voluptuous chest and hourglass figure, I noted a sign of family life. A toddler. Goldfish crackers on the ground. There were enough families with young children to ease any embarrassment as I bumped chairs with my stroller through the room.
Once settled at a table with a high chair, the three of us dined on greasy-but-tasty wings and fries and my husband and I shared a pitcher of beer that was kept cold with a ziplock bag of ice. Delightfully tacky isn't limited to the waitress uniforms.

In the 11 years we lived in Fort Lauderdale, we hit Hooters whenever we craved wings and an ocean breeze, always with our daughter in tow and later with our son, too. The waitresses we had varied in demeanor. Some were happy to serve us, even when we asked for extra crayons, or a kid's cup, with a lid and straw, please. Others were at least civil, although you could tell they were more focused on the table of beer-swigging dudes who split their attention between them and the football game on TV. (In truth, they probably do tip better.)

But we always felt welcome, kids and all.
After a while, you stop noticing how the owl on the waitress' tank top takes your eyes to right there, and you really don't mind when a waitress recognizes your husband and kids. (It turns out that a solo dad taking cute babies to Hooters has a similar effect as a guy walking a cute puppy in the park: the ladies NOTICE you.)
It's trademark 'delightfully tacky' reputation aside, Hooters is really just another place to get a bite to eat.
Officially going family-friendly on its 30th birthday? Maybe it's just the sign the owl is getting older… and wiser.