/ Source: TODAY Contributor
Millie Smith and Lewis Cann's baby daughter, Skye, only lived for three hours, but even that was a miracle — and her legacy might help other families who lose a baby.
Smith first found out she was pregnant in November 2015, and she told TODAY Parents she had a "gut feeling" she was having twins. Twins have run in her family for many generations, so Smith was not surprised when she found out at 10 weeks that she was expecting identical twin girls.
Never miss a parenting story with TODAY's newsletters! Sign up here.
Just two weeks later, Smith and Cann were devastated to learn that one of their babies had a condition incompatible with life. "During the scan, the doctor didn't say anything. I was very excited and loved seeing the little babies, but she was silent. Both Lewis and I immediately knew there must be a problem," said Smith. Their doctor broke the news that one of the babies had anencephaly, a neural tube defect in which the upper part of the neural tube does not close all the way, preventing parts of the brain from forming correctly.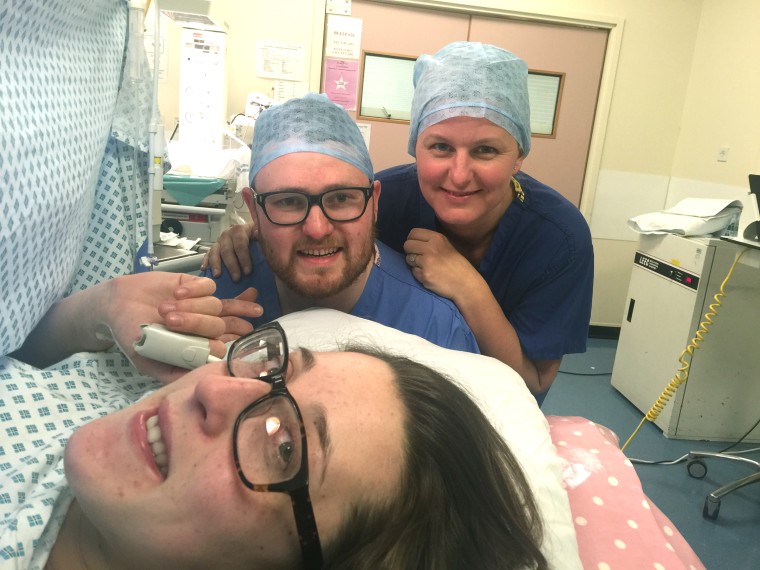 Smith and Cann chose to move forward with what was at that point an extremely high-risk pregnancy, knowing that they would have to say goodbye to one baby very shortly after her birth and that there were risks involved for their other baby, no matter what they did.
The couple decided on the names Skye and Callie for their daughters. "We knew that Skye needed to have a name before she was born," said Smith. "Knowing she would only survive for seconds or minutes, I wanted her to be named during that time." Smith wanted the names to have a meaning, and "Skye was somewhere we knew she would always be, that we could look up at the sky and remember our baby."
RELATED: Parents thank NICU nurses in surprise reunion 10 years after their son survived rare condition
When Smith went into labor at just 30 weeks on April 30, she ended up needing an emergency C-section. At Kingston Hospital in the United Kingdom, where the twins were born, Smith and Cann were able to have a both a "bereavement midwife" during the birth and to stay in a special room the hospital calls the "Daisy Room," where families can spend time with a baby before she passes away and shortly afterward.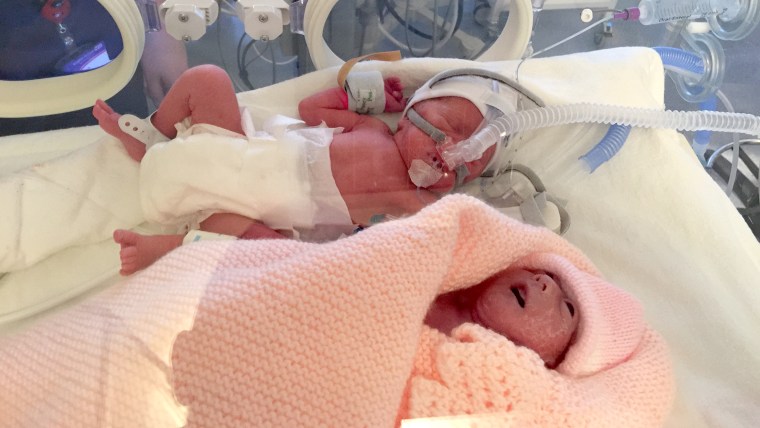 "When the girls were born, they both cried. This was a huge moment, as we were told that Skye would not make a noise or move," said Smith. The couple was able to spend three hours with Skye. "We were cuddling Skye when she passed away," said Smith. "This was the worst moment in our lives. I have never ever felt heartbreak like that before. But I am proud that she fought for so long to spend time with us."
It was after they said goodbye to Skye that Smith and Cann were inspired to create the purple butterflies. Baby Callie still needed to spend time in the NICU, where there happened to be three other sets of twins at the same time. "Most of the nurses were aware of what had happened, but as time passed, people stopped talking about Skye," said Smith. "After about four weeks, everyone acted as though nothing had happened, meaning the families around me had no idea about our situation."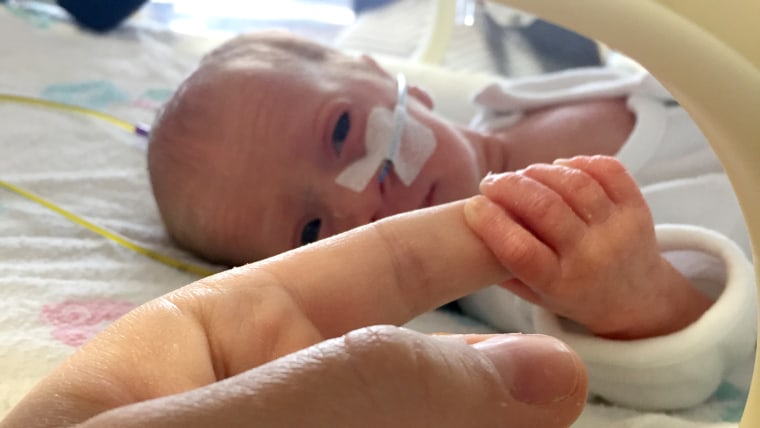 One morning, an overwhelmed mother of twins in the NICU turned to Smith and innocently commented that Smith was "so lucky" she didn't have twins. "Up until this point, I hadn't cried in front of any of these parents," said Smith, "But that was it. I ran out of the room in tears. The comment absolutely broke me. I didn't have the guts to go back in and tell her our story."
RELATED: Pediatric nurse's bond with sick preemie leads to adoption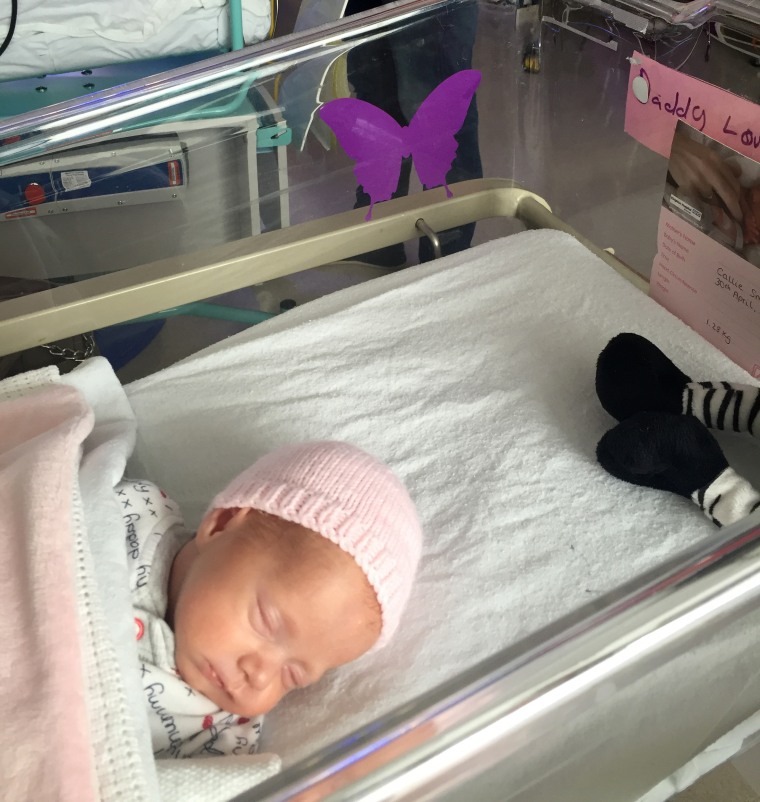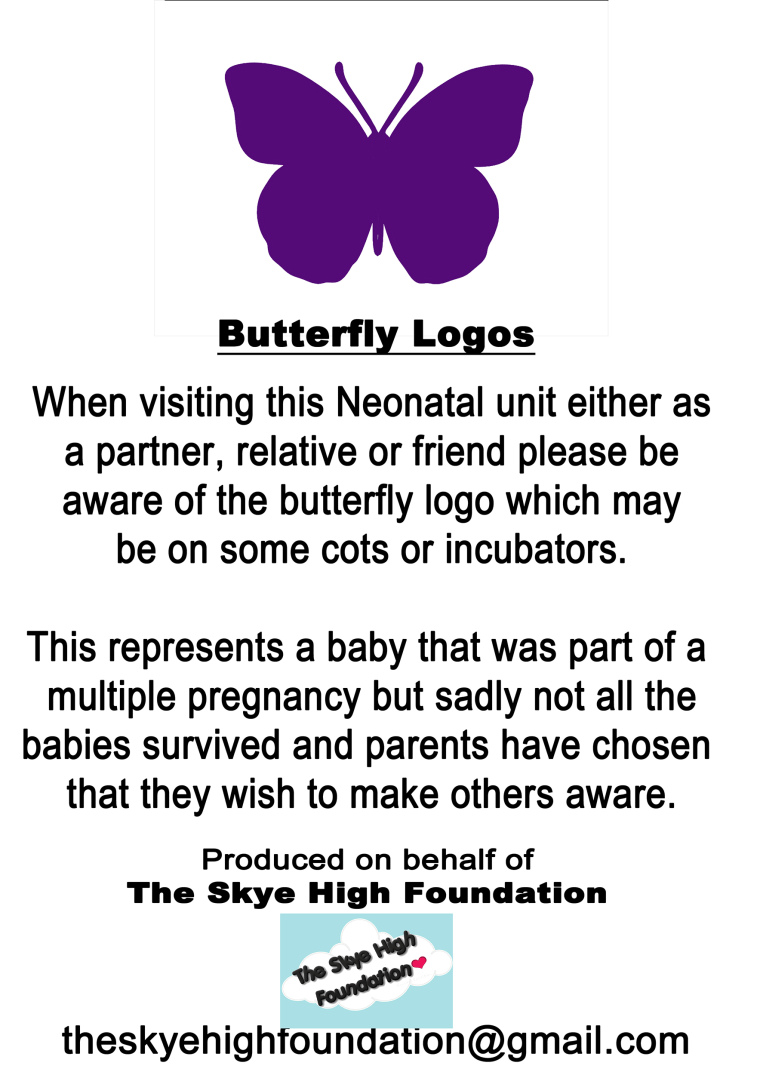 It was that moment that Smith decided she needed to create something so that moment didn't happen again. She decided to design a poster for the NICU explaining and reminding both hospital personnel and visitors that any incubator with a purple butterfly on it meant that the baby was one of a set of multiples in which one or more babies were lost. "I chose butterflies, as I felt it was fitting to remember the babies that flew away, the color purple because it is suitable for both boys or girls," said Smith. Now, the idea has spread well past Kingston Hospital, with interest from other hospitals in several countries around the globe.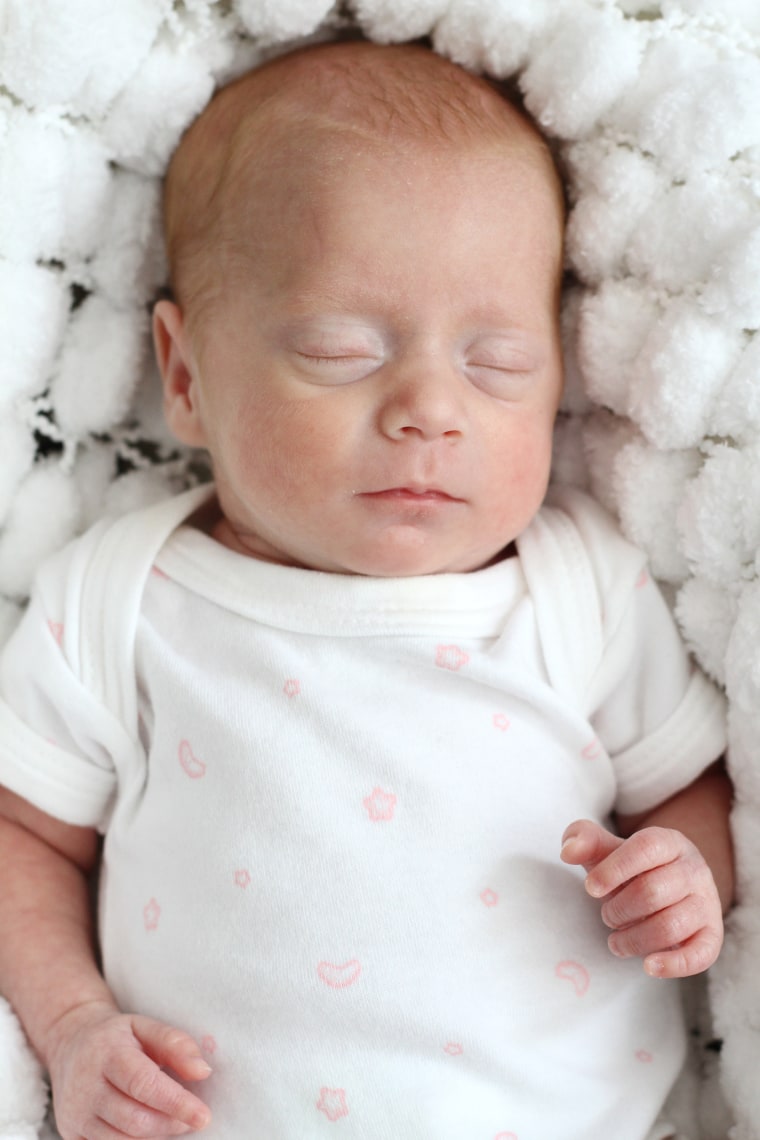 Callie is now eight weeks old, and Smith and Cann have already begun work setting up the Skye High Foundation in her twin's honor to support the purple butterfly cards as well as other efforts to help families like theirs — specifically, to create support groups and to place bereavement counselors at hospitals for other mothers and fathers who lose babies during pregnancy or birth. Smith also believes in the importance and need for bereavement midwives like theirs to support and advise families in a time of such profound loss. Her hope is to raise enough money to help families with babies like Skye all over the world.