/ Source: TODAY Contributor
Ever since Meredith Bailey's daughter, Mia, was diagnosed with alopecia areata, an autoimmune disease that causes hair loss, Bailey has tried to empower Mia to feel strong and healthy, in spite of her lack of hair.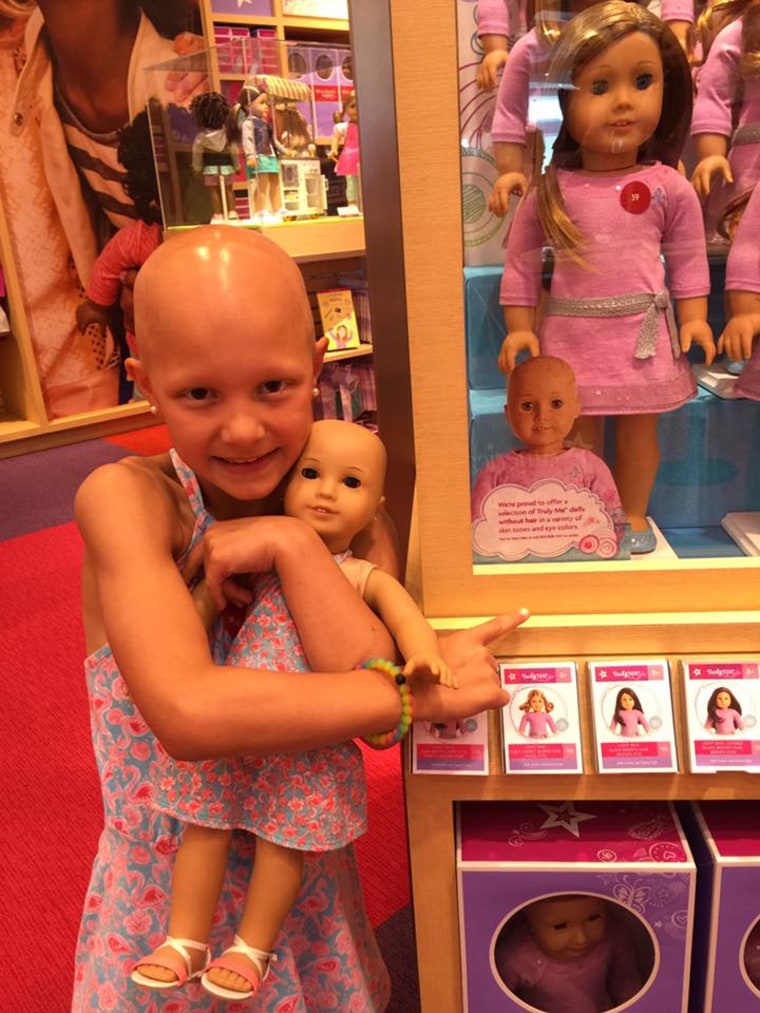 So when Bailey and Mia, who were celebrating Mia's upcoming eighth birthday, spotted a display of dolls without hair at their local American Girl store, it made a huge impact on both mother and daughter. Bailey wrote an emotional post to American Girl on Facebook.
"These dolls were not hidden in the back and had to be asked for...to little girls who may feel 'alone' and so desperately want to see dolls that reflect their beauty — it means more than you know," Bailey wrote in her post. "I cried many happy tears yesterday. Thank you so much for including ALL children."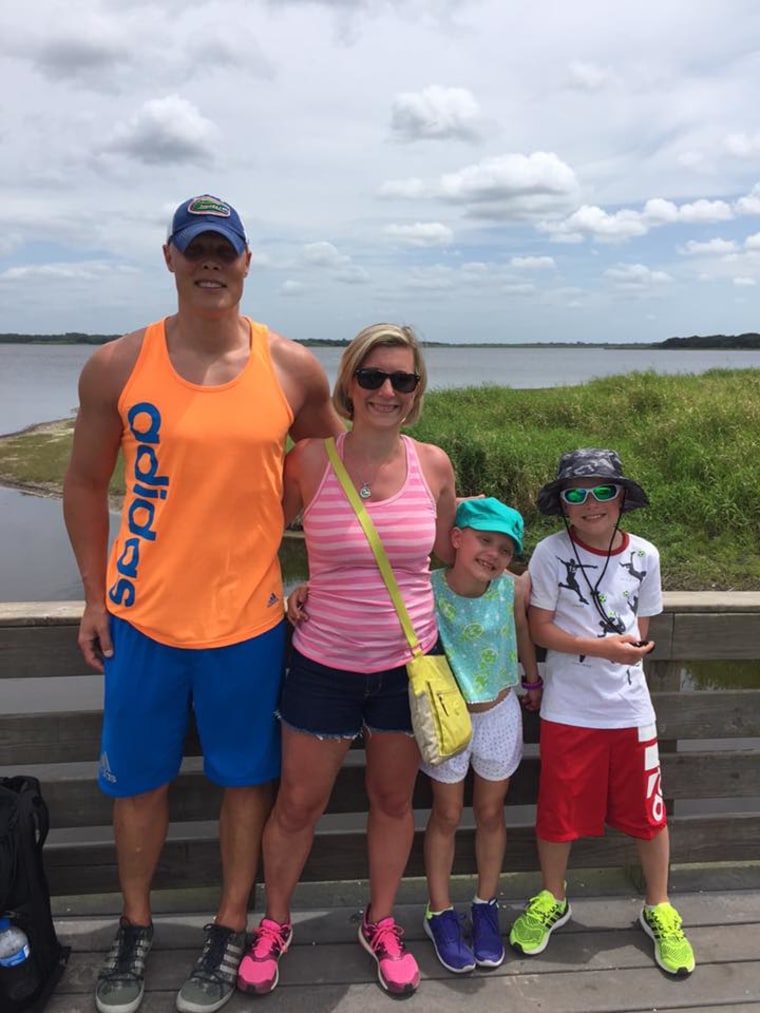 Bailey, who lives near Boston, Massachusetts, with her husband, Adam, says Mia was diagnosed with alopecia when she was four years old. On a trip last year to purchase an American Girl doll for Mia for her birthday, Bailey inquired about the availability of dolls without hair and learned they could be ordered. The mom of two says she immediately made plans for Mia to receive one of the dolls for Christmas.
RELATED: Meet Melody: American Girl's newest doll celebrates civil rights
"It was her number one Christmas present, and luckily good old Santa Claus pulled through and got her one," Bailey told TODAY Parents. "I knew she wanted the doll, but I didn't realize the happiness it would bring. I can't put it into words — she had a doll that was just like her — it was a piece of her."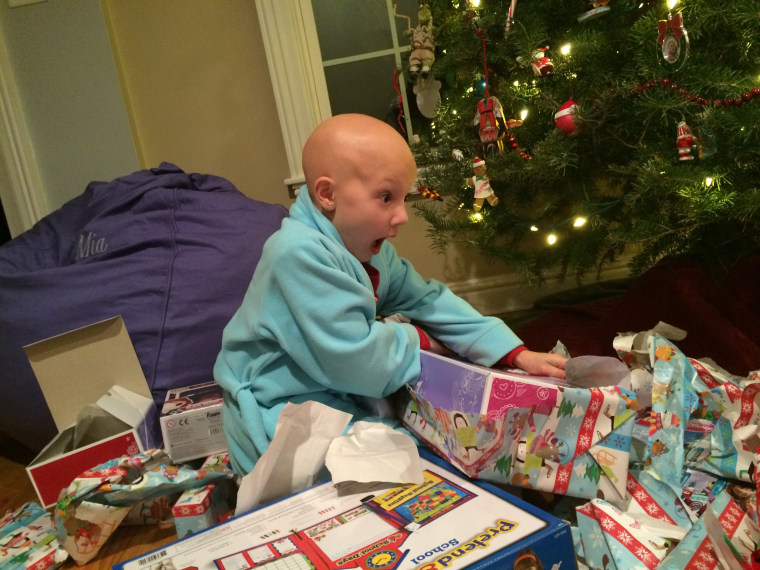 Bailey says on Christmas morning, Mia asked if other children would want to buy the dolls without hair.
"I said of course, because a girl may have a friend with alopecia like her, or they may just think she's beautiful and want one," said Bailey. "She then asked why they weren't at the store. I didn't have a good answer, and I was sad. I wondered, too, why? Why do they have to be special ordered? Why can't there be just one there? For her, and for all the little girls with alopecia, they deserved to see this doll with all the other ones."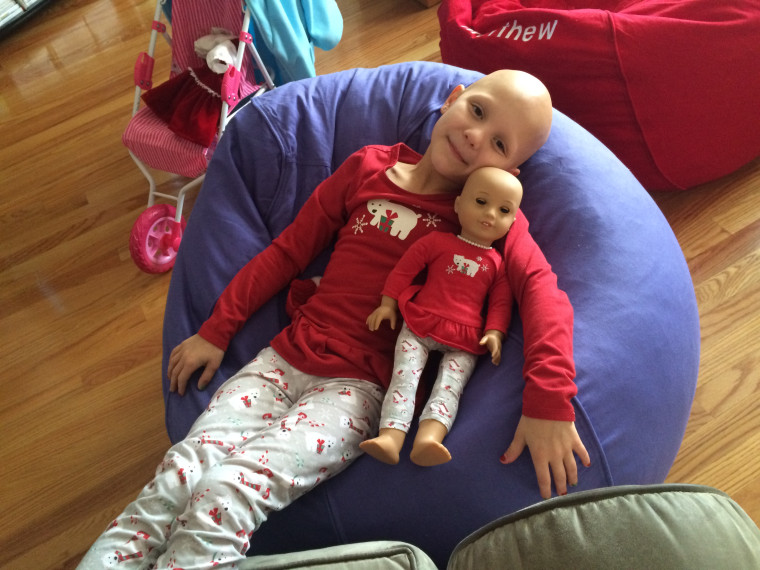 On their most recent trip to American Girl, Bailey says both she and Mia were thrilled to find multiple dolls without hair on display.
"We traveled up the escalator and the first display we see is a trundle bed with a doll without hair sitting there," said Bailey. "We both yelled with excitement. Mia sat her doll right there with the other doll and beamed."
"Next, we weaved our way around the store and found another one behind glass," Bailey continued. "That's when I cried. These dolls weren't hidden, they were up on display with pride."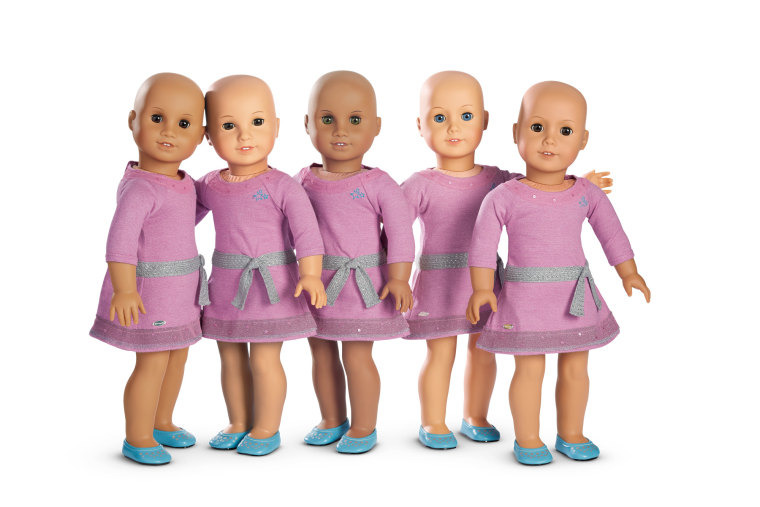 Stephanie Spanos, senior public relations manager for American Girl, told TODAY that American Girl has a long-standing commitment to creating products that girls in various circumstances can identify with. In addition to dolls without hair, the company makes wheelchairs, hearing aids and diabetic testing kits for their dolls, to name a few.
"We love Meredith's post and the happiness our dolls without hair have brought to her and her family," said Spanos. "We know that when a girl owns a doll that is a reflection of her, it provides a sense of connection and belonging. It's a responsibility we take very seriously and girls like Meredith's daughter inspire us every day."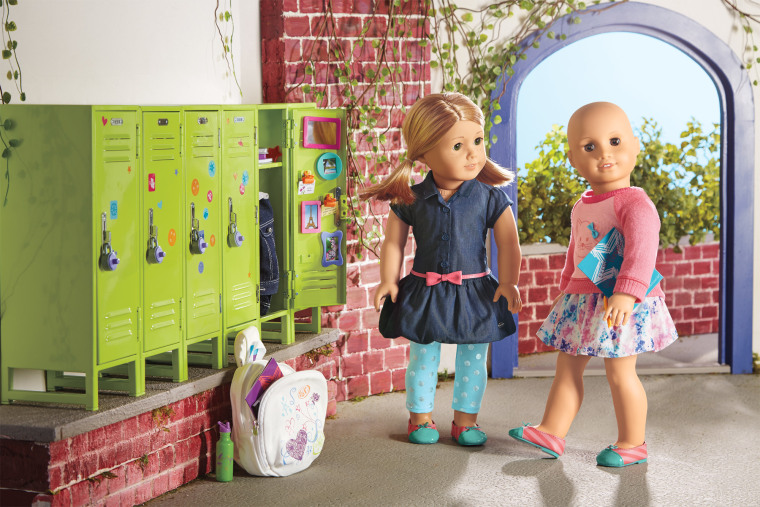 Bailey says as they were checking out, she stopped a manager to thank them for displaying the dolls, explaining the impact it had on her daughter. Later, she also posted to the American Girl Facebook page about the experience.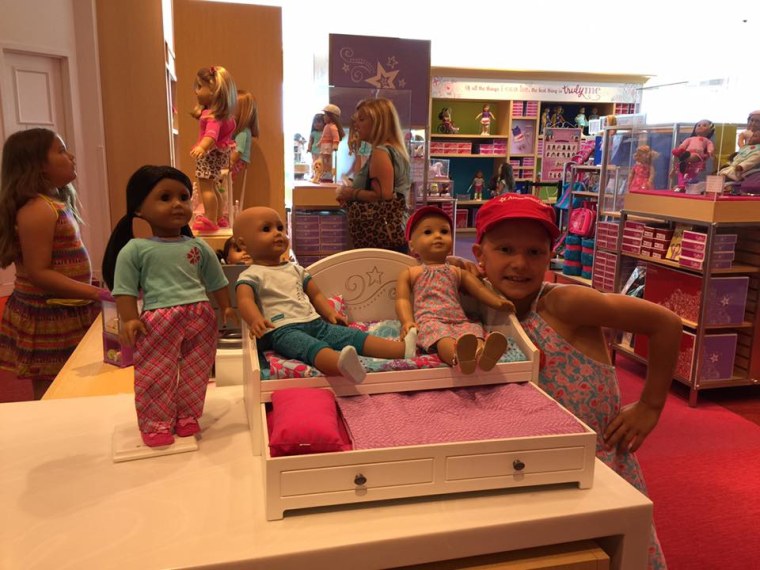 "A little girl may feel more comfortable seeing my daughter in public because American Girl started a conversation between this child and her parent at a store, or when the magazine came to their house," said Bailey. "I feel like the company almost empowers these girls."
Never miss a parenting story with TODAY's newsletters! Sign up here