When Ashton Kutcher visited TODAY Thursday, he revealed that he and Mila Kunis are expecting a baby boy. But that wasn't the only baby news he delivered that day.
Hours later, Kutcher stopped by "Late Night With Seth Meyers" and made a confession: "I was actually hoping for a girl."
Oh, boy!
RELATED: Ashton Kutcher plans to 'protect' daughter Wyatt from show business
The father of one daughter with Kunis already — 2-year-old Wyatt — Kutcher explained that there was a strategy behind his wish.
"Because first of all, our first girl is unbelievable," he told Meyers. "But also, I figured if we had a girl second, [Mila] might give me one more shot to have a boy. And now I don't know! ... It's even money. She might cut me off."
However, the truth is, the star of "The Ranch" on Netflix doesn't really want "one more shot." He'd like 10 more.
"I want like 12 (kids), so I don't know," he told Meyers. "We haven't discussed it yet."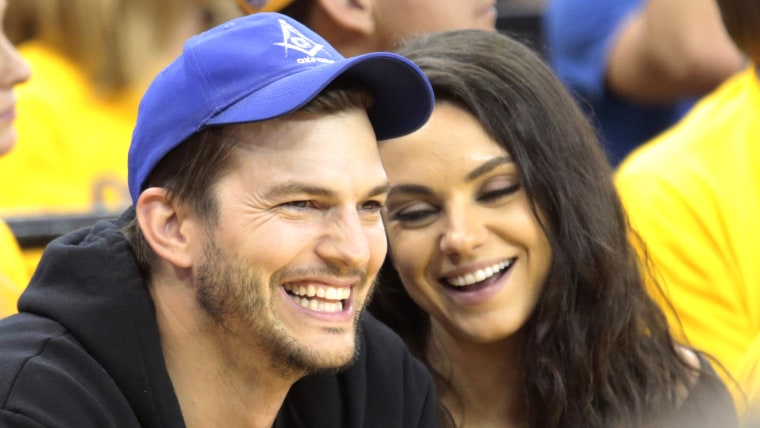 For the time being, Kutcher realizes he's going to have his hands full with a new baby on the way and a clever toddler to keep up with. And Wyatt is certainly keeping up with him.
Kutcher recalled that when the family dog, Ricky, recently left a surprise on the carpet, he dropped an F-bomb, and his little girl picked it right up.
"Papa didn't say that!" he tried to convince her. "Papa said 'fox.' Ricky's like a wily fox."
Good luck with that, Dad!
RELATED: Mila Kunis shares the moment she fell in love with Ashton Kutcher
And we wish him luck in another endeavor, too. Kutcher returned to TODAY Friday, but it wasn't for baby talk this time.
Instead, he sat down with Kathie Lee Gifford and Hoda Kotb to discuss another topic he's passionate about — his work fighting human trafficking and the sexual exploitation of children via Thorn, the foundation he co-founded with ex-wife Demi Moore.
Thorn develops and employs digital tools to aid law enforcement and to fight back against the "commerce of human trafficking" online.
"We've found and recovered over 6,000 trafficking victims this year," Kutcher revealed. "And we've found and recovered 2,000 traffickers."
And he has big plans for Thorn's future.
"I'm going to make a pledge that I'm going to eliminate child pornography from the internet," he said.
Follow Ree Hines on Twitter.