/ Source: TODAY Contributor
One afternoon in 1987, Christian Picciolini, then 14, was smoking a joint in an alley when a man in a muscle car pulled up and started chatting with him.
"Don't you know that (smoking pot) is what the Communists and Jews want you to do to keep you docile?" he said.
At his age, Picciolini had never heard of Communists or Jews or even the word "docile." And in 1987, the teen certainly didn't know that the bald man wearing Doc Martens was a skinhead, a member of a white supremacist, nationalistic, and anti-semitic group that aligns with Nazism.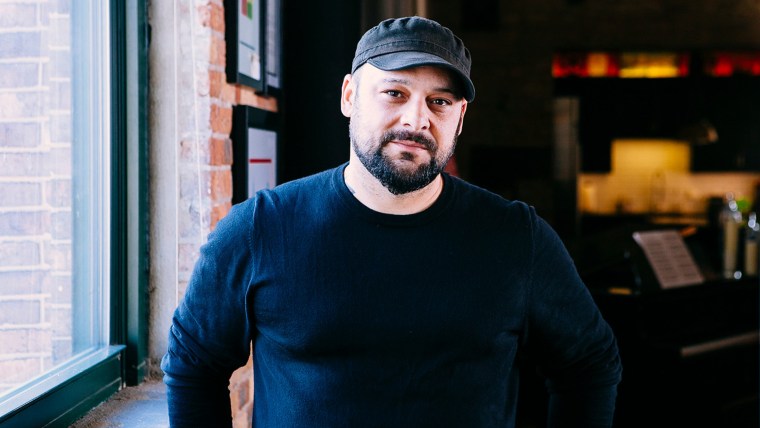 But the man engaged Picciolini and praised him for his Italian ancestry.
Picciolini felt proud of his culture, which he had learned about from his parents who immigrated from Italy in the 1960s. But while his parents taught him many things about his heritage, he also felt abandoned by them. They worked 14-hour days seven days a week and didn't notice his love of music or baseball.
"They weren't involved and they didn't see they should foster (my interests). I went looking for that elsewhere," he told TODAY.
Picciolini had no friends; his classmates thought he was that weird Italian kid who brought Nutella sandwiches to school. When this man talked to him, Picciolini felt less alone.
"The way he approached me is that he cared," he said.
When Picciolini first started hanging out with neo-Nazis, he simply ran errands for them, enjoying how school bullies were suddenly afraid of him and his new friends. At the time, he didn't follow their bigoted ideas. His parents weren't racist and had diverse friends.
"I didn't have that foundation of racism," he said.
But after being told over and over that minority groups were ruining his life, Picciolini started believing it. And feeling that he belonged to a powerful organization gave him something he never had before.
"That feeling of power was so intoxicating, because I was powerless," he said.
At 16, he became the leader of the Chicago Area Skinheads, which according to the Southern Poverty Law Center, has since merged into the Hammerskin Nation, a large and violent neo-Nazi group.
But in 1996 when he was 22, Picciolini left and renounced the group. In 2011, he co-founded Life after Hate, which educates people about white supremacy and helps rehabilitate members of hate groups.
"We need to enable young people to do the things they love so they don't have to search for things in dead-end alleys," he said.
Becoming an extremist
It may be surprising that Picciolini became a neo-Nazi when he didn't come from a racist background, but an incident after the recent Unite the Right rally in Charlottesville brought this seeming contrast into the spotlight.
Peter Tefft calls himself a "pro-white" advocate and marched against the removal of the Robert E. Lee statue in the Virginia city. The Twitter account, Yes, You're Racist, revealed his identity, but he was already outspoken in local and national media about white supremacy.
After seeing Tefft's involvement in white supremacist groups, his dad, Pearce Tefft, wrote a heartbreaking letter disowning Peter and stressing that he and his family don't share Peter's beliefs.
"I, along with all of his siblings and his entire family, wish to loudly repudiate my son's vile, hateful and racist rhetoric and actions. We do not know specifically where he learned these beliefs. He did not learn them at home," Pearce Tefft wrote.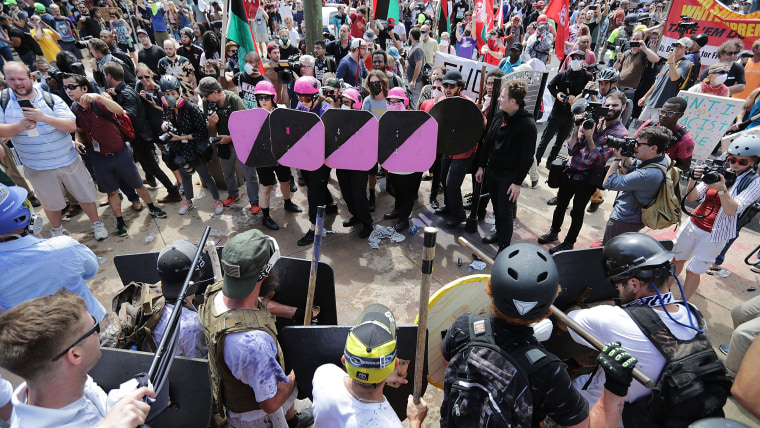 Many felt stunned that Peter's family wasn't also racist, but maybe they shouldn't have been surprised. White supremacists don't only come from racist families.
"It's absolutely a fallacy," Picciolini said. "(And not all supremacists) come from a broken home or drugs or divorce. It certainly exists but it is not the standard," he said.
Research indicates several reasons why people join white supremacy groups. People who were abused, bullied, or find themselves to be socially awkward, for example, often find white supremacy groups attractive.
But more so, extremist groups attract people when "it feels that something is missing for them, whether it is a place to belong and a place to be accepted or a place to feel like they are doing something of great importance," said Angela King, co-founder and deputy director of Life after Hate.
King joined a white supremacist group when she was 15 years old after a tough childhood during which she was raped and bullied. In the group, she finally felt like she fit in.
"I was angry and they were angry, too," she said. "And I was violent and they were violent, too."
The groups excel at exploiting people's weaknesses.
"They try to appeal to what's happening in a person's life to make them vulnerable," King said.
Can you stop it?
While King isn't sure there is anything her parents could have done to stop her from joining a hate group, Picciolini believes his parents could have helped "if they would have brought me in closer and listened to me instead of dictating to me."
Dr. Debra Gilboa, a parenting expert, agrees that having an open conversation, where parents listen instead of preach, leads to better results.
"(Parents need to have) a nuanced discussion (with their children) because if we are not ... that leads to further disenfranchisement," she said.
Jacob Wieber, Peter Tefft's nephew, told TODAY via email that he believes talking with your children remains essential to preventing them from being susceptible to extremists.
"Talk to your kids about politics. Look for signs that they might be being radicalized," he said. "Teach them the value of doubting everything … But mainly — talk to your kids."
Gilboa said it's important for parents to discuss white supremacist and extremist groups even if they don't want to believe their children would be interested.
"We should probably liken this to pornography. It is something you have to talk to your kids about whether or not you think your kids are looking at it," she said.
Teenagers are vulnerable to recruitment into all sorts of fringe groups, such as gangs, ISIS, or white supremacist groups, in part because of their biochemistry, Gilboa said.
"The teenage brain is connected strongly to emotion," she said. "These groups give them the emotional connection they are looking for."
For King and Picciolini, meeting people from the groups they once hated helped them start to recover.
"We all changed because we got compassion from people we least deserved it from," Picciolini said.
Life after Hate lost its federal funding this week. The New York Times reports that after a normal review, the government cut its $400,000 grant. People interested in donating to the group can do so here.