Evelyn Moore has a wheel up on other kids her age, and she is literally racing to catch up on lost time after treatments for cancer left her partially paralyzed.
While other toddlers crawl or take wobbly steps toward their destination, the 13-month-old zips around on a custom-made wheelchair built by her father (with a little help from Pinterest).
It took a while for Evelyn to learn how to maneuver the chair.
"When kids crawl, they move backwards, and then forwards and then they learn how to turn. It was the same for her, and then one day she just got it," Evelyn's mom, Kimberly Moore, told TODAY. "We had to throw down a piece of wood in our living room to create a speed bump because she was just flying."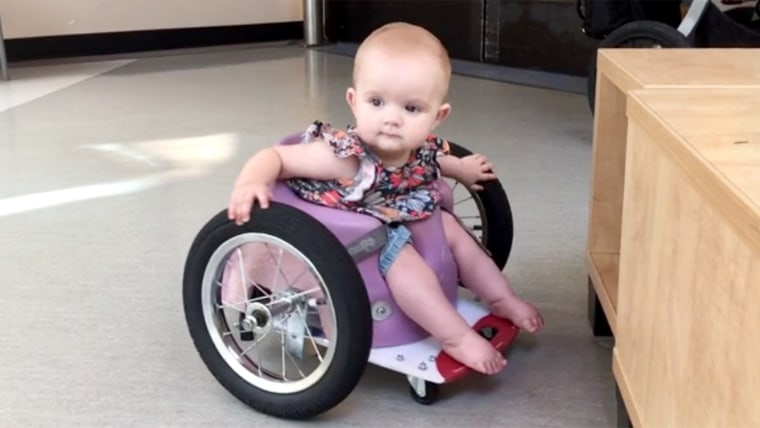 Evelyn's paralysis stems from cancer diagnosed when she was 4 months old. She went in for a routine checkup but doctors ordered tests after noticing an overextension in her hips.
RELATED: Paralyzed boy's wish to spend more time with family fulfilled with backyard path
"It was stage 4 neuroblastoma, which were some pretty scary words. Now I can say them, but I couldn't at first," said Moore, who lives in the Canadian city of Edmonton, Alberta.
The cancer attacked Evelyn's spine and attached to a lung and her heart. It forced her to undergo eight rounds of chemotherapy and left her paralyzed below her arms.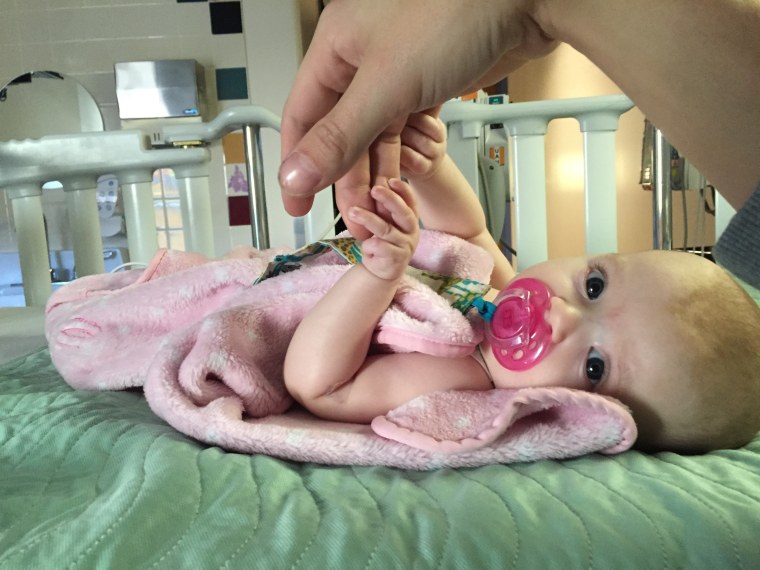 Moore said she went looking for a wheelchair as "part of the grieving process" after learning about her daughter's paralysis.
"I just went on Pinterest and tried to wrap my head around what it would look like," she said.
RELATED: Teen's adoption proposal is captured in emotional, viral video
Because of Evelyn's age and size — she weighs about 18 pounds, her mom said — doctors told her parents she wouldn't be big enough for a children's wheelchair for another couple of years. Until then, she would have to get around using her arms in a military-style crawl.
But online, Moore found a photo of a custom-made wheelchair another father made using a rubber Bumbo seat, a kitchen cutting board, some caster wheels and a pair of children's bicycle tires.
"I brought it to my husband and said, 'Can we do this, too?' And so we went together to the parts store," she said, still expressing surprise at how her husband put together the finished product within two days.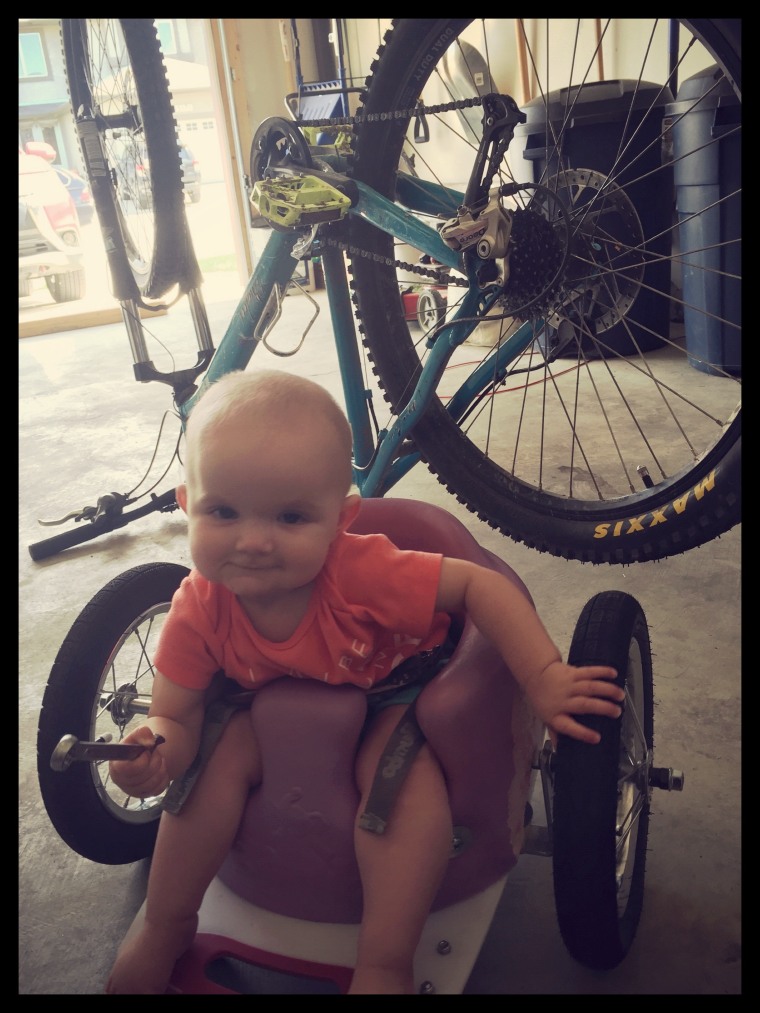 "We couldn't wrap our heads around how the heck we were going to put all these things together. We just kept looking at each other. I work as an event planner, and my husband works as a tire technician," said Moore, 29. "We have no experience doing projects like this, and so we even had to buy a few tools to get it done."
RELATED:Lego releases minifigure that uses a wheelchair
Evelyn has has been in remission for the past two months, during which her parents have been trying to discover their new normal.
Moore said spending eight months living in a hospital left her struggling with depression and anxiety. But the reaction she and her husband have received from people who have read about Evelyn's wheelchair has lifted her spirits.
"It's been so heartwarming to get so many warm messages about Evelyn and the chair and how she goes," she said.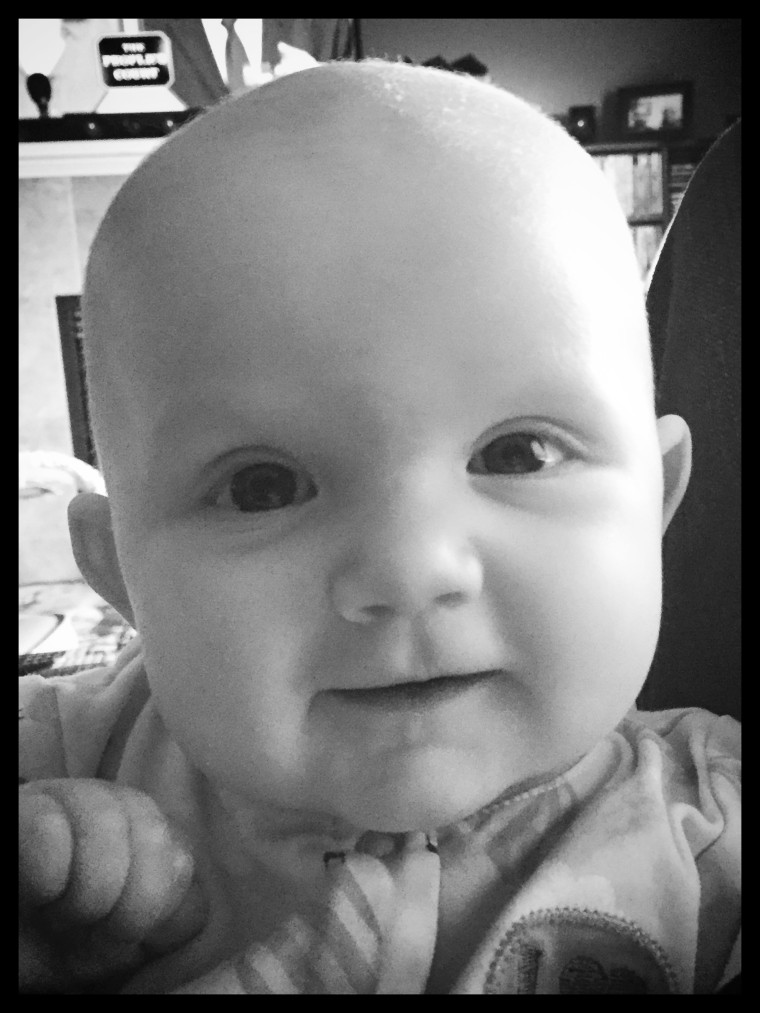 Evelyn has had to relearn nearly everything, but she has quickly adapted to her newfound mobility. She knows how to adjust her chair when reaching for toys and to satisfy her curiosity by peering over low tables and counters.
"We're just building a regular life, that's all we see. And that other people see us as inspiring?" Moore said. "She definitely is, but all we are are parents just trying to give our kid the tools to be a kid, really."
Follow Eun Kyung Kim on Twitter or Facebook.