Everyone's talking about the sibling Super Bowl this weekend in New Orleans between Jim and John Harbaugh, but the Kosnik clan of Clawson, Mich., has a little been-there-done-that advice for the famous NFL coaches.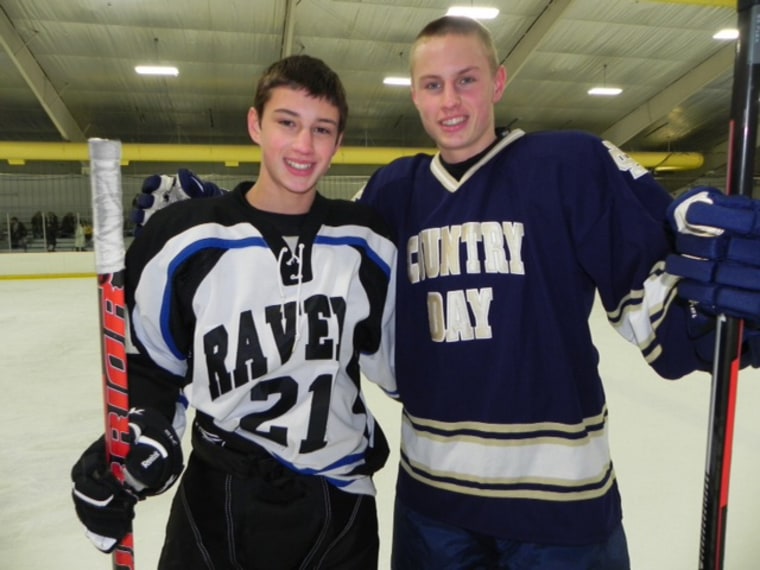 The Kosnik boys, ages 14 and 16, have been playing hockey together since they were toddlers. They officially faced off as opponents for the first time last weekend, when Royal Oak, where Clay plays as a freshman, hosted Detroit Country Day, where big brother Hunter is a junior. 
Hunter's advice to Baltimore Ravens coach John Harbaugh, the older sibling: Don't go easy on your little brother, coach of the San Francisco 49ers. Make him work for it. 
"I'm proud of Clay as a freshman," says Hunter, whose team ended up winning 7-1. "And we have a good, solid relationship. So we could leave the competition on the ice when the game was over."
While sibling rivalry is a constant of family life, it's especially hard when brothers and sisters compete head-to-head, whether it's on a playing field or for a starring role in the school play. Far from the spotlight of the "Harbowl," many families like the Kosniks grapple with the question of how to handle sibling competition in a way that doesn't scar the kids – or their parents, standing nervously on the sidelines.
Leading up to Saturday's showdown, Jim Kosnik told the Michigan Prep Zone, a local sports website, there was a healthy dose of "trash talking" between the boys at home. Last week, Mary Kosnik posted on Facebook that her boys would be playing against each other for the first time, and asked: "What's a mother to do?"
"We were positive about the competition from the very beginning," explains Mary Kosnik, who says she and 25 family friends and relatives sat smack in the middle of both sides during the game, and cheered their lungs out each time either team scored. "So they were positive about it all too. As soon as we found out, we told the boys, 'Wow, you're going to play each other! How fun is that?'"
Jack and Jackie Harbaugh discussed their sons' rivalry in the big game at a news conference today in New Orleans. The Harbaughs said they are most proud of their sons' individuality, something they always encouraged as the boys grew up.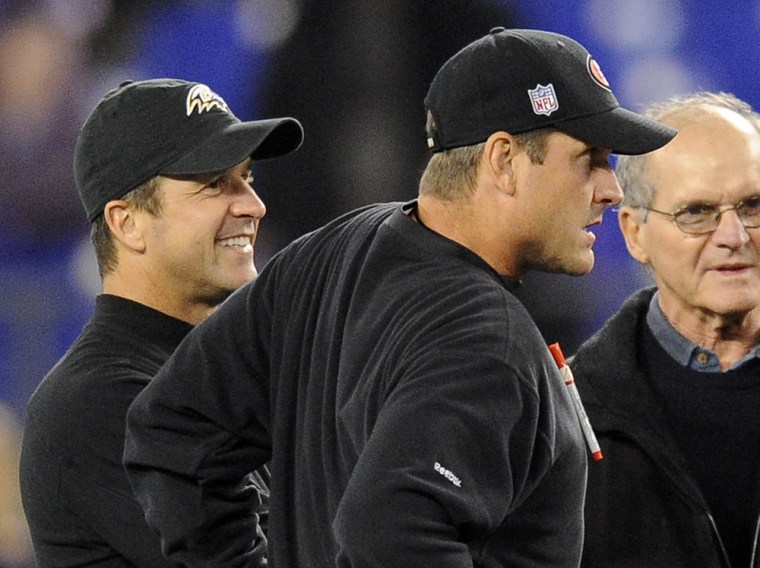 "One thing we take great pride in, both of them are themselves," said Jack Harbaugh, who added he always told his boys, "Always be who you are and don't follow anyone else."
Like the Kosnik brothers, the Harbaugh brothers used to play their own one-on-one Super Bowls in the family backyard when they were kids, John described in an interview on NFL.com.
When asked how he would console his little brother if the 49ers lose on Sunday, the Ravens coach said, "There is no loser in this game.  Whoever who wins the game, I'm gonna tell him I'm proud of him, I love him and I'll see him next time."
Psychotherapist and California mom Stacy Kaiser frequently sees her daughters, Katie and Jordan —  who both sing, dance, and act — try out for the same roles in high school plays. Kaiser just watched her girls go through West Side Story auditions; this time around, her older daughter Jordan got the part.
 "They are always competing for the same spots," says Kaiser, "but they always practice together, and boss each other around — you should wear that, you should do it this way. They are very invested in helping each other prepare ahead of time."
If one sibling turns out to be stronger in an area that both have chosen to pursue, or the "clear winner" compared to the other, family dynamics can get tricky.
Dana Eisenman, now 26 and a fifth grade science teacher in Atlanta, and her sister, Abby Paulson, 24 and a camp director in Orlando, both still talk about ice skating together, growing up in Baltimore.
Eisenman began lessons first, when she was 8. Paulson, who says she always wanted to be like her big sis, took it up around the same time. Pretty soon, though, Abby was moved up into Dana's skating group, and she just seemed to get better and better, clearly a natural on the ice.
"Looking back on it, I think I did stop [skating] because of her," Eisenman says about her little sister becoming a noticeably stronger skater than she was.
The girls' mom, Jill Paulson, remembers her "heart ached" for her oldest daughter when she saw how easy skating was for the younger one.  But Paulson also remembers how important it was for Eisenman to find her own passion. After Dana quit skating, she went on loving dance lessons and playing lacrosse.
"As I got older, I got over the typical sibling rivalry stage," says Eisenman, "and I loved going to the rink to watch Abby skate." Eventually, Eisenman even became the manager for one of her sister's skating teams.
Twins often feel the sting of built-in family competition — whether they like it or not.
Gayley Woolston, an associate finance manager at PepsiCo in Stamford, Conn., recalls that every occasion seemed to pit her against her twin brother William when they were growing up.
"The two of us were not outwardly competitive towards each other," she says. "But we were constantly compared by others."
Report cards, SAT's, summer jobs, even their drivers' test results and the number of friends they had — Woolston says people outside of their family automatically measured them against each other.
Charles Paris, a marketing associate for Urnex Brands in New York, says growing up in California, his parents specifically requested separate teachers and classrooms for him and his identical twin brother, Robbie. According to Paris, his parents wanted to encourage each boy to shape his own identity, apart from the singular "Paris twins" or "Twin Towers," as they were known because they're both so tall.
"But that didn't stop us from competing against each other in everything and anything," Charles Paris says. The brothers ended up playing college sports — Robbie ran track at Harvard,  Charles played soccer for Yale. "We make great teammates, but somehow we were better suited as rivals."
 The most important thing to teach your competitive children is that it is just a game — even if that game happens to be the Super Bowl, says Columbia University psychiatrist Drew Ramsey. 
"The conversation you want to have with your kids, whether they're competing against each other or other peers," Dr. Ramsey advises, "is about how competition pushes you do to your best, and to be proud of your performance, regardless of the outcome."
Even better, he says, if you tell them that learning how to be happy, whether you win or lose, is something adults and parents struggle with too. We're all striving to get to a mature place where we can celebrate the journey, regardless of the scoreboard when the buzzer goes off.