/ Source: TODAY Contributor
With the last batch of kids headed into classrooms this week, social media feeds are returning to normal after the deluge of back-to-school photos. But a Gloucester, Virginia, mom may be having the last laugh with her hilarious photo that has gone viral. It features her in a fuzzy pink robe as she bids farewell to the last of her children to start school.
Photographer Jessi Kittrell and her husband, Kevin, have four children ranging in age from 5 to 20. While she's sent three other kids off to their first day of kindergarten, Kittrell said sending her baby, Bailey, was such an emotional experience that she decided to poke fun at it in order to cope.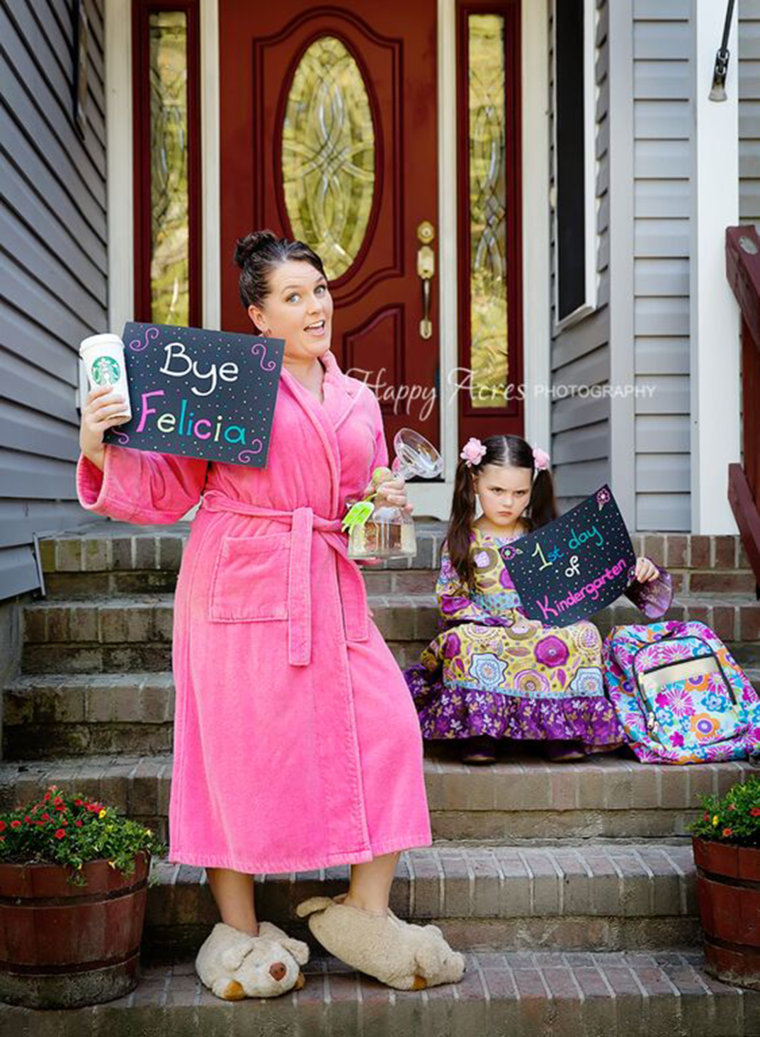 "This was one of the hardest days of my life," Kittrell told TODAY Parents. "I was so upset about sending her to school. She has been my sidekick since she was born. This whole thing was a way to help deal with the sadness and make it fun — laughter is the best medicine!"
In the viral photo, Bailey pouts on the steps to her home with her backpack and lunchbox while holding up her "1st Day of Kindergarten" sign. Kittrell, on the other hand, dons a fuzzy pink robe and fluffy slippers, and holds a Starbucks latte, tequila and a margarita glass. Kittrell also holds a sign that reads "Bye Felicia" — a now legendary line from a 1995 Ice Cube movie (and an inside joke with her older son).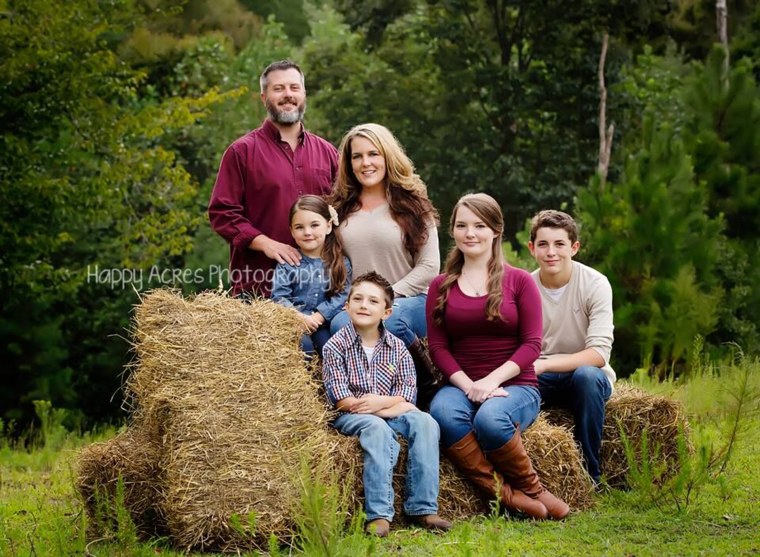 "Everyone always jokes about how moms have tons of free time after the kids go to school to relax and chill, so I put my own spin on things and started coming up with ideas," she said, adding that it took her several weeks to plan the shoot and collect the necessary props.
So did the mom of four pour herself that margarita once Bailey got on the bus?
"No, surprisingly I didn't!" she said. "Truth be told, my dryer broke that morning so I had to go to Lowe's to get a new dryer, then to the tractor supply to get dog food, then to Wal-Mart. By the time I got home, I only had like an hour to myself. That Patrón bottle is still full."