Losing a pregnancy is hard enough on its own. But when it happens to someone who is carrying twins, it presents a kaleidoscope of emotions. Women say that balancing the sadness with the elation and relief for the surviving twin is an extraordinarily tough process. And some mothers say there's a lingering void—in a way that may be more tangible than for people who suffer singleton miscarriages— because there is a physical representation of the loss every day.
Jennifer Oradat of Alexandria, Virginia, was pregnant with twin girls when she suffered a stillbirth of one of them 20 weeks into her pregnancy. Oradat, editor-in-chief of the parenting website, MomBabble.com, wrote about her experience recently, explaining the unique connection between women who have suffered twin pregnancy loss— even if they have few other things in common.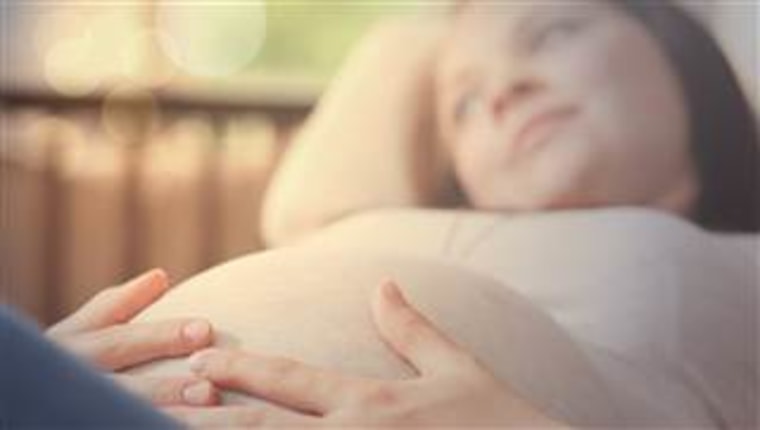 Women who experience twin loss say that balancing the sadness with the elation and relief for the surviving twin is an extraordinarily tough process.
Oradat, mother of Maggie, 8 and Liam, 6, wrote:
"We were watching the girls share hot cocoa at their very last football game, and the head coach's identical twin daughters ran past. My heart squeezed a little, like it does every game and practice. It was just a pinch if you will. I took a deep breath, fighting the melancholy."
Doctors generally refer to pregnancy loss within the first five months as miscarriage, and those after 20 weeks as stillbirth. Maggie was one of two identical, monoamniotic twins— fetuses who share the same placenta and amniotic sac. Mono mono twins, as they're called, are extremely rare, occurring in only 1 out of every 10,000 pregnancies.
During her first trimester, Oradat was in a car accident, although she says she'll never know for sure whether it contributed to the stillbirth of the twin she named Mallory— a way, Oradat, like other women, found to memorialize the child who will never be. Often, a stillbirth, as in Oradat's case, is not cause for medical intervention, and the lost twin remains inside the mother's uterus until the surviving baby is delivered.
"At the time, I made the decision to be an optimist," she told TODAY Parents. "My husband was deployed overseas and I wasn't going to ever forget about Mallory but I wasn't going to let my grief control the course of the rest of my pregnancy."
However, some people had trouble relating to the experience and would ask Oradat: "Aren't you so glad your [other] daughter is healthy?" Of course I am, she remembers thinking, but that doesn't mean I'm not grieving too.
Four years ago, Maura Deptula, 34, of Chicago, Illinois, lost a twin pregnancy at 22 weeks. After learning the news through a routine ultra sound, she and her husband Jonathan wrote an email to friends and family to share their sorrow— but also to reassure everyone that there was occasion for much happiness: "The wonderful news is that Baby B looks terrific! He/she is really active and growing like a weed…we are so excited to meet this little baby this summer and will discover his/her gender then!"
Looking back, Deptula—now a mother to the surviving twin, 3-year-old Sloane, and 4-week-old Rockwell—is "struck by how powerful my sadness was and how it lived alongside my great hope and joy." And Deptula saw how hard it was for some people to understand that neither emotion— the grief or the excitement— alleviated or overshadowed the other.
"I had people close to me say things like everything you went through was worth it because you now have this beautiful baby," she recalls. "And it will be easier for you to have only one, in the end, you'll be happier."
Vanishing twin syndrome
Most multi-gestation losses occur during the first trimester— known as "vanishing twin syndrome," where one twin disappears or "vanishes" in the uterus. For example, a woman may have an ultrasound in her sixth or seventh week, in which a doctor or technician sees two fetuses on the monitor. But by the time a woman returns for her next visit, only one heartbeat or fetus remains. Vanishing twin syndrome occurs in around 25 percent of early twin pregnancies, according to Dr. Jeffrey Ecker, of Massachusetts General Hospital and chair of the American Obstetrician and Gynecological Association (ACOG) obstetrician practice committee. And most often a woman does not have any symptoms of miscarriage. In many cases, the fetal tissue is absorbed by the other twin or the mother.
By the second and third trimester, Ecker explained, the chances of losing a twin becomes much less common— 5 percent, according to ACOG's practice bulletin— just as the risk decreases for singleton miscarriage farther along in the pregnancy.
Of course, the loss of a twin pregnancy is often an emotional occasion, said Ecker. Though, generally, it's not a cause for "intervening or changing the management of the pregnancy." And while he "worries about the psychological effect for any of his patients," he assures them that feeling sadness is unlikely to adversely impact their continued pregnancy.
It's possible the emotional impact for some women who experience twin loss is greater than those who lose a single pregnancy, because there is a physical representation every day, with each child-hood milestone of their surviving son or daughter. But doctors remind mothers that it's also perfectly healthy if their sadness abates with time or when they meet their new baby. Some women experience intense feelings of bonding the moment they find out they are pregnant— and twin loss is likely harder for them.
Emotional downside of pregnancy scans
As at-home tests increasingly detect early pregnancies and a woman may now have a transvaginal ultrasound at six weeks, doctors and technicians are often able to spot twins much sooner than in the past. But is there an emotional downside to increased imaging technology? Before early ultrasounds, a mother wouldn't necessarily know she'd lost a pregnancy. Today, women can have a grainy picture from the very beginning— the outline of a child's "lost twin." Julie Cook, a writer for the Daily Telegraph, shared her own vanishing twin experience and the folder containing an image of the lost fetus in her womb.
"It made me wonder, she recently wrote: "scans have enormous benefits, but do they also have a downside? Greater technology means greater awareness. But ignorance can sometimes be bliss."
And the drawback may be greater for those undergoing fertility treatments, as it carries a higher chance of multiple pregnancies. Women going through IVF are often hyper-aware from a very early stage, explained Dr. Joshua Copel, professor of obstetrics, gynecology and reproductive sciences at Yale School of Medicine. Given the "huge investment of time, energy and financial resources with every cycle," Copel said, IVF patients have a heightened experience of early losses that other women don't necessarily have.
Jacoba Urist is a health, education and culture journalist in New York City, who also writes for The Atlantic. Follow her on Twitter @JacobaUrist.