When Jeannine Calandra learned she was having a baby boy, she and husband Zak Butterfield searched through "a billion baby name books."  They made a list of names they didn't hate, but also didn't love.

"Then, all of a sudden, before we knew it – it was May and we hadn't picked a name and I was due May 24," says Calandra, a 38-year-old IT consultant in Arlington, Va.
The couple put their short list – 30 names – on surveymonkey.com and asked nearly 100 friends and family members to rank their top five.
When they went to the hospital, Calandra and Butterfield had it narrowed down to two names. "We figured we'd take a look at him and see," she says. But the couple waited two days to be absolutely sure before announcing their son's name: Anderson Jacob. (Anderson was actually #6 on their survey results.)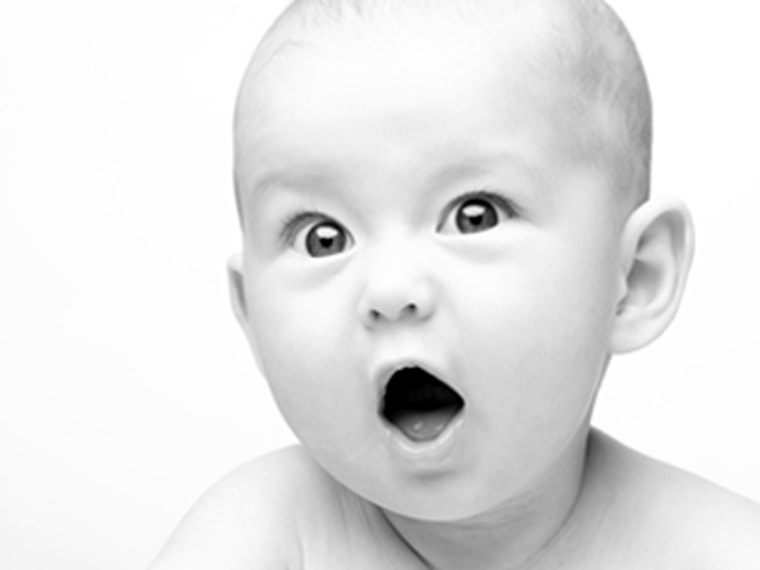 Baby naming is hard. And for some parents, it can be an overwhelming, all-consuming obsession that involves constantly looking at baby-naming websites, poring over books and even studying social security databases.  And while there are plenty of businesses out there to "help" – from baby naming consultants to companies that specialize in trending data, there also comes a time when couples realize they need to go with their guts.

And still, for many parents that's not enough information – because by the time the lists are published, the data is old, Moler says. Starting this month, her Austin, Texas-based site plans to launch up-to-the-minute real-time lists of newly-named babies.
"People either look at these lists because they want to know what the hot names are -- or they want to choose names that are not on the list," says Lacey Moler, co-founder of www.bellyballot.com "Either way, people want to see the list."
On this site, parents can have friends and family vote for baby names via Facebook, Twitter and Instagram.
With social media, soon-to-be parents are getting a lot of input, says Jennifer Moss, founder and CEO of babynames.com. "It only makes them more confused," Moss says. "Don't listen to too many people."
While her site offers a service of coming up with a dozen names for parents for $39.95 – and also allows people to vote on short lists – Moss tells parents that at some point, they need to go old-school and discuss the name just the two of them.
"It has to be between you and your partner because those are the only people who have to love the name," says Moss, a Los Angeles-based baby name consultant – whose rate for a personal one-on-one consultation is $195. "No matter how much your mother-in-law is against a name, once she sees the baby, it won't matter. Play it close to the vest."
She often tells parents to scrap their list and start over – setting aside time for a "name-storming" session.
"Don't just flippantly suggest names while you're watching a commercial for your favorite show," she says.
She cautions to make sure the name isn't "teasable" or the initials don't spell anything embarrassing. Stay away from crazy names, she says, like the social media-obsessed parents who named their baby Hashtag. "Your child's name shouldn't be a joke," she says. 
"I had about 36 names that were on the list that I've had since I was 12," says Donna Taliercio, a 39-year-old Washington D.C. communications expert.
Her husband only had one name on his list: Elsie, after his grandmother. He has happy childhood memories of playing on her farm in Lancaster, Penn.
All she could think of when she heard "Elsie" was the Borden's cow.        
"I thought it was too old-fashioned," says Taliercio, whose daughter is due 12-12-12.
She scoured websites like nameberry.com and the social security site. "The name Elsie has not been in the top 100 since 1916 – if everyone has hated it since 1916, why should we name our child that?"
She liked names like Emily and Ella and Lucy. But the more she talked about the crazy name her husband wanted that she was absolutely never going to name her daughter – the more she liked it.
"It started growing on me," she says. "I've been trying to find all these other names that fit – and none of them fit. So, I'm pretty sure Elsie is the name…I don't know her middle name, though."

Writer and new mom Wendy Grossman Kantor literally filed this story as her water broke. She and her son, Samuel, are doing great.