Easter morning is coming, and with it, loads of egg hunting and bunny-loving.

And when it comes to what's inside all those Easter baskets, TODAY Moms are a crafty, clever bunch.
We asked readers on our Facebook page to tell us whether the Easter Bunny goes all out with jelly beans and chocolate or whether sweets are limited in lieu of less cavity-inducing treats.
Share your Easter photos! Click the "Select Photos" button and send us your snapshots of your kids in their Easter best; they may be featured on TODAY Moms on Monday!
The majority of moms said that candy is always included, but they varied on what kind and how much. And they weighed in their ideas for non-edible Easter basket surprises.

Brittainy Jones' kids can't have food dye, so they get a little chocolate. Jones said: "We do craft kits, bubbles and small toys... I always put a new toothbrush and toothpaste in the baskets. Who said the Easter Bunny doesn't care about a healthy mouth?"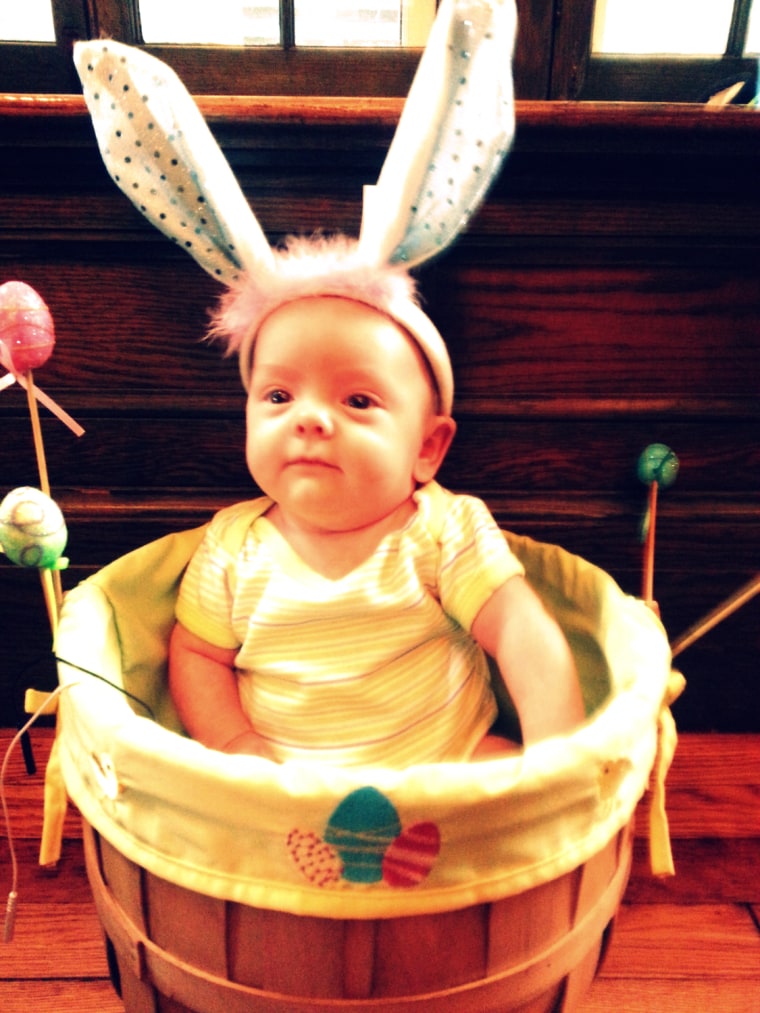 For Bonnie Lea Isaac's kids, Easter baskets will be filled with a chocolate bunny, eggs with jelly beans and other candy, plus toys like sidewalk chalk and bubbles. "Sweets very very rarely make an appearance in our house," said Isaac, "so I make an exception for Easter and Halloween and Christmas."

Some moms go the "themed" route.
Teresa Torrez Zwierzchoski always aims to make her kids' baskets useful. "I will take a beach bag and stuff it with a new swimsuit, towel, flip flops, cover up and beach and pool toys."
This year, Jacqueline Yum's 3-year-old son is getting a garden-themed basket, filled with a watering can, shovel, rake and gloves. Says Yum: "I put it all in a bucket instead of basket so that he can actually use it throughout the spring."
Casey Bauer's daughter gets a little candy but mostly books, DVDs and this year, a variety of musical instruments. And Gretchen Gesell does a homemade, eco-friendly theme, with handmade toys like a crocheted bunny and natural objects, like a beautiful flower, crystal and feather. The eggs Gesell uses are either refillable crochet eggs or compostable eggs to hide little treats in. And she's going to make homemade marshmallows from a recipe she found on Pinterest. She says: "NO plastic throwaway toys – I'd rather give her one well-made toy than a bunch of cheap ones that will end up in the landfill."
For other moms, baskets are filled more simply. April Paras Larsen does chocolate bunnies and iTunes gift cards. Becky Colson sticks with candy and love notes.
Moms such as Dawn Olmsted and Emily Richardson make sure to emphasize the religious aspect of the holiday. Says Olmsted: "We mainly stick with books on the REAL reason of Easter, the death and resurrection of Jesus."
And Richardson writes: "We think the holiday is a religious one with a 'special' treat – the Easter Bunny. We do let our kids do candy. Our kids do not do candy regularly…we also do not buy them gifts year round."
For Christina Thorne, the best part of Easter is having her kids hunt for their baskets. "They will wake up to find a basket that has carrots, celery and lettuce, with a note [from the EB] that says 'You have made some bad choices in the past few weeks so I wanted to give you what I got in mine.' Then when they do their egg hunt, they will find their own baskets filled with chocolate and candy and this year's surprise toy: remote-controlled cars." (Thorne said her children actually love raw veggies, so the first basket will be welcome as well.)
Those who have little ones at home tend to hold off on the candy in favor of baby-friendly goodies. Jennifer Mitchell's 1-year-old will have eggs filled with goldfish, Cheerios and puffs. He'll also get a stuffed animal and a book, and his eggs will be see-through to enhance the sensory aspect of the hunt.
Jenny Williamson's 16 month old will get a small basket with a stuffed bunny, shortbread cookies and vanilla wafers. There will also be another treat, but they will be for Williamson. She writes: "Peeps for me!!!"