/ Source: TODAY Contributor
When a Texas couple welcomed a pet duckling into their home nearly a year ago, a beautiful friendship was born: The week-old duckling and the couple's 9-month-old son, Tyler, became fast friends.
"We put him on floor with Tyler and he immediately just ran to his side and sat right down and that was it," Tyler's mother, Jennifer Young, told TODAY.com. "They haven't been apart since."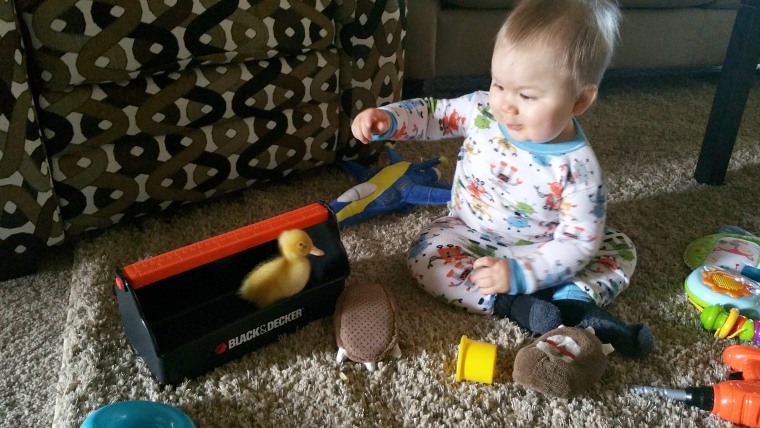 Beaker, or Bee for short, quickly became Tyler's best friend. Tyler, now an energetic 19-month-old, and the white duck spend their days playing together and chasing each other around their home in Magnolia, Texas.
"The duck is constantly on his heels," Young said. "He's never less than two steps behind him."
Bee gets right in the mix when Tyler is playing with his trains or tractors, hopping up on the train table and nibbling at the vehicles and pushing them around. Bee also likes to play with the ball pit, pushing around the colorful balls.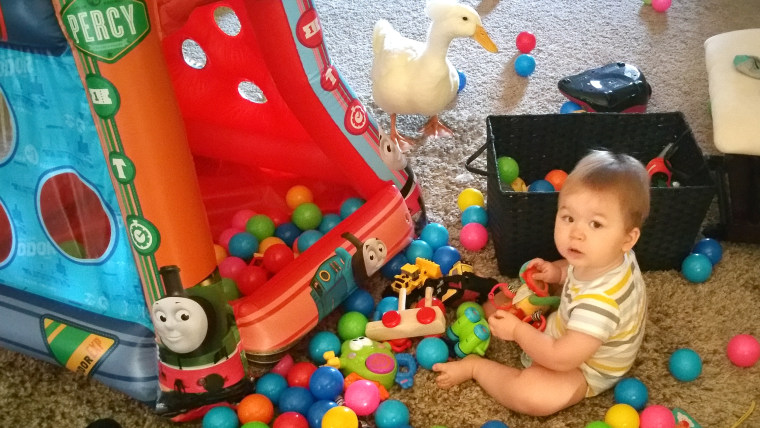 Young, a nurse who works nights and is home with her "two toddlers" during the day, says her household is constant chaos.
"It's a lot of noise, a lot of spills and accidents," she said. "The best word for it is chaos."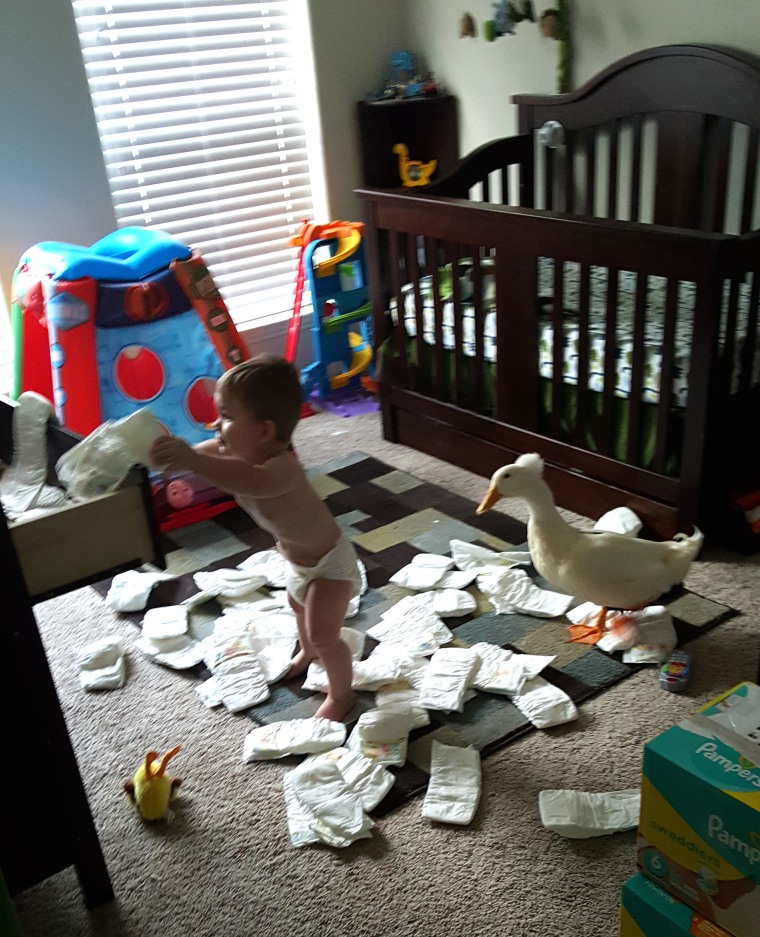 But there's also a lot of laughter.
"He's constantly laughing, giggling and squealing and playing with his duck," his mom says.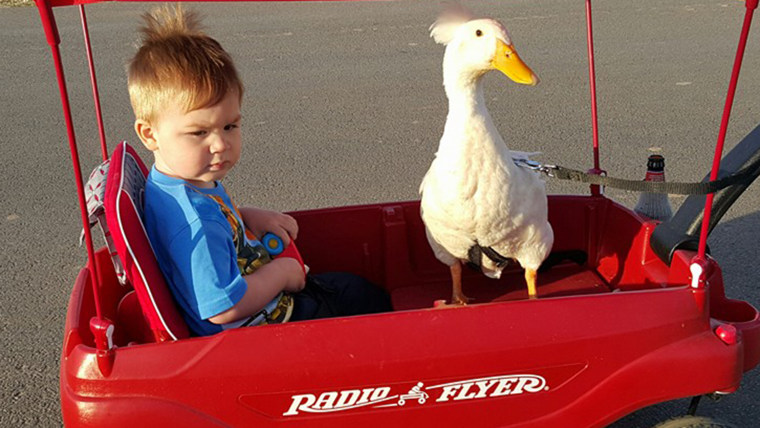 They go for wagon rides together, play outside together, and when Tyler eats at the table, Bee sits at his feet. Tyler's first clearly spoken word was, you guessed it, "duck."
"We thought it was funny," said Young, who recently started a Facebook page to share the cuteness.
Tyler is an only child with a built-in playmate of a duck. With all those toys, sometimes one of them wants something the other has.
"Just like siblings, sometimes they'll fight," Young said. "They bicker and get in arguments and fight over toys."
Tyler is gentle but sometimes gets a little bit rough. In that case, Bee lets him know. "He'll nip at him and let him know enough is enough," Young said.
Though they're constant companions, Bee doesn't sleep in Tyler's room and they don't bathe together. Bee sleeps in the master bedroom in a playpen and always wears a harness with a diaper inside.
Bee was brought home by Young's husband, Christopher, who knew his wife wanted a pet duck. The couple also keep 10 ducks in a pen outside.
Though Bee was intended for her, she loves the friendship between her son and his duck.
"It's a fun thing to see," Young said, adding: "They absolutely love each other."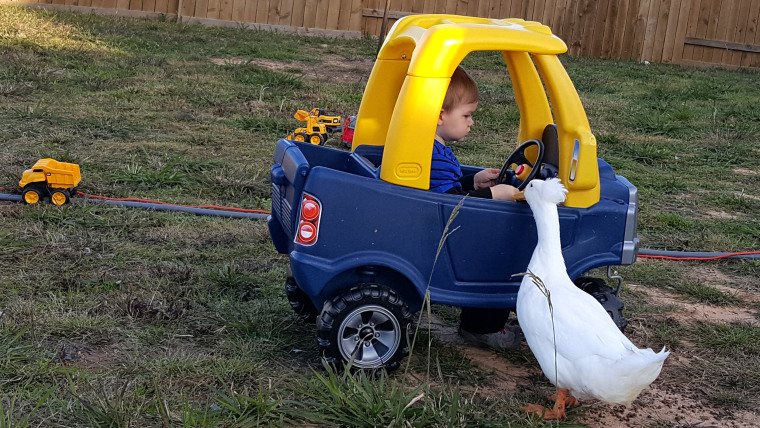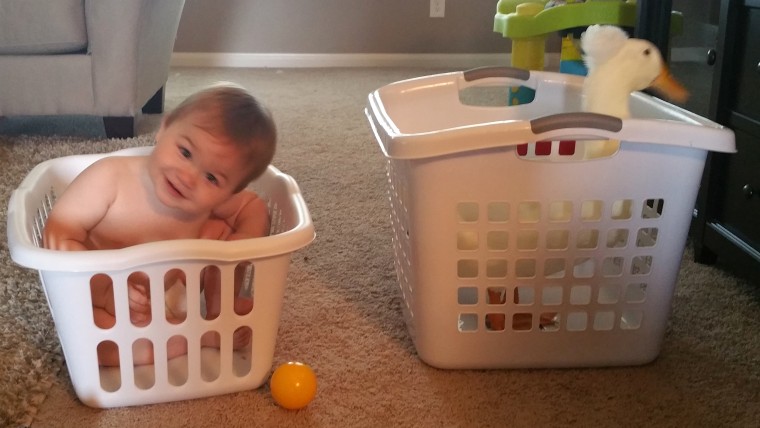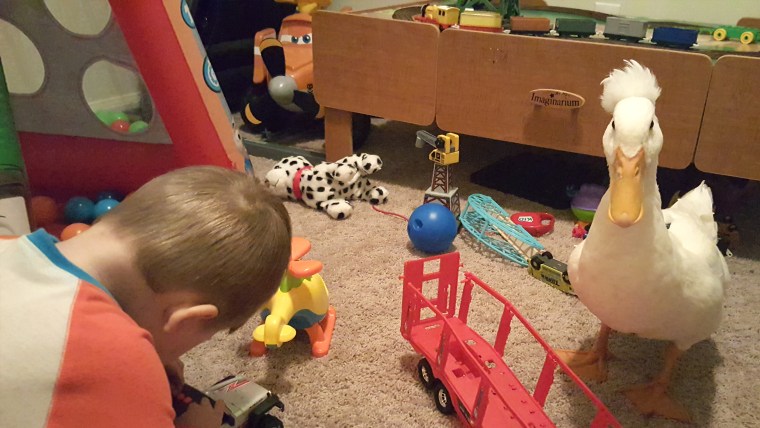 TODAY.com contributor Lisa A. Flam is a news and lifestyles reporter in New York. Follow her on Twitter: @lisaflam