/ Source: TODAY Contributor
It was football season's opening night at Putnam City North High School in Oklahoma City, Oklahoma, last Friday, and team physician Dr. Megan Meier, MD, was on duty to provide medical coverage for the teenage players. But as they sometimes do, things quickly got tricky for the doctor, who is also a mom to 3-year-old Kate and 35 weeks pregnant with her second child: her husband, Jonathan, had to leave on a last-minute work trip.
With none of her babysitters, friends, or neighbors available on such short notice and all her family out of state, Meier told TODAY Parents she was left by herself to work two jobs: "be a mommy and be a team physician." So, like so many moms do every day, she did what she had to do to make it work.
"I knew the sideline wasn't safe for a toddler," Meier said, "so in a pinch, I decided to grab our old Ergo baby carrier and strap my daughter on my back and get to work."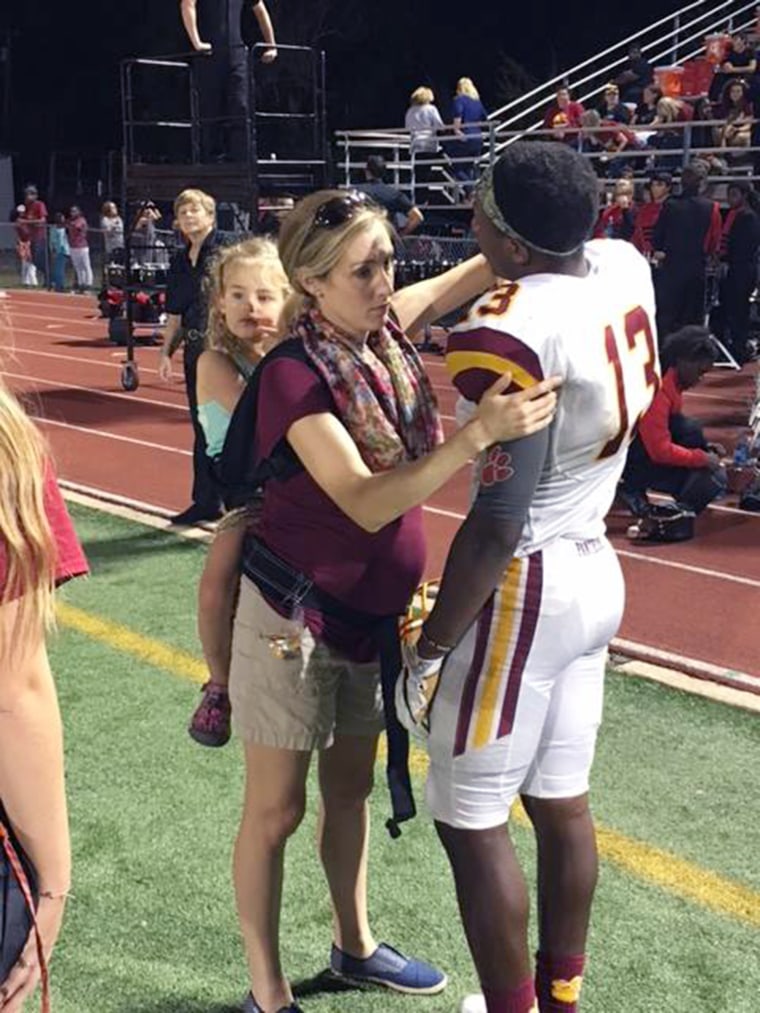 Meier, who has been a team physician for various teams ranging from high school to professional level for six years and a doctor for the Oklahoma City Ballet for three seasons, posted a picture of herself in action taken by Joseph Hoskins in a Facebook group for physician moms. She wrote in the caption, "Sports Medicine Doctor Mom — This is what happens when you are 35 weeks pregnant, husband leaves town for the weekend, childcare for 3yo falls through, and you have a game to cover!" The photo quickly went viral.
Never miss an inspirational parenting story with TODAY's newsletters! Sign up here
On her own professional Facebook page, Meier explained that she had posted the photo to the group because she thought her fellow physician moms would enjoy "seeing a visual representation of what we all do each and every day." She thanked the group for supporting her, and she said, "I really believe that you can have it all and find a great balance to a multi-faceted career and life. However, it takes a lot of hard work and improvisation at times. Most importantly, it takes a strong community of people supporting each other to make it work."
Meier told TODAY Parents that her definition of "having it all" is "about finding what you love and doing it, even when those things don't necessarily mesh well together.
"There is a constant struggle of work-life balance for the working mom. It is stressful at times and often intimidating, but we find ways to make it work," she said. "As moms, this is what we do!"
Meier said she hopes her example helps teach her own daughter to be a hard worker and not to make excuses, but instead find solutions. "I hope she knows she can always ask for help but is strong enough to get the job done when needed," she said.