Editor's note: One year ago, Callie Mitchell Chadderdon made the agonizing decision to let her infant son Leo be adopted by Kristen and Brian Doud. Chadderdon, 26, chronicled her pregnancy and the open adoption to the Douds in a story she wrote and photographed for the Daily Iowan newspaper. Leo recently celebrated his first birthday. Chadderdon reflects on the past year and her relationship with the Douds. 

It has been a year since I gave birth to baby Leo. He has grown so much and so has my connection with him and his family. I speak with his mom, Kristen Doud, almost every day. Even though I get to see Leo grow through videos and photos, once a month Kristen sends me a long email with all of the new things Leo is doing and how he is changing.
I went to visit the Douds at their home in Cleveland twice this year. It was great being able to meet the people that surround Leo's life every day — Kristen and Brian's family and friends. On one visit they had a baby dedication at Leo's church. I was able to go to the ceremony with Leo and his parents and even be a part of the baby dedication. In the last year I have felt so much love from Kristen and Brian. I can see how much they love and adore baby Leo and I know that they love me too. It makes me happy to be able to say that I have a close bond with Leo's adoptive parents and that we have become good friends.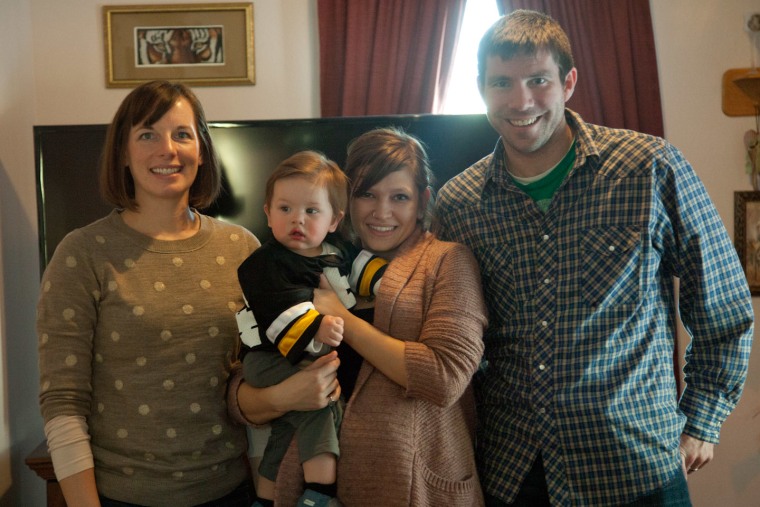 Just as I met their family and friends, the Douds came to Iowa for Thanksgiving and to spend time with me and Leo's birth father. They came with me and my husband Austin (who I married this year) to Thanksgiving with my family at my Dad's house. This was awesome because with closed adoptions, the family of the birth parents would never get to see the child or be able to watch them grow up. What I didn't realize until I went through the process is that adoption affects the entire family and not the just birth parents. I am thankful that I have an open adoption and that the Douds are loving and caring enough to know that visiting Leo's birth family is important. Now my family is able to see Leo and to watch him grow and Leo is able to see where he comes from and is given a chance to bond with his birth family.  

Leo has an amazing personality. He is very calm and happy. He rarely cries. He is a social butterfly, and likes to have fun and play with everyone. He started walking at nine months of age and now he dances and runs all around. He has really good balance for a one year old. He is starting to talk: he says Dada and Mama (mostly when he wants something.) 
For months we thought about what name Leo should call me when he sees me. Finally, I came up with the name Cece. Ce is a childhood nickname my sister used to call me. After he was born, Leo's parents put together a photo book of Leo's life. It has pictures from the hospital and from the first few months of his life. There are pictures of me and also Leo's birth father. Kristen always points out where Cece is. Leo likes to give the Leo in the book kisses sometimes.
In the beginning it was hard to be without my son. I had a lot of second thoughts and small regrets. However, I know what I did was the right thing to do. Leo can have a better life now and his parents have the son they always dreamed about. Talking to Kristen so frequently helps. She does such a great job of telling me everything and videoing every new thing that I feel there is hardly much I'm missing out on. When I see him in person it's like visiting my favorite nephew. I'm overcome with love for that little guy. It's fun now that I am able to run around with him and play with him. I can't wait until he is older. I can't wait to hear the first time he calls me Cece. The first time Leo tells me he loves me will probably be the greatest moment in my life. 
Callie Mitchell Chadderdon is a journalism major at the University of Iowa and a photographer for the Daily Iowan.