/ Source: TODAY Contributor
What does it mean to be a stay-at-home mom in 2016?
Laura Vanderkam, author of "I Know How She Does It," and Redbook set out to answer this question with a new project, the Mom Gig. Redbook surveyed 558 self-identified stay-at-home moms, asking them to record their activities hour by hour on specific days in order to paint the most accurate picture the activities of a stay-at-home mom in 2016.
As Vanderkam wrote in the resulting article, the responses were as varied as the women themselves. "Our respondents' lives were incredibly diverse," she wrote. "One mom spent the day substitute-teaching. Another milked goats and spent five hours building a tool shed. A third played tennis for three hours."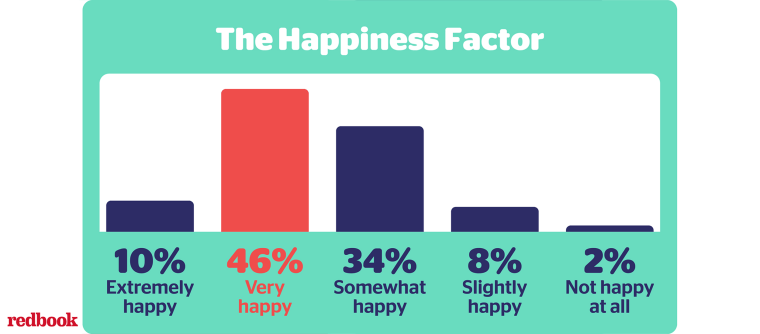 "I knew that people had a lot of misconceptions about how stay-at-home moms spend their time," Vanderkam told TODAY Parents. "People believe moms are sitting around doing nothing, or that 100 percent of their time is consumed by childcare. Neither is the case — which the Redbook study showed."
Vanderkam said she loved seeing the entries on respondents' time logs that showed the sometimes quirky details of any parent's day: "Some favorite entries: 'replenish water in tarantula's cage,' 'checked for monsters,' 'made temporary leash since dog chewed it to pieces,' and 'desperately tried to accomplish 500 tasks in 30 minutes,'" she said.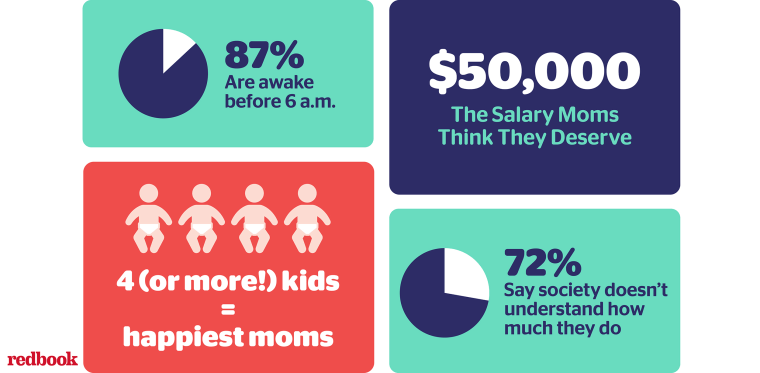 The Mom Gig also explored how children view their stay-at-home mothers, moms who view staying at home as more of a sacrifice than a choice, the rise of stay-at-home dads and their experiences, and "mompreneurs" — the group of stay-at-home moms who are finding and, sometimes creating, ways to make money while at home.
Fun fact: according to the survey, moms of four children are the "happiest." Vanderkam, herself a mother of four, thinks that may be because they have gone "all in" on their chosen lifestyle.
"Four children will mellow all but the most stubborn of perfectionists," she said. "I suspect moms of big families are more likely to take a little clutter in stride, and just enjoy their boisterous homes."
But among the most interesting aspects of the Mom Gig results: the modern stay-at-home mom, it seems, works while she stays at home. Sixty-two percent of the Redbook respondents said they contributed to their household incomes, with 25 percent running home businesses and 34 percent listing "work" in the time logs they kept for the survey.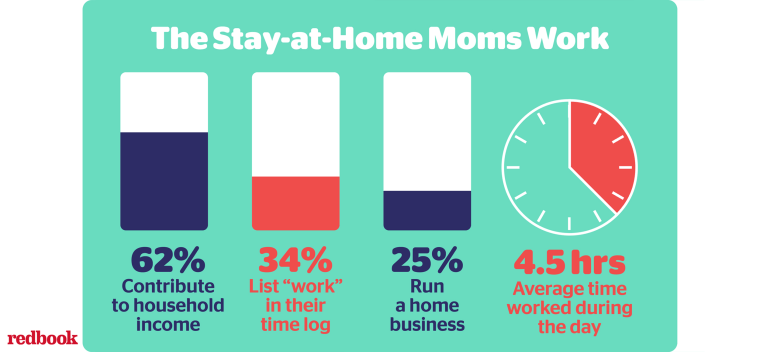 "I did find it surprising how blurred the lines are between staying at home and working," said Vanderkam. "There are lots of different ways to work these days, so it makes sense that people are combining work and staying at home, but I think it raises fascinating questions about how people choose to define themselves."
Is it a good thing that the new stay-at-home mom is really more of a work-at-home mom hybrid, or is it just placing even more expectations on mothers? "I think it is generally positive that there are new ways to work these days," said Vanderkam. "It means people can dial down and dial up their workforce involvement without it being a hard choice one way or the other.
"To be sure, though, I think there is a danger of overheated expectations," she said. "It is not going to be easy to build a big business at home, especially if you don't have childcare and have young children. It might be easier to find the time later, when the kids are in school. If you have babies, take it easy on yourself!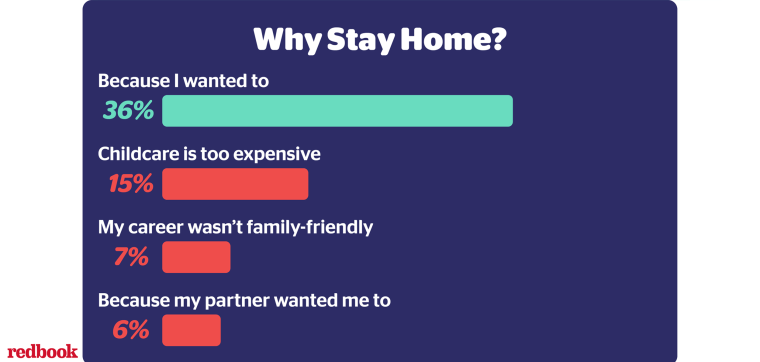 In the Redbook survey, 15 percent of respondents said they were staying at home because childcare is too expensive, and seven percent because their careers were not family-friendly. Vanderkam credits these inabilities to fit into traditional work formats for why so many moms end up becoming "mompreneurs" when they stay at home.
"They would like to limit their hours, and they want to work from home so they have the flexibility to attend school events and manage their households," she said. "There aren't many traditional jobs that meet these conditions."
But Vanderkam believes the workforce is missing out by not tapping into the labor potential of those moms who end up staying home and don't want to run their own businesses.
"Not all moms want to be entrepreneurs. Not all entrepreneurial ventures are particularly profitable, either," she said. "Many women have skills that would be quite valuable to employers if organizations could get their heads around creating virtual part-time jobs — say, 15-20 hours a week telecommuting. Employers willing to tap into this labor pool would find a lot of unused capacity, and people who would be loyal workers."
Loyal workers and, apparently, experienced tarantula waterbearers. What more could employers ask for?