Jaxon Buell was born on Aug. 27, 2014, in Orlando, Florida. He has microhydranencephaly, an extreme brain malformation. His story and striking photos have made worldwide headlines as Jaxon's parents, Brandon and Brittany Buell of Tavares, Florida, opened up about the boy's life and prognosis. They've nicknamed the baby "Jaxon Strong" for his determination to live and thrive.
Brandon Buell, 30, shares his son's remarkable story with TODAY's A. Pawlowski.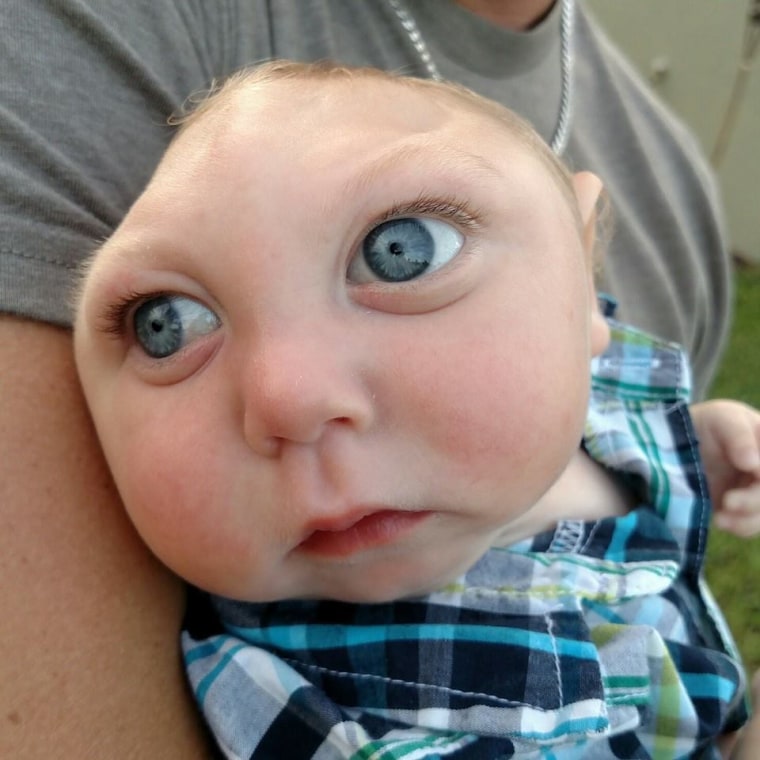 We're trying to share Jaxon's story because we're just really proud parents and we love that he's here.
We also want people to learn about him and learn about the brain. His condition is so rare that even one of his doctors said, "I'm fascinated by your child. Your son is the rarest of the rare I've seen. I'm learning from him."
We didn't notice any kind of concern with the pregnancy until the second ultrasound at week 17. The ultrasound tech got quiet when she got to Jaxon's head region — Brittany noticed it, I really didn't.
The very next morning, they called Brittany on her way to work and said there was concern with the baby. They believed at that time it was spina bifida. We were just rocked by that news.
They started scheduling more ultrasounds. As they started to look further, they said it was not spina bifida after all, but Dandy-Walker Syndrome. That didn't last very long. The doctors were then 99 percent sure it was going to be something called Joubert syndrome and we went all the way until he was born believing that was going to be accurate.
Jaxon was born via C-section at 37 weeks. They were preparing us the entire time that he may not be born alive and if he was, he'd probably be hooked up to a lot of machines and couldn't survive.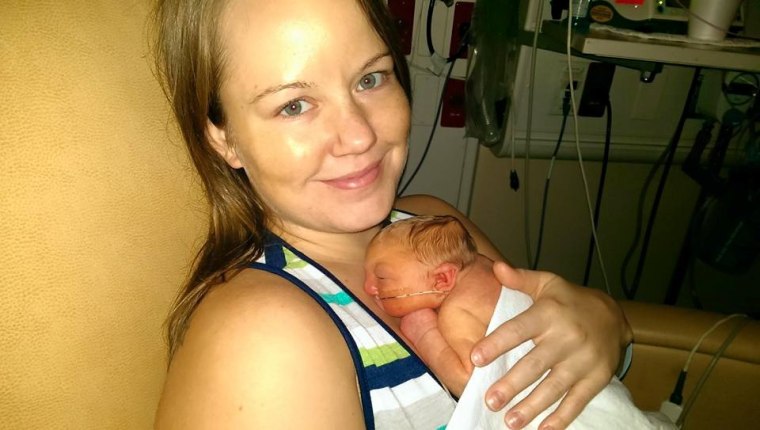 The very first memory I have of Jaxon is I heard a real faint cry. It instantly choked me up. They brought him over and that was the very first time I got to see him.
We knew that he was very undersized and his head was several weeks behind than what it should be. It was startling, of course. Then we brought him over to Brittany, and I prepared her real quick before she saw him. I said, "Just so you know, his head is small."
With Joubert syndrome, sometimes children's faces can be malformed, so we were incredibly anxious just to know what he was actually going to look like. It was a moment to really realize, wow, he actually looks beautiful.
Doctors said shortly after he was born that it was not Joubert syndrome. They started chalking it up to anencephaly. They were very puzzled by him because he was still alive. His brain was not exposed, like with many cases of anencephaly.
He stayed in the neonatal intensive care unit for three and a half weeks. We were an emotional wreck every single day, holding him. We would cry all the time. He was so amazing, so cute and so precious — our son — and we believed we were losing him any day.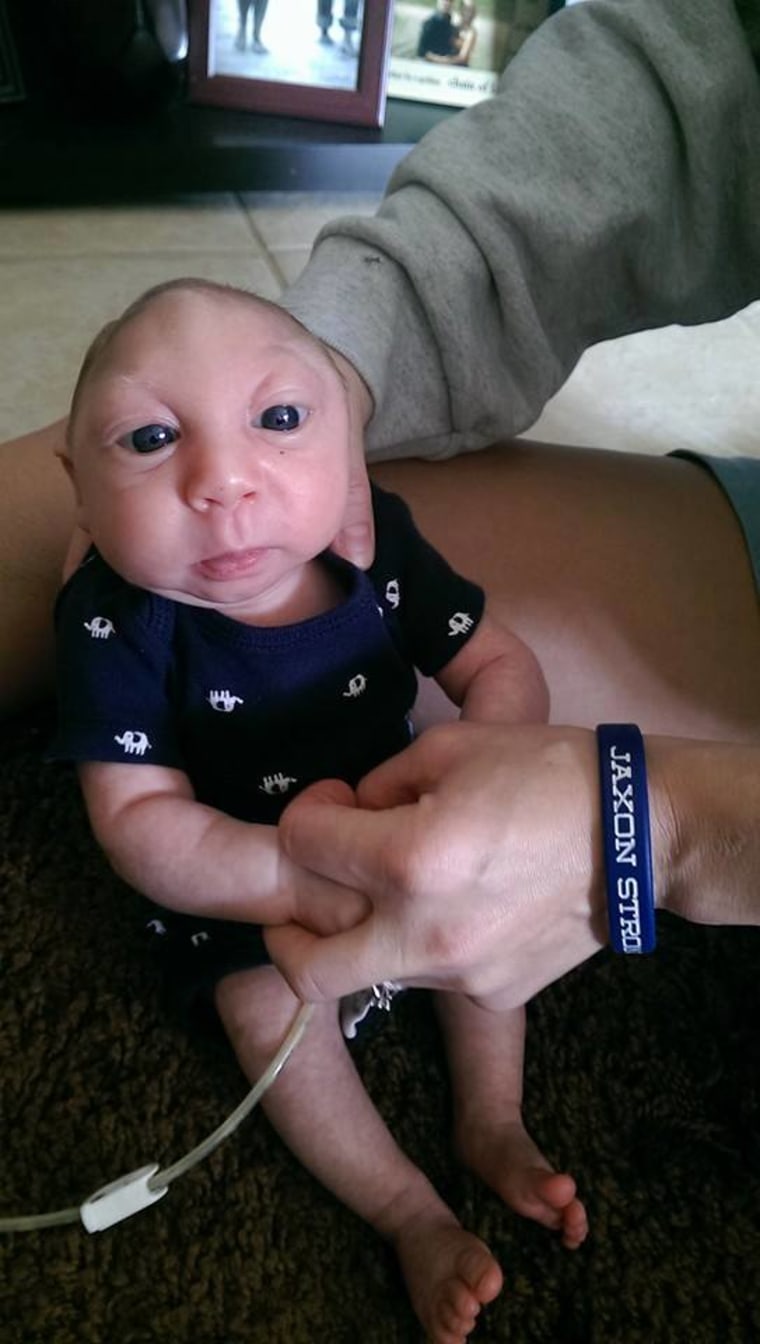 The nickname "Strong" came to me during those first few weeks at the hospital. We were quickly realizing that he had a strong heartbeat and he was breathing great. It just kept occurring to us: He really is showing us how strong he is. "Jaxon Strong" just kind of came into my head and I thought yes, I like that slogan for him.
Jaxon can't nurse — he hasn't connected that he has to suck and to swallow for nourishment — so he eats out of a feeding tube.
Doctors told us, "There's really nothing we can do for him. Take him home and make him comfortable."
It sounds crazy, but he didn't need that much extra care. We had to learn to how use the feeding tube and deal with some seizure activity, but other than that, he was a normal baby in so many ways.
But at 10 months, Jaxon began a period of extreme fussiness. He was inconsolable and screamed all day long. He was no longer a happy, snuggly, smiling baby. He was obviously in some type of discomfort that we could not solve.
Our doctors in Orlando said there was nothing else they could do. The suggestion once again was to take him home, make him comfortable and put him on some type of sedatives because they could not figure out anything else. We weren't ready to do that because he was still just as strong as ever.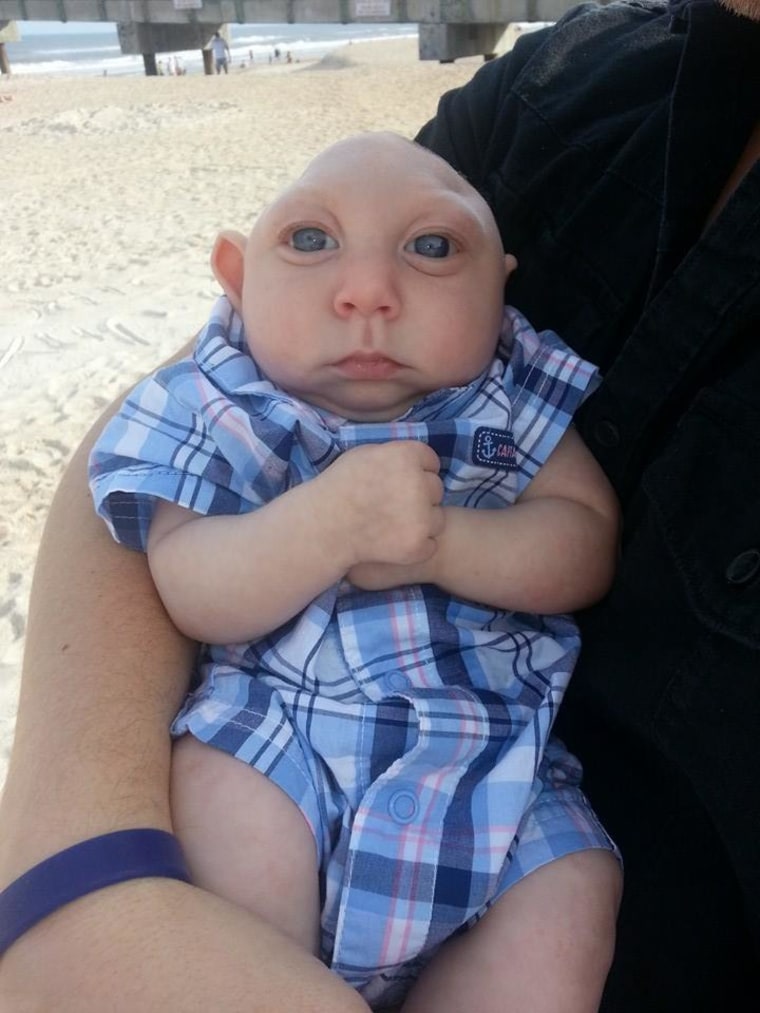 We decided to go see specialists at Boston Children's Hospital, the very best of the best. We just booked a flight, flew to Boston, walked into the emergency room and said: Here we are, we're from Florida and this is Jaxon.
Within a week and a half, they were able to fit us into very busy schedules. We finally received a diagnosis: microhydranencephaly.
It is 100 percent accurate of who Jaxon is. Before their first birthday, these children normally go through an extreme fit of fussiness. If they're able to survive it, they'll settle down and they're able to communicate with immediate family. Some children with microhydranencephaly lasted all the way to their 30s.
It really put us at ease, especially after he started calming down. He was sleeping through the night again; he was happy, smiling at us; learning how to say mama and dada. He's truly interacting and responding.
We want people to know: Jaxon is not on life support, he's not struggling and he's not uncomfortable. He's actually learning, thriving and getting a little better each and every day. It's absolutely remarkable.
He can see. His vision may be fuzzy or maybe he can't see colors, we just don't know that yet.
His hearing is excellent. When we read books to him, he listens and he looks at the pages. He loves music.
There's so much light and life in his eyes that we see when he responds to something.
He absolutely recognizes me and my wife. He loves to smile at us. I swear, he's the sweetest baby we've ever met because he's always in a good mood, unless he's teething. He snuggles with us so close.
He'll stiffen both of his legs so he can stand when we hold his arms. Just this past week, he sat on his own. That's a huge milestone for him. He gets physical and occupational therapy as part of his treatment.
A lot of his brain is there, it's just extremely small. It's about one-fifth the size of what it should be. The part that's most malformed is in the cerebellum.
The doctors told us his brain was growing fine during the pregnancy and then all of a sudden, it just stopped, maybe around 8-10 weeks.
We've had an amazing response to his photos. We hear all day long in private messages and comments that he's the prettiest baby and has the most amazing blue eyes, which he does.
When we go out in public, some people recognize him as Jaxon or they realize he's a special needs baby and give us that knowing smile. There are others who — they don't mean to, I know they don't — will see him and just stare. We're used to that.
We love questions. We're so proud of him. People can be as brutally honest as they want. They can say, "What's wrong with the child?" and although they could have asked us better, we have no problems saying, "I'm glad you asked. There's actually nothing wrong with him. He's perfect, he just simply has a diagnosis called…"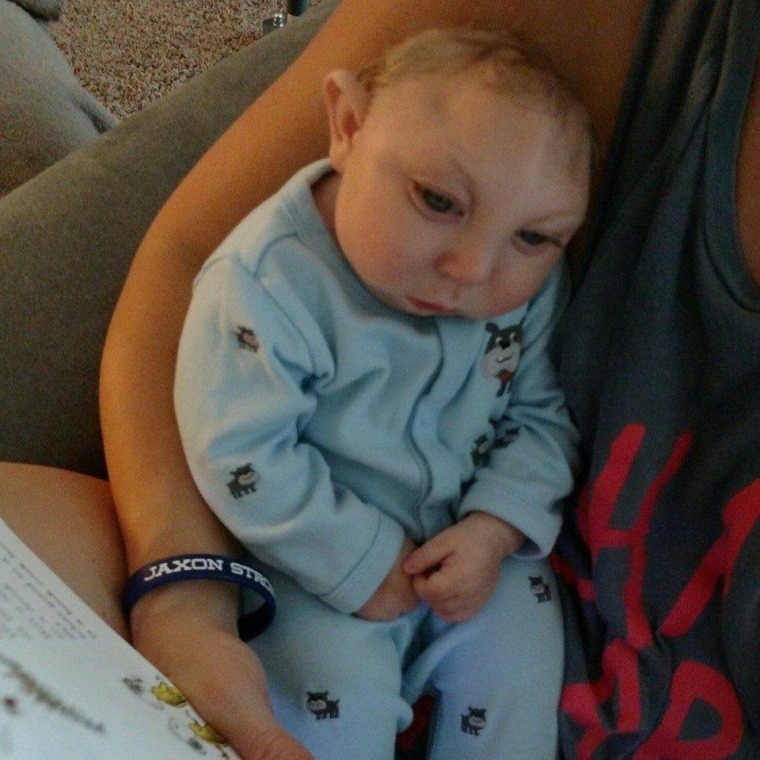 A special needs parent is a very strong person who has to deal with something that's not easy to understand or cope with.
It's changed us for the better and he has certainly made us stronger people. The petty things that used to make us mad, like rush hour traffic or stubbing your toe — it doesn't faze us anymore because our priorities are so much richer and deeper now. He has changed our lives and I'm pretty sure a lot of special needs parents will say the same thing.
We have gotten some incredibly hateful comments calling us selfish parents for keeping him alive and how he's suffering — those could not be further from the truth.
I had a comment telling me to let Jaxon go. I don't know how you would let him go because he's not going anywhere and he's not on life support. I would literally have to stop feeding him to let him go.
We didn't want people to look at his story, which is so amazing, and be like: Did they do the right thing? Should they have just aborted him? So I wrote a long response on Facebook recently to make sure he was represented in the right way.
We are so overwhelmed by the support we're getting. We want to somehow afford to keep Brittany home because we believe it's helping him to thrive. We're in discussions with non-profit organizations to give some of the money raised on GoFundMe for us towards research and for the benefit of other families who will walk a similar path.
Doctors are no longer giving us a prognosis on Jaxon. They started with two days, two weeks, two months and maybe two years. We believe he can be here as long as he wants to.
We want him to be every single day as happy and comfortable as he can be. We want to give him the best life possible.