Laura and Tony McBride finally have the family portrait they've been yearning for. Their two sons and daughter — all lost at birth — are together with their parents, walking peacefully in the sunlight in a special image created with love.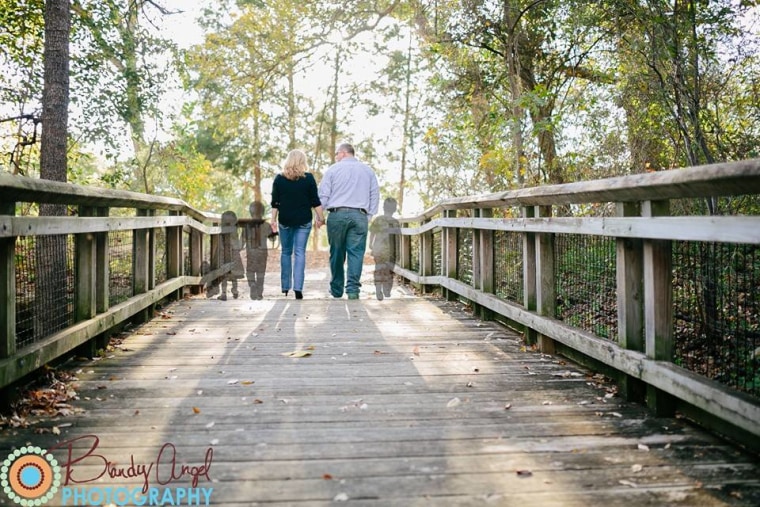 "This picture has been such a comfort to us and it has made us so happy because it has given us something to look at every day. We know they're with us, we can see it," Laura McBride, 40, told TODAY Parents.
"It makes me smile every day."
There's the silhouette of Kieran Shane, on the far left, wearing ruffled socks and dragging a teddy bear. Christopher, walking on his dad's right, is very independent. Tyler, who looked just like Laura, is holding his mom's hand. Their shadows are missing.
The McBrides, who live in West, Texas, were still raw from grief after Kieran's death in 2014, when Laura read about a couple who had an ethereal image of their late son added to their wedding photo. The poignant picture, which went viral last fall, was taken by Brandy Angel, a photographer in Madison, Georgia.
Determined to surprise her husband for Christmas, Laura called Brandy to see how she could get a similar image. She shared her heartache of losing Christopher, who was stillborn almost 22 years ago, and Tyler and Kieran, who died at birth 16 years apart. The little girl's death particularly shattered the couple.
"My husband took it so hard," Laura said. "I just thought we would both die of a broken heart."
Related: 4 things to say to bereaved parents... and one thing NEVER to say
Brandy, who has been overwhelmed by almost 500 requests since the special wedding photo went viral, was immediately touched.
"Photos like this aren't for everyone, but they are everything to some people who need them to grieve and hold on to someone they have lost," Brandy said. "I wanted to help her so much."
It turned out Brandy would be in Texas for Thanksgiving, which Laura thought was divine intervention. They made plans to meet for a photo shoot at Cameron Park Zoo in Waco. To pull off the surprise for her husband, Laura told him she wanted pictures of their extended family and invited their in-laws and other relatives to come along.
It gave Brandy a chance to snap a photo of Tony and Laura holding hands, off by themselves.
Their children's silhouettes were added by Heather Pinheiro, a web designer in New Jersey who has been helping Brandy with special edits. They went back and forth with ideas on how to accomplish what Laura wanted.
Christopher would be almost 22 today, Tyler would be almost 18 and Kieran would turn 2 this year. But even though they would have been years apart in age, Laura thought of them as kids: "Young, vibrant, sweet, adorable," she said.
"When I opened the picture, I think I stopped breathing for a moment. I was stunned, it was so much more magnificent than I could ever have hoped for," Laura recalled.
Tony opened it on Christmas morning, surrounded by his family. He cried and called it his favorite gift ever, his wife said.
Related: Mom's heartbreaking stillbirth story is a reminder for parents to cherish kids
The private couple decided to share the photo on Facebook this week in the hopes it can comfort other parents whose children have died. Many people don't know what to say to families touched by stillbirth and many forget that the fathers are suffering, too, Laura noted.
"I was fortunate. I got to feel the (babies) kick… I felt them move. Tony missed out on so much of that," she said. "This has been a huge comfort."
"Being able to offer that kind of comfort to someone is such a blessing," Brandy said.
(If you are interested in a photo, please note Brandy Angel takes pictures, but doesn't edit them, so she can't modify existing images. A graphic designer must do the special edits. Brandy has started the Be The Change-Brandy Angel Foundation to make more of such photos possible for grieving parents.)