It's all about the brotherhood.
When a young volunteer firefighter battling cancer lost his hair, his colleagues wanted to let him know he was not alone.
A few close shaves later, there are about a dozen members of West Hempfield Fire/Rescue in Silver Spring, Pennsylvania, sporting smooth scalps in honor of Jacob Hawthorne, who was surprised with the kind gesture during his 17th birthday party.
"It broke my heart... in a good way," Amy Hawthorne, Jacob's mom, told TODAY Parents. "To see that they were supporting Jacob that much to go ahead and shave their heads for him."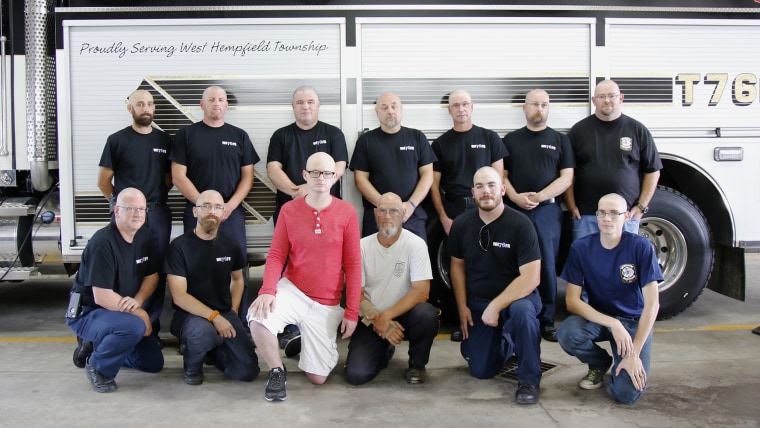 The fire company has been such a passion for Jacob that he began volunteering at 14. He is a very familiar figure at the station, where he spends much of his free time alongside the other volunteers, training, responding to emergencies and taking care of chores, added Tara Ney, membership secretary for the group.
"He's just a good kid," Ney said. "He wants to help people."
In May, Jacob was diagnosed with Hodgkin lymphoma, a cancer of lymph tissue. The treatment is rough: Jacob is on a 21-day chemo therapy cycle, eight rounds total. He's finishing his sixth round this week and feeling "lousy," his mom said.
Jacob has been in and out of the hospital because of complications, which means he can't go to the fire house as much as he would like to, she added. The treatment hasn't stopped him from training, even though it makes him tired. It has also caused Jacob to lose his hair.
With his 17th birthday approaching, the firefighters wanted to make it extra special for their junior colleague with so much on his mind.
As she planned the party, Ney talked with Jacob's mom, who told her the teen was down in the dumps. He was having a hard time with his hair loss and worried he looked unattractive.
"That sparked the idea of: He's really not, let's show him," Ney said. "Someone said to me, 'It would be pretty cool if we could shave our heads to support him' and we kind of just made it happen. From there, it was a domino effect and everybody was willing."
At least 12 firefighters had their heads shaved at the birthday party on Sept. 27, with Ney's cousin, who works in a hair salon, donating her time and supplies to make it happen.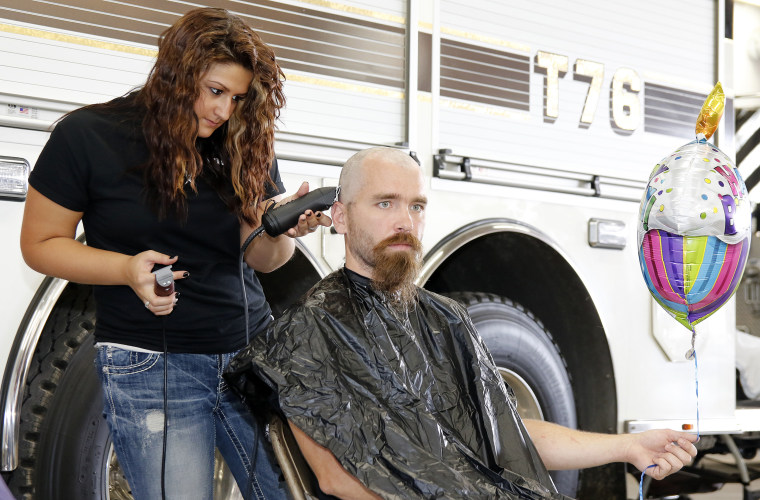 The turnout was much bigger than expected, with other fire companies attending and showing their support.
"(Jacob) was very surprised and I think emotionally overwhelmed," Ney said.
"He just kept smiling, which was nice to see," Jacob's mom recalled. "It did boost his spirits."
The teen also received a very special present: His first real leather fire helmet, which members of West Hempfield Fire/Rescue were able to buy with the help of a fundraiser.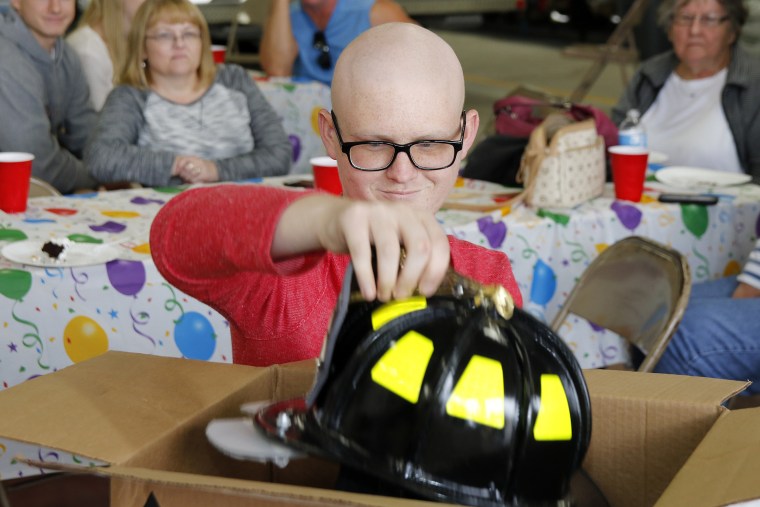 "It was probably the first time that I saw him actually smile that big in forever. That just made the day complete," Ney said.
"I certainly hope it made a birthday for him that he will never forget. We want him to know that he's not alone. We all have his back."
There's hope Jacob will be around much more at the fire house once he finishes his chemo therapy. Doctors did not see any more cancer cells after his last check up, Hawthorne said.