/ Source: TODAY Contributor
It's happening all over the country: middle school parents everywhere, along with many of their elementary and high school parent cohorts and scores of their children's teachers, are saying (okay, sometimes yelling) the same threat.
"If you flip that water bottle one more time..."
Thwack. Thwack. Thud.
It was a few weeks into school when I noticed it. My own seventh grader had been fiddling with a water bottle one weekend, but I thought he was just trying to push my buttons. Then I drove past his middle school bus stop that Monday morning, and lo and behold, all of the kids were gathered around a ledge, hurling water bottles together as if they were performing a bizarre ritual.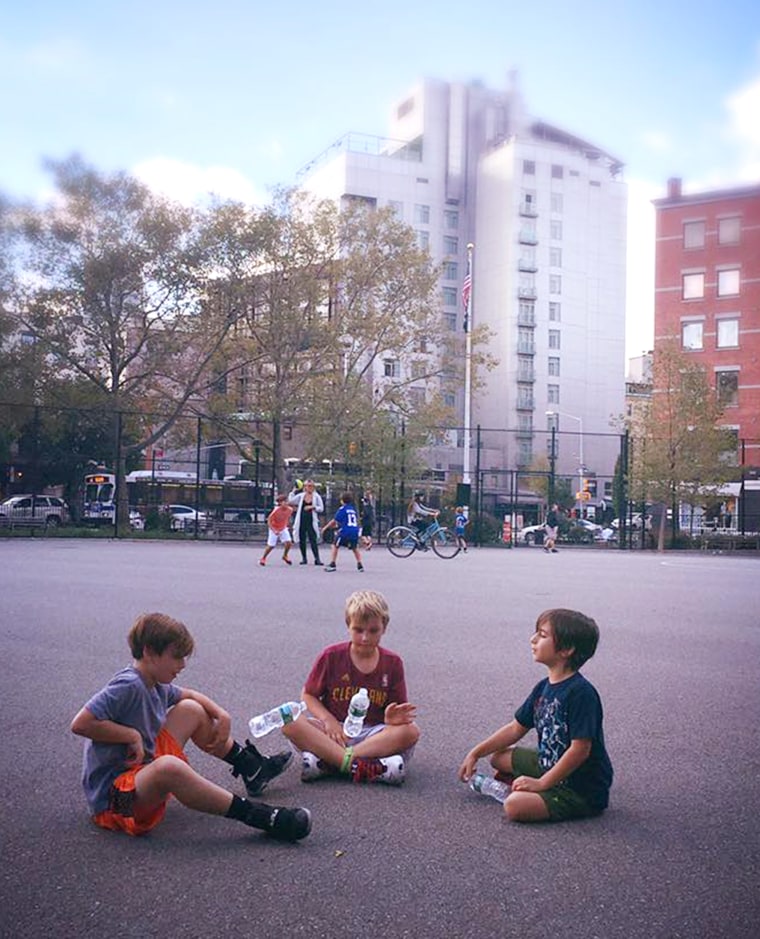 Gradually, I realized that "flipping" water bottles — throwing them at just the right arc, with just the right amount of liquid inside so that they will perform a Simone Biles-worthy twist in the air and land upright or, better yet, on their caps — is a genuine, bonafide thing right now. Aided by YouTube videos and other social media, the trend has invaded homes and schools across the country and now, apparently, the world.
"My 11-year-old and his friends have been doing this for weeks, on the sidelines of soccer practice and in the locker room after hockey," said David Landes, an American father of two who lives in Sweden now. "I had no idea this was an international trend."
Never miss a parenting story with TODAY's newsletters! Sign up here
But unlike American children, who use a lot of disposable plastic water bottles in their pursuit for the perfect flip, Landes said Swedish children use reusable sports water bottles. "I've seen a few break, which is more annoying for parents who bought them. But I wonder if Swedish bottle flipping is more environmentally friendly since we don't flip disposable bottles!" he said.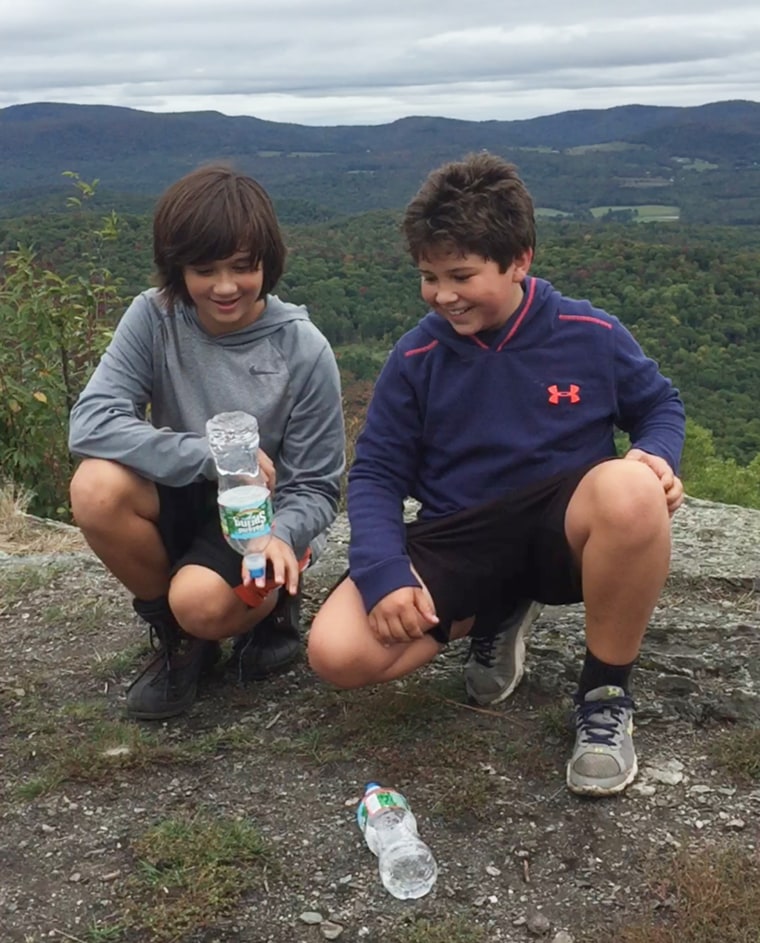 Parents report that many of their children's schools are banning the water bottle flip. Most will tell you they don't blame the schools; the constant feeling that objects are being thrown in the air nearby and the persistent thwack of the bottle landings might drive even the most patient person to the brink of sanity.
"I totally understand the 'flipping phenomenon,' said Deanne Hoggard, a mother of three boys in middle and high school in Longwood, Florida. "Much like throwing darts or shooting pool, it takes practice and skill and is a harmless pastime for kids who, let's face it, could be engaged in much worse things.
"That being said," Hoggard continued, "the SOUND of those water bottles thudding is killing me softly. As someone with serious noise sensitivity, I find that thudding to be the 21st-century equivalent of nails on a chalkboard."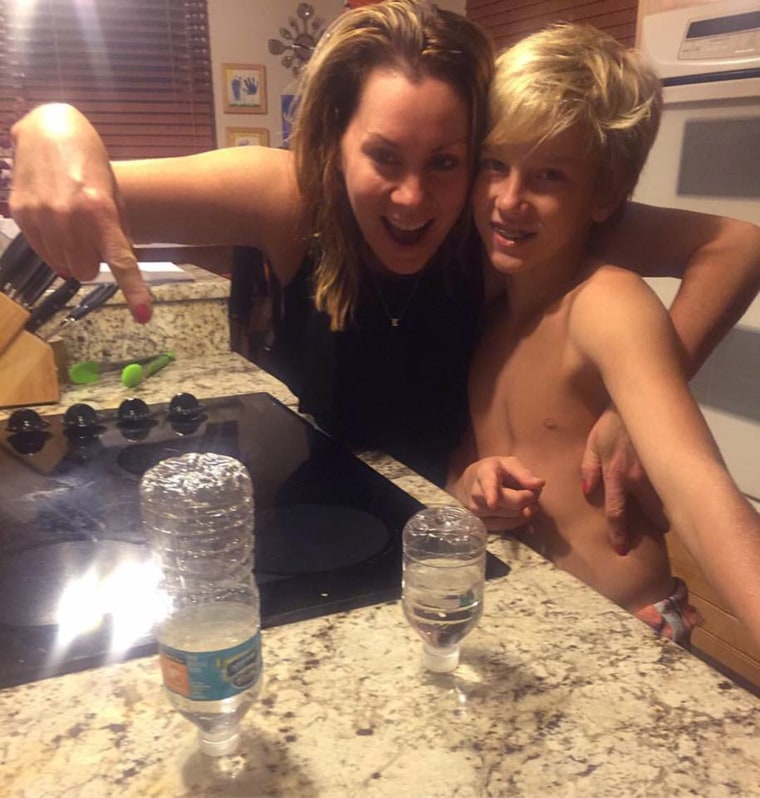 Kristalee Overdahl, a mother in Bethesda, Maryland, feels the same way about the sounds resulting from her 11-year-old son Lachlan's new obsession. "I have no idea where the bottle flipping came from, but I will be so glad when this fad is over," she said. "Lachlan flips bottles all the time. At home, at sports practice, at school. Short bottles, square bottles, round bottles. How many times can you flip in a row? Can you cap it? Can you land it on the shelf? Basketball hoop? There are bottle flipping live.ly parties on music.ly. The games and challenges are endless. I don't know what I dislike more: the thudding sounds or the 'Hey, Mom, watch this.'"
Bottle flipping has even been a part of preparing for Hurricane Matthew's arrival for Kelly McCracken's 12-year-old son, Liam, in Central Florida:
But a few parents welcome the new sport. "I think it's fantastic that they can occupy themselves for hours with a simple water bottle," said Millet Israeli, mother of two sons ages 8 and 9 in Manhattan. "No fighting, no screens. Thumbs up from me!"
And Rosie Sterling has even joined in on the craze with her two middle and high school-aged sons. "This mom bottle flips!" she said. "We sit in the driveway and flip away. It might sound weird, but it's one-on-one time doing something he enjoys."
Regardless, the majority of parents and teachers are waiting impatiently for this fad to pass. In the meantime, this fall will mean pumpkin spice, colorful leaves, and the dulcet tones of plastic water bottles hitting the ground everywhere.
Thwack. Thwack Thud.