I sat down to watch the Super Bowl on Sunday with my husband and kids, just like millions of other families. But when the halftime show began, a fun family activity suddenly turned into a parenting challenge.
As my kids, ages 2 to 13, and I watched Beyonce's performance, I half-expected a stripper pole to pop out of the platform, which was actually staged to look like a peep show. (After the scathing public backlash from Janet Jackson's infamous nipple-gate, you'd think the NFL would have thought twice about Beyonce's set.)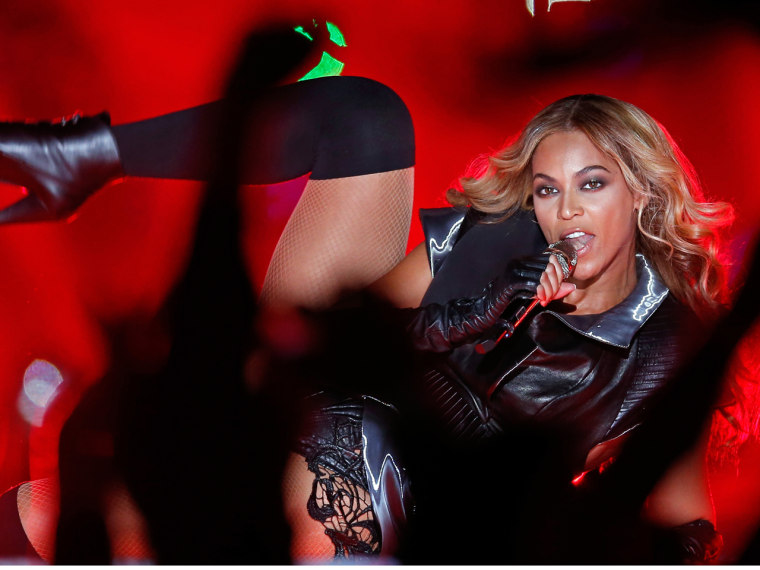 As soon as I saw pelvic thrusts and legs wide open to the camera, I debated internally about whether to change the channel or use it as a teachable moment. I opted for the latter, and prayed I made the right choice. Interestingly, I noticed all the kids had quizzical expressions on their faces as if to say, "What is she doing?"
Nonetheless, I felt that an unalarmed, casual commentary from their mom might give them something to consider as they take in not only Beyonce's performance, but also the many racy commercials that have, sadly, become a staple of Super Bowl culture. So, I nonchalantly said, "This isn't very pretty or empowering. Too bad she's wasting her talent." My 8 year old declared, "She looks weird." Indeed.
The gyrations and weird facial contortions managed to diminish her ample beauty and talent.
Then I grabbed my phone and tweeted the following: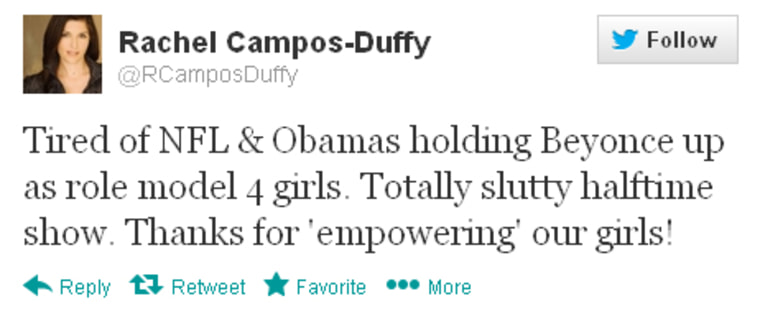 The response was instantaneous and big. Aside from a couple of snide comments referencing my being on "The Real World" in my early 20s (OK, fair game, but I don't recall gyrating for a national audience on TV) and another calling the performance "classy" (really?!), the Twitter response was overwhelmingly positive. The moms on Twitter were thankful someone was finally saying what they were thinking.

Related story: Beyonce's halftime show criticized for risque content
Look, I'm not a prude. Yes, I grew up with a diet of church and Catholic school, but also Madonna and scantily clad girls salsa dancing their way through cheesey Telemundo game shows. The difference, in my view, is that Madonna and the dancing girls were never being held up as role models.
Beyonce sung at the presidential inauguration. First Lady Michelle Obama tweeted her approval of her halftime show. The message sent, intentionally or not, is that the pop queen is someone worthy of the prestige and influence of our First Family.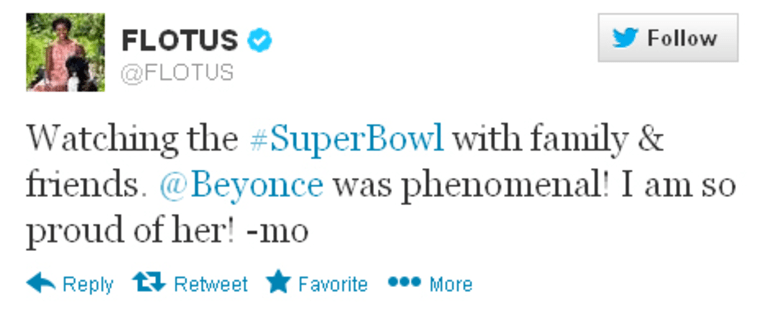 Likewise, the NFL, an organization that strives to be family-friendly (as it should!), sends young girls and boys the message that talent and even beauty are not enough. By green-lighting Beyonce's Pepsi-sponsored halftime show and lowering its standards of decency, the NFL diminishes its family-friendly credibility and erodes the trust of the parents who faithfully gather their families around the TV for the Super Bowl and raise the next generation of football fans. How about a little respect for the moms and dads who buy the NFL gear and carpool the kids to football practices and games? Our children are the future of the NFL and this country and there are grown-ups in high places who ought to know better.
The images that I'll remember – and I hope my children will as well – from this Super Bowl came from the ads for Chrysler, proving that raunch need not rule the ad wars. Thank you for honoring real role models- our hard-working farmers and brave troops.
Rachel Campos-Duffy is an author, pundit, and mother of six. She works with The Libre Initiative, an organization that promotes economic dignity and opportunity for Hispanics.