President George W. Bush joked that he would like his first grandchild to show a little respect, and address him as "Sir."
He spoke to his daughter, Jenna Bush Hager, by phone on TODAY shortly after she announced her pregnancy on the show. The former first daughter called her dad "Popsicle," and she and her twin sister famously call their grandparents "Gampy and Ganny."
"Sir" may work for the former leader of the free world, but today's grandparents answer to all sorts of names. And they're often far from the traditional Grandma and Grandpa.

Some grandparents pick what they want their newest relatives to call them, some families simply continue the names created by older cousins, and other names evolve from family jokes or traditions, or the best (mis) pronunciation that a little one can muster.

TODAY Moms fans shared all sorts of grandparent names, including traditional monikers like Grandma and Grandpa, and Nana and Papa, and some zany ones too.
"I am Queenie and my husband is Big Daddy," Kena Keaton-Henderson wrote on the TODAY Moms Facebook page.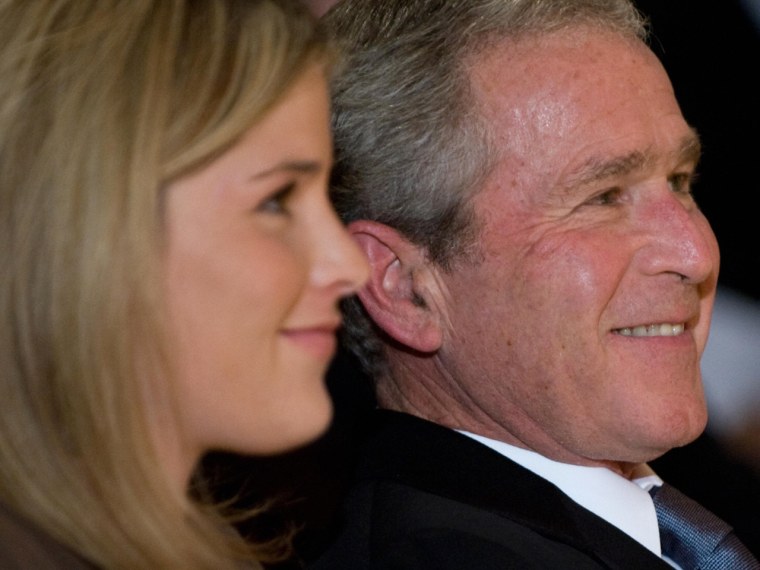 "My oldest and the first grandchild dubbed my mom 'Gaga' about 13 years ago, so that's what all six grandchildren called her," Jeanne Dewey Donohue wrote. "While she loved being a grandmother, she was never fond of the name, especially after Lady Gaga came along."

Grandmother Kerry Daw Barton loves to hear calls of "MAW."
"I put it in all caps because that is how loud she says it and with a very southern accent," she wrote on Facebook. "I tried every name I could but my granddaughter chose!!!"
Melissa Lamb Firstenberg says that her children call her mother "Lala, because she always calls them on the phone and sings to them."

There are plenty of PawPaws and MawMaws and variations on Mimi and Meme. 
"My parents are Nana and Papa," Michelle Lenser wrote. "My husband's parents are Oma and Opa (German)."
Sherry Bartley Wright wrote that her grandson "started calling me "Aye-Yiy" before he was 2 years old and it stuck."
Angela Lowell wrote of a girl whose approximation of Grandpa came out as "Crappa." We hope he was OK with that.
While some grandparents carefully encourage little ones to use their name of choice, when grandchildren come up with their own adorable nicknames, they usually stick.
"My grandson calls me Mammies, and his grandfather Babas," wrote Cindy Baker. "He decided all on his own."

Grandparent names might reflect sports or hobbies.
Linda Hall, a Florida State graduate, said her daughters called both of her in-laws "Go-Go," after they heard cheers of "Go Go Gators," a reference to the University of Florida Gators, the FSU Seminoles' rival.
And Jennifer Hauser Ambrose shared that her children "have Baseball Mamaw and Papaw (because they work/volunteer/love everything Cardinals) and Daddy's Mamaw (and) Papaw."
Some modern, stylish grandparents think traditional names make them sound old and have come up with some novel names, like Glam-ma, preferred by Goldie Hawn.
Lori Sweeting Frederick likes the sound of that, writing, "I'm going to be called GLAMma."