He's been traveling home from Afghanistan for nearly a week, losing his luggage along the way. But nothing was going to keep Army Maj. Melvin Jackson from being reunited with his wife and children on TODAY Tuesday.
"I got in and I was like 'Where's my uniform?'" said Jackson, wearing a yellow polo shirt and tan shorts as he surprised his family on the show. "This is all I have, and I came straight in, but it's all worth it to see these guys."
Jackson, who has been away for nearly a year on his fourth deployment, arrived home a little bit early, bearing big smiles and hugs for his wife, Stephanie, and their children, Kiera, 15, and MJ, 12, just in time for Father's Day.
TODAY's Savannah Guthrie set up the surprise by asking Stephanie about the family events her husband missed during the year, including the couple's 14th anniversary. When asked about their wedding song, Stephanie knew it instantly: Stevie Wonder's "Ribbon in the Sky."
As the song played, Jackson walked on stage, holding a bouquet of red roses for Stephanie and pink blooms for Kiera.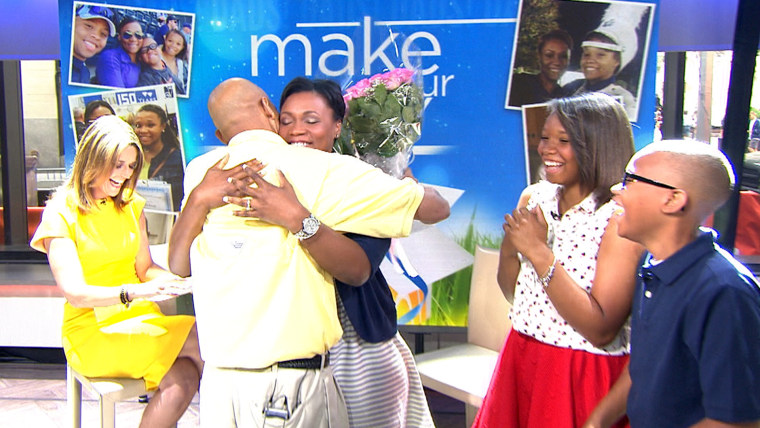 "Oh my gosh," Stephanie said, as she and her husband embraced and shared a kiss.
Before the reunion, she talked about what it was like for her husband to be away. Even though it's hard, she knows that the work he is doing is important.
"We are so proud of him," Stephanie said. "We're excited for him to come home, but we really do appreciate what he does for our family and for the country."
Members of the community were a big help during the deployment, she said.
"They have helped so much," Stephanie said. "Guys have helped with MJ. I have no idea what I'm doing with Boy Scouts. The military men have embraced him and just tell me, 'Mom, he just needs this. He'll be OK.'"
And other families helped with Kiera, taking her back and forth to extra-curricular activities.
Kiera said it meant a lot for her dad to be home. He missed her volleyball and soccer games, band competitions and her academic banquet. "Those are some things I would have wanted him to be there but I know he couldn't have," she said.
MJ was thankful that his dad's homecoming means "I don't have to go shopping with these two," he said of his sister and mom.
And although Jackson missed their anniversary, don't worry. Stephanie won't let him forget it.
"It's OK," Stephanie said with a laugh. "He's going to pay for it when he gets home."
Lisa A. Flam, a regular contributor to TODAY.com, is a news and lifestyles reporter in New York. Follow her on Twitter.