Happy tears, loving words, a baby in a Superman outfit, a singing superstar and a little magic all added up to a special morning for a military mom who survived an incredible ordeal.
As part of TODAY'S "Mom's the Word" series celebrating Mother's Day, Al Roker traveled to Eglin Air Force Base in Florida to surprise Sarah Whitney on the show Wednesday.
She and her husband were expecting their third child last year when she was diagnosed with breast cancer. Determined to keep the baby and have a chance at nursing him, she underwent a single mastectomy and chemotherapy during the pregnancy.
"Sarah is an outstanding mother. My goodness, throughout this ordeal that part of her never faltered or failed," said her husband, Master Sgt. Michael Whitney.
"Seeing your strength through this process gave me the motivation and the inspiration to actually be strong as well. So I just want to say thank you for being the amazing person that you are and I love you."
Related: Mom with breast cancer breastfeeds newborn in beautiful photos
The ordeal actually began with joyous news. After Michael served a year in Korea, the couple decided to try for another child once they settled at his next assignment at Eglin Air Force Base. Sarah soon learned she was pregnant.
But weeks into the pregnancy, she started noticing some abnormalities, Michael said. Then came the stunning diagnosis: Breast cancer that required an immediate mastectomy, followed by chemotherapy, to give Sarah the best chance to survive.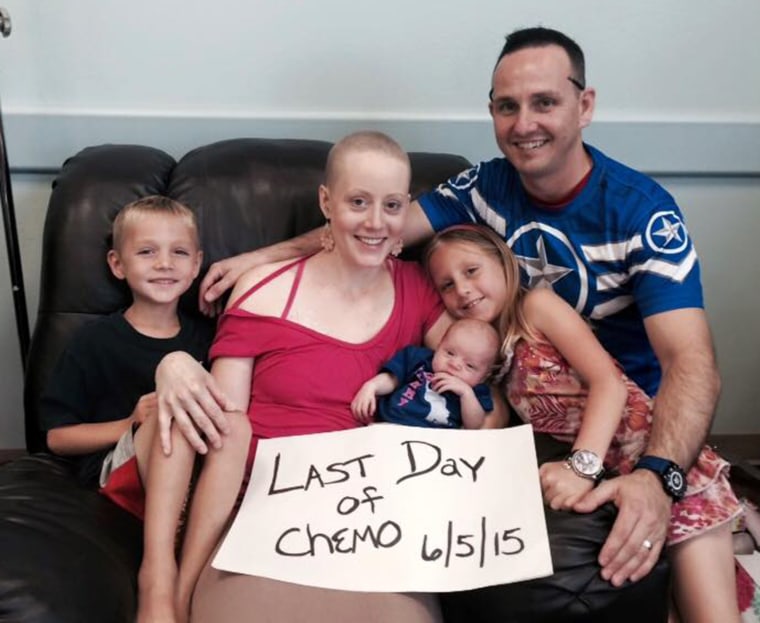 "It wasn't a hard decision to make at all because it was either let it stay and let it spread," Michael said. "We read stories about women who decide not to have the surgery or not to go through chemo because of the pregnancy, but then they end up having the baby and weren't around for the baby to grow because they passed because the cancer spread."
As Sarah underwent chemotherapy, the family held a hair cutting party so that her shaved head wouldn't be a shock to the children: Kora, 7, and Phoenix, 6.
Doctors induced labor when she was 36 weeks along, and the Whitneys welcomed their third child on April 21, 2015: A perfectly healthy baby boy they named Kal-El — the birth name of Superman.
"I actually looked at what Kal meant and what El meant," Michael said. "In Finnish, 'Kal' meant strength and 'El' is Hebrew for God so it was like, by God's strength or the strength of God that he was able to endure everything that he had before even being born."
As soon as the doctors placed the baby on Sarah, he immediately rolled over and latched onto her breast. The powerful connection was captured by a birth photographer, with the pictures garnering national attention.
"It was what she needed," Michael said about that moment. "So many things were taken away and that was the only thing that was left. To have that immediate bond and to have him, it almost seemed like he knew that that was what she needed. And so it was very emotional, overwhelming experience for her."
More than one year later, Kal-El — sporting a baby-size Superman T-shirt — clapped with excitement as Sarah's favorite singer, Josh Groban, wished her "Happy Mother's Day" in a video message from Brisbane, Australia, and invited her to be a guest at any of his concerts she'd like to attend.
"It's awesome," Sarah said.
Knowing that Sarah is also a big fan of a certain boy wizard, she and her family also received a VIP tour of The Wizarding World of Harry Potter, plus a three-day admission for the theme park, which is owned by NBC's sister company, Universal Orlando Resort.
For TODAY's complete Mother's Day Guide, click here!