/ Source: TODAY Contributor
La Guardia Cross often films funny "Interview With a Toddler" videos for his YouTube Channel, New Father Chronicles. But, in the spirit of Easter, the Florida dad and his 16-month-old daughter, Amalah, are changing things up and baking holiday cookies in their latest video, "How to Bake Easter Cookies Like a Toddler."
The adorable video shows Cross gathering baking ingredients while dressed in full Easter Bunny costume. As Cross narrates the video, Amalah wears sweet, pink bunny ears on her head and makes an enormous mess with each ingredient, as toddlers often do.
Each step of Amalah's baking process is narrated by her dad, from measuring flour to cracking a plastic Easter egg filled with sprinkles into the batter.
"You don't know what size the measuring cup is and at this point, it doesn't matter, because you just grab it and start spilling it on yourself," narrates Cross as Amalah dumps flour everywhere.
As Amalah begins adding sugar to her batter, Cross says, "A little bit into the bowl, a little on your lap. You kind of have to go with your gut to know how much to put in each."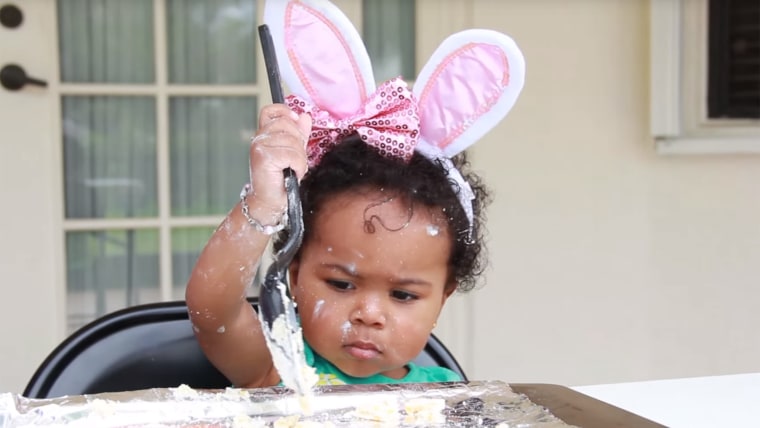 Amalah finishes mixing her messy concoction, and then spoons it onto a baking sheet, ready for the oven. The video ends with a basket of beautiful Easter cookies, and a promise that if viewers follow the toddler baking steps outlined in the video, they will have the same outcome.
"Any excuse to do something fun and silly with my daughter is a good excuse. Easter happened to be perfect for this," Cross told TODAY Parents. "There was no way to know how it would go … She had a lot of fun with dry ingredients. She didn't care how much of it got on her clothes and body."